Recipes
Kiri Aluwa (Sri Lankan Milk Toffee)
At Lexington's Tuk Tuk Sri Lankan Bites, Chef Samantha Fore serves these sweet and crumbly cashew candies.
Serves

makes About 28 squares

Cook

50 minutes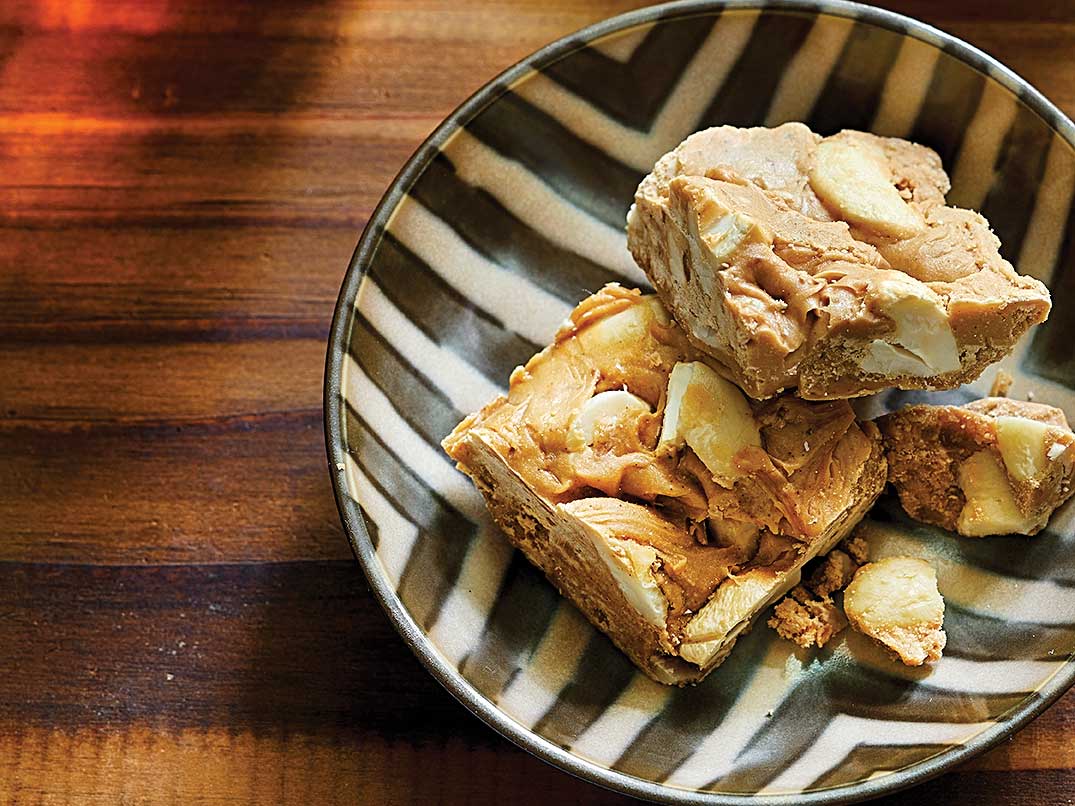 This classic Sri Lankan candy is not quite soft, not at all chewy, but not quite crunchy either, with a texture similar to a crumbly Louisiana praline or maple candy. When making this—or any—confection, work with a timer by your side and don't step away from the stove. While it's tempting to pull out a candy thermometer, it tends to get in the way when making this particular confection, which must be stirred continuously and vigorously throughout the process; focus instead on practice and visual cues. Larger quantities are difficult to stir and result in uneven results; resist the temptation to double the batch.
Ingredients
1 Tbsp. unsalted butter, plus more for greasing
1⁄4 cup turbinado sugar (2.1 oz.)
One 14-oz. can sweetened condensed milk
1⁄2 tsp. ground green cardamom
1 tsp. vanilla extract
1⁄4 tsp. rosewater
Pinch of kosher salt
½ cup coarsely chopped raw cashews (2½ oz.)
Instructions
Step 1
Butter a 6- by 9-inch rimmed baking sheet or loaf pan and set aside.
Step 2
In a small pot over medium heat, bring ¼ cup water to a boil. Add the turbinado sugar, stir rapidly with a silicone spatula to dissolve, then stir in the cardamom. Cook until slightly thickened and bubbling, about 2 minutes, then stir in the sweetened condensed milk. Cook, stirring and continuously scraping the bottom and sides of the pot, until the bubbles turn from frothy and fluffy to slow and fat, about 6 minutes (light brown bits may begin to form along the bottom of the pot; just keep stirring them back into the mixture). Stir in the vanilla extract, rosewater, and kosher salt and continue cooking until the toffee begins to pull away from the sides of the pan, about 5 minutes. Stir in the unsalted butter, followed by the cashews. Once incorporated, remove from heat, then transfer the candy to the prepared dish, pressing the surface with the spatula to smooth and flatten it. Allow to set, but don't cool completely, about 30 minutes. Turn the toffee out onto a cutting board, then use a large chef's knife to trim the edges and cut into 1-inch squares. Cool completely and serve, or store in an airtight container for up to one week.