Recipes
Yucatecan Tostadas Calabacitas Fritas
Crisp tortillas topped with a plant-based cantina snack.
Serves

serves 6

Cook

45 minutes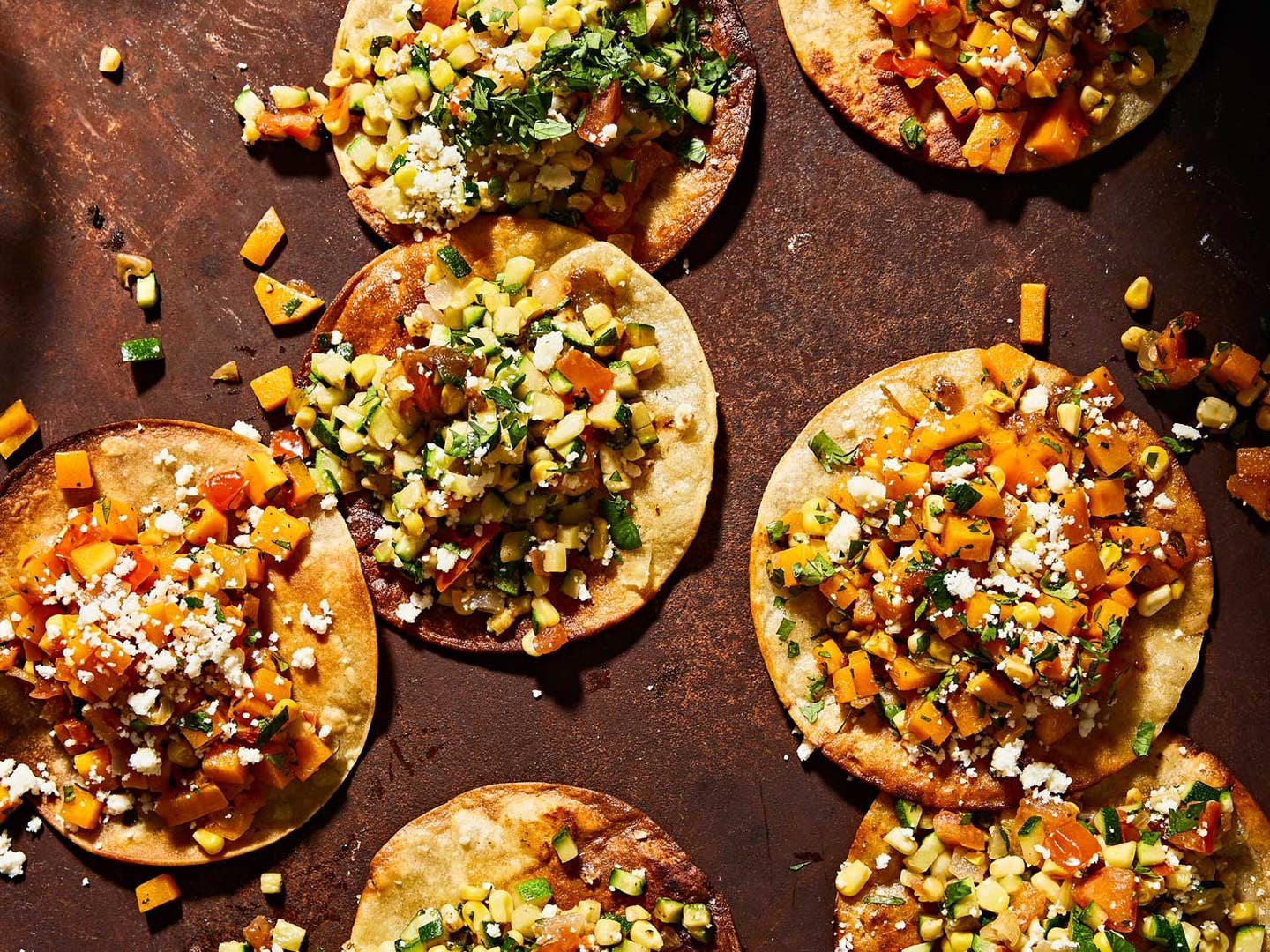 While the classic ingredients for calabacitas fritas are technically warm-weather fare (zucchini is a close approximation for the squash used in Yucatán), you can also swap in sweeter winter varieties like butternut or acorn; just be sure to adjust the cook time accordingly. Serve the cantina classic with chips for scooping, or pile it atop whole fried tortillas for slightly more composed tostadas. This recipe is adapted from a version taught in an Adventures Mexico culinary tour.
Ingredients
½ cup corn or canola oil
Six 6-inch corn tortillas
½ yellow onion, finely diced (½ cup)
⅔ fresh corn kernels (cut from 1 medium cob)
2 small zucchinis, finely diced (2 cups)
1 large vine-ripe tomato, cored and finely diced (½ cup)
¼ tsp. Mexican oregano
Kosher salt
Freshly ground black pepper
2 Tbsp. coarsely chopped cilantro
¼ cup crumbled queso sopero (or substitute queso cotija)
Instructions
Step 1
Line a large baking sheet with paper towels and set it aside. To a large skillet over medium-high heat, add the oil. When the oil is hot (about 350° on a deep-fry thermometer), fry the tortillas in batches of 1 or 2, turning once, until crispy and golden, 2–4 minutes per side. Use tongs or a spider skimmer to transfer the cooked tortillas to the lined baking sheet to drain as you continue frying the rest. Pour all but 2 tablespoons of the oil into a heatproof bowl and cool completely before discarding.
Step 2
Return the skillet to medium-high heat. Add the onion and cook, stirring frequently, until soft and translucent, 2–3 minutes. Add the corn and continue cooking, stirring occasionally, until glossy and bright yellow, 2–3 minutes more. Add the squash, tomato, and oregano, and continue cooking, stirring frequently, until they are tender and cooked through but not yet breaking down or watery, 2–3 minutes. Remove from heat, season to taste with salt and pepper, and stir in the cilantro.
Step 3
To serve, scoop the vegetable mixture over the fried tortillas. Top with crumbled cotija cheese and serve warm with Yucatán-style habanero sauce (if using) on the side.