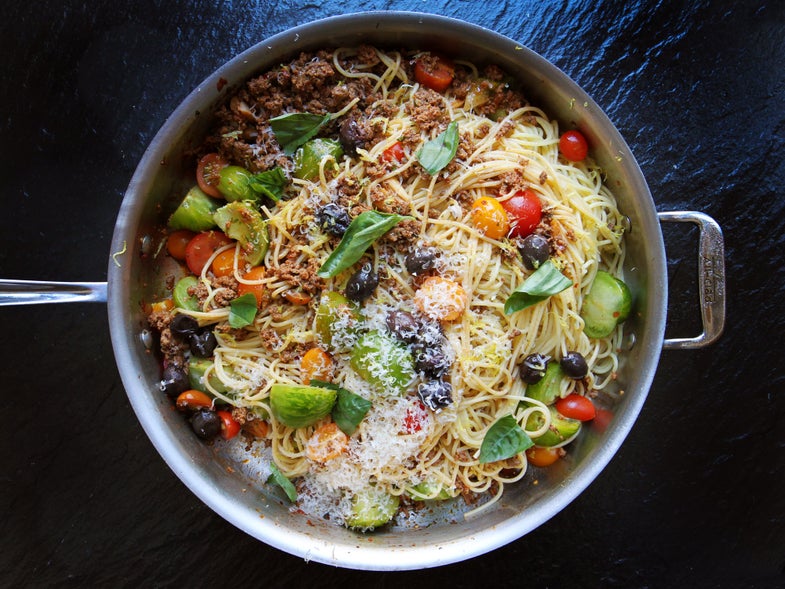 I became a big fan of Donna Hay Magazine, the Australian bi-monthly publication, while living in New Zealand. At the time I didn't know that Donna Hay was a talented food writer and stylist—I'm embarrassed to admit that I thought it was simply the name of one of my favorite magazines! So when one of her many gorgeous books, The New Classics, landed on my desk a while back, I was immediately drawn to it. Beautiful photographs amplify simple and stunning recipes that quite literally make you want to jump up and start cooking. This recipe for summer bolognese has quickly become one of my favorites; it has the classic comfort of bolognese, but without the heaviness of a red sauce, instead embracing the summer's bounty of gorgeous tomatoes and fresh basil. —Farideh Sadeghin, test kitchen director
Summer Bolognese
Adapted from Donna Hay: The New Classics, this simple recipe is a perfectly light alternative to the ever-comforting spaghetti bolognese.
Ingredients
1 lb. thin spaghetti
Kosher salt
1⁄4 cup olive oil
1 lb. ground beef
2 tsp. chile flakes, or 3 red Thai chiles, minced
2 tbsp. minced thyme
3 garlic cloves
2 tbsp. tomato paste
2 tsp. granulated sugar
Freshly ground black pepper
1⁄2 cup dry white wine
2 tbsp. red wine vinegar
1 lemon, zested and juiced
1 lb. mixed cherry tomatoes
1⁄2 cup Ligurian or kalamata olives
Torn basil leaves, for garnish
Grated parmesan cheese, to serve
Instructions
Bring a large saucepan of salted water to a boil. Cook pasta until al dente, about 7 minutes. Drain pasta, reserving ½ cup water; toss pasta with 3 tablespoons oil and keep warm.
Meanwhile, heat remaining oil in a 12-inch skillet over medium-high; cook beef, chile, thyme, and garlic until beef is browned, about 5 minutes. Add tomato paste, sugar, salt, and pepper and cook 2 minutes more. Add wine and cook until it has almost evaporated, about 2 minutes. Add in pasta, vinegar, and lemon zest and juice and toss to combine. Add in reserved pasta water, tomatoes, and olives and cook 2 minutes more.
Transfer to a serving platter and serve with basil leaves and parmesan cheese.
How to Make Summer Bolognese