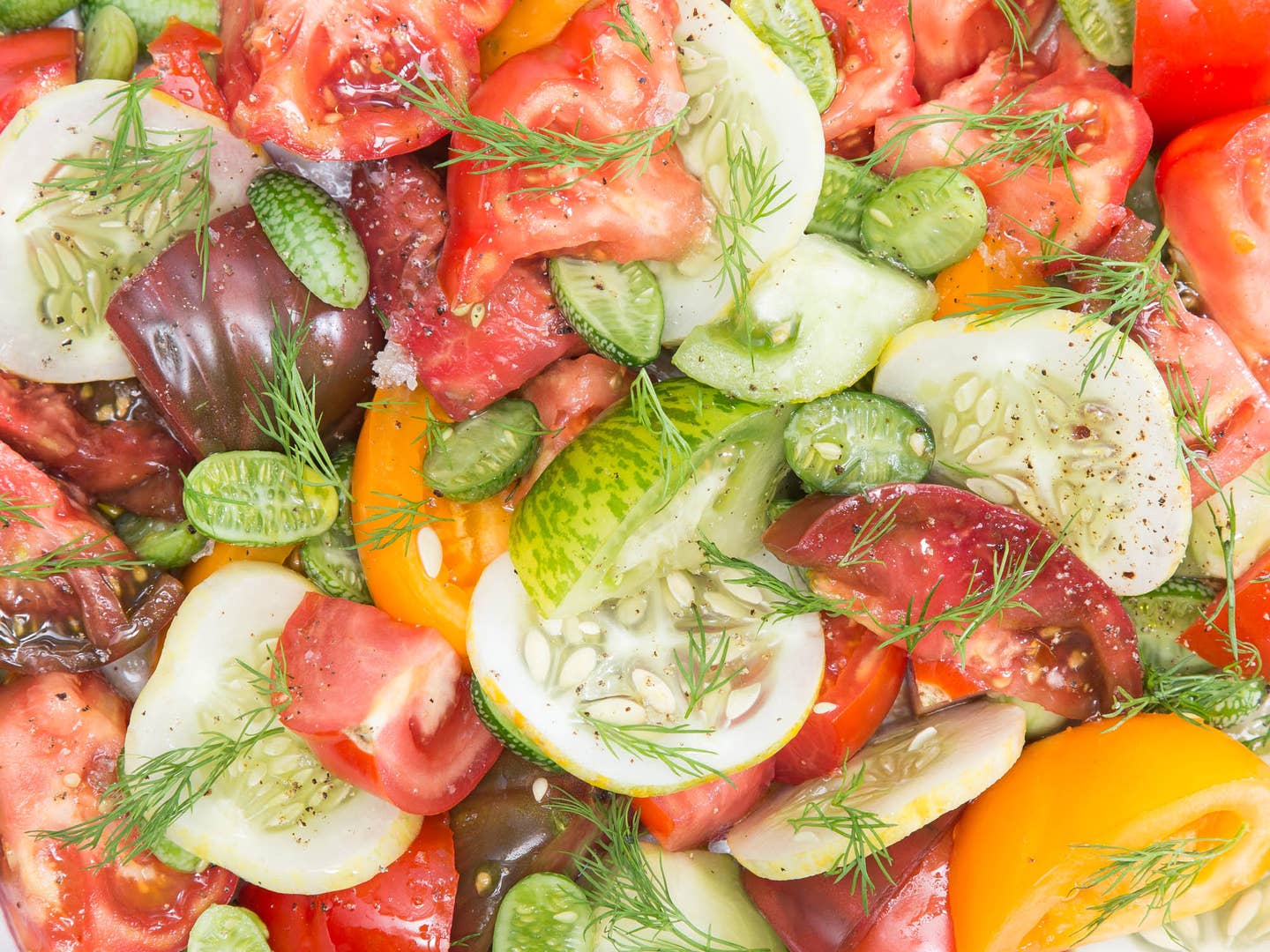 Recipes
Say Goodbye to Summer with One Last Tomato Salad
Chef Eli Sussman shows us how to let produce show a little skin
We're all guilty of overthinking, overloading, and over-accessorizing a dish, but when you're cooking with great produce, you don't have to. Quality fruits and vegetables should be the focal point of the dish—they don't need to be buried in a lot of accountremont, sauces, and garnishes to make them taste good. This summer, I've been into a very simple heirloom tomato salad that is just that—a salad of tomatoes. The components in it come from multiple farms in Montauk that we've been working with at Ruschmeyer's, a hotel in Long Island where my brother and I have been cooking all summer. They've been supplying us with the type of produce that should be allowed to show a lot of skin.
Three main Hamptons-based farms have supplied the bulk of our produce for the season: Amber Waves, Bhumi, and Balsam. At Amber Waves, Amanda Merrow and Katie Baldwin have been farming partners for over seven years and have some of the finest Japanese eggplant I've ever tasted. Bhumi Farms is run by Farmer Frank, an ex-Wall Street trader with whom I teach a farming class to summer camp students, and he sets up a farm stand in the backyard of Ruschmeyer's on Saturdays. And then there's Ian from Balsam Farms, who happily drops off our delivery every day and lets me know what'll be in season in the next few weeks. Balsam's sungold tomatoes are better than any candy I've ever tasted—they're laughably delicious—and I love watching people's reaction when they try them for the first time.
While we do business with these farmers, our relationship isn't all business; we as cooks have admiration for their product and it means a lot to us that they put so much into their work. No one we interact with is farming for riches or acclaim. For these farmers, it's about roots—literally and figuratively. They're building a connection to the ground and the community, reminding people that food grown properly by your local farms is often far superior than supermarket produce.
So to honor these farmers, we came up with a beautiful, crowd-pleasing salad of heirloom tomatoes with just a simple roasted fennel dressing to provide a refreshing burst of acid—it enhances the natural tomato-ness of the salad instead of covering it up. But the best part about this salad is that it's quick and simple, leaving you plenty of time to work on your tan and catch up on your beach reading. Summer's not here for much longer, so take advantage of the tomatoes—and warmth—while you can.