Recipes
Tomato-Cucumber Salad with Fennel Dressing
When you have ingredients this fresh, don't overthink it.
Serves

serves 4

Cook

35 minutes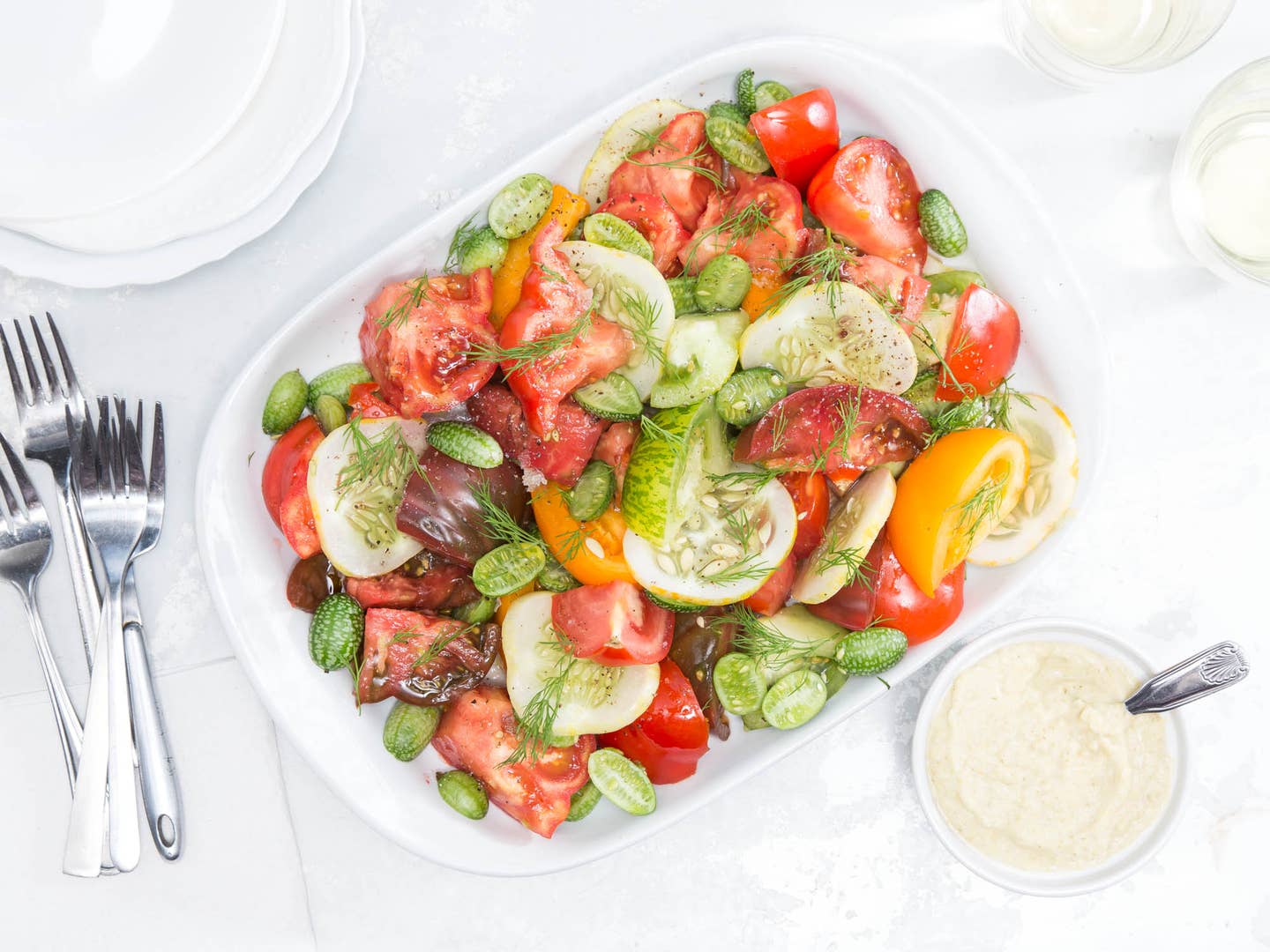 Chef Eli Sussman of Samesa updates the classic combination of tomatoes and cucumbers with heirloom varieties of the titular ingredients. Produce at the height of summer needs no embellishment. Here, he dresses them in a simple, caramelized fennel citronette. For more ways to use the shoulder-season vegetables, check out all of our tomato recipes.
Ingredients
2 fennel bulbs (about 3/4 lb.), trimmed and thinly sliced, fronds reserved for garnish
1⁄4 cup plus 1 Tbsp. olive oil, divided
Kosher salt and freshly ground pepper
1 tbsp. fennel pollen
1 tbsp. lemon juice
1⁄2 tbsp. fennel seed
2 lb. heirloom tomatoes, cut into 2-inch pieces
1⁄2 lb. lemon cucumbers, thinly sliced
1⁄2 lb. watermelon cucumbers, halved lengthwise
Flaky sea salt, for garnish
Instructions
Step 1
Preheat the oven to 375°F. In a large bowl, toss the sliced fennel with 1 tablespoon olive oil, salt, and pepper. Spread into an even layer on a baking sheet and bake until slightly golden, about 20 minutes. Let cool completely, then transfer to a blender with the remaining oil, the fennel pollen, lemon juice, fennel seeds, and 1⁄2 cup water. Blend until smooth and season with salt and pepper.
Step 2
In a large bowl, toss the tomatoes and cucumbers with the dressing. Season with salt and pepper. Transfer to a platter and garnish with fennel fronds and flaky sea salt to serve.