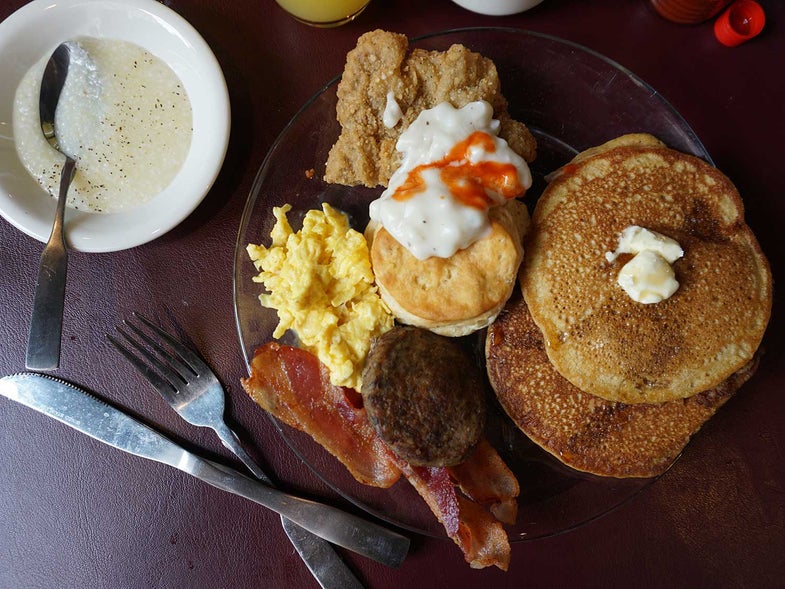 These sweet spiced pancakes are adapted from the recipe served at the Arcade Restaurant in historic Downtown Memphis. Enjoy them all on soaked with syrup and pecan butter, or, do like they do in Memphis and pair them with bacon, eggs, and grits.
What You Will Need
Sweet Potato Pancakes
The Arcade Restaurant in Memphis is famous for its fluffy spiced sweet potato pancakes; now you can make your own.
Time: 1 hour, 30 minutes
Ingredients
One 14-oz. sweet potato
1 cup all-purpose flour
1 cup whole wheat flour
1 tbsp. plus 1 tsp. baking powder
1 tsp. kosher salt
1 tsp. ground cinnamon
1⁄2 tsp. ground cardamom
1⁄4 tsp. ground cloves
1⁄4 tsp. nutmeg, freshly grated
1⁄4 cup dark brown sugar
3⁄4 cup (6 oz.) unsalted butter, melted, divided, plus more butter for serving if desired
2 large room-temperature eggs, beaten
2 cups whole milk, warmed slightly
Maple syrup, for drizzling (optional)
Instructions
Preheat the oven to 400°F degrees. Use a fork or paring knife to prick the sweet potato a few times on each side, then place it on a baking sheet. Bake until very tender when poked with a fork, about 1 hour. Set aside to cool. Once the potato is cool, remove and discard the skin. Transfer the flesh to a food processor and puree until smooth (alternatively, mash well with a fork).
In a large bowl, whisk the all-purpose and whole wheat flours, baking powder, brown sugar, salt, cinnamon, cardamom, cloves, and nutmeg.
In a medium bowl, whisk the sweet potato purée, brown sugar, ¼ cup melted butter, the eggs, and milk. Pour the sweet potato mixture into the flour mixture and whisk until completely combined (the batter should be and fluffy somewhat thick in texture).
Preheat a large griddle or cast iron skillet over medium-low heat. Add 1–2 tablespoons of melted butter and swirl to coat the surface. Once hot, scoop ⅓ cup of batter onto the griddle for each pancake, keeping 2–3 inches of space in between. Cook until you see bubbles forming on the top of the pancake and it begins to pull away from the bottom of the griddle pan, about 4 minutes, then use a spatula to flip. Continue cooking until golden brown and the batter is cooked through, 3–4 minutes. Transfer to a serving platter and keep warm while you continue cooking the rest of the batter in this manner, taking care to add fresh butter to the griddle or skillet between batches. Serve hot, with additional butter or maple syrup if desired.