True Grits: Our Best Polenta Recipes
Endlessly versatile cornmeal grits go Southern, Italian, and beyond.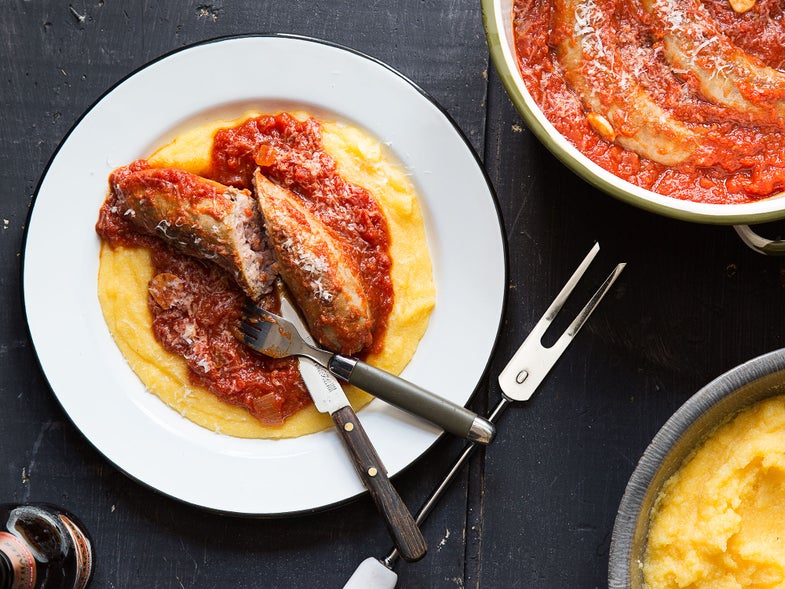 Despite the gritty name, polenta and grits are anything but. A good grits recipe is creamy and smooth—the epitome of simple Southern comfort. You can get ready-to-make stone-ground cornmeal for an even faster dish. The best grits recipe may be of Southern origin but across the pond in Italy, polenta encompasses the same idea of comfort in coarsely ground cornmeal. Whatever you choose to call it, this rustic dish is easy enough to make and endlessly customizable. Never have a boring breakfast again with a stellar polenta and grits recipe.
Boni's writing had few frills, and her rustic recipes followed suit. But a seemingly simple dish of whole sausages braised in marinara has spicy-sweet, cooked-all-day flavor. Garnish with torn fresh basil or Italian parsley leaves for a bright, herbaceous finish. Get the recipe for Polenta with Sausage Gravy »
Wild rice adds a toasted nuttiness to this dish, and breaking it up in a food processor allows the rice to cook at the same rate as the polenta. Get the recipe for Polenta With Corn and Wild Rice »
This creamy codfish mousse is delicious served with char-grilled squares of polenta. Get the recipe for Grilled Polenta with Dried Cod Mousse (Baccalà Mantecato) »
This simple, comforting dish is a great one to make for dinner parties; the ragù improves over time, so make it the day before, and reheat it just before serving. The polenta can also be made ahead, but you'll need to whisk in a bit of water to loosen it while you warm it on the stove. Get the recipe for Parmesan Polenta with Sausage Ragù »
For soft, creamy, and flavorful grits, chef Harold Marmulstein of Austin's Salty Sow cooks his low and slow, then adds a rich, spicy, bright-green purée of chiles and cilantro. Get the recipe for Green Chile Grits »
It takes longer to determine the origin of red-eye gravy's name than it does to make it. Some Southerners believe that the gravy takes its name from a man's red-rimmed eyes in the morning or from the reddish hue of certain country hams. Others swear that the name comes from the red-tinted layer of fat that forms on the surface of the gravy. Get the recipe for Country Ham With Red-Eye Gravy and Grits »
Chef Justin Devillier of La Petite Grocery learned this popular Louisiana fish camp technique—cooking "on the half shell"—after moving to New Orleans from California. Grilling fish skin-side-down with its scales still attached protects the tender meat from ripping and insulates it slightly from the heat, resulting in perfectly tender flesh. Get the recipe for Redfish on the Half Shell with Creamy Grits »
For his take on grain bowls, Chef Aaron London of Al's Place in San Francisco tops creamy corn grits with whatever toppings he has on hand. Here, earthy roasted brussels sprouts and chanterelle mushrooms mingle with aromatic poached quince and homemade cheese curds. Get the recipe for Grits With Brussel Sprouts »
Chimichurri and a tomato-onion salad are perfect for offsetting the richness of creamy polenta. Get the recipe for Summer Polenta with Chimichurri and Tomatoes »
Like the cooks at Crook's Corner, the celebrated restaurant in Chapel Hill, North Carolina, we recommend using stone-ground grits. They take more time to cook, but their flavor and texture are richer than instant grits. Get the recipe for Shrimp and Grits »
Watch a Grits Recipe: How to Make Summer Polenta