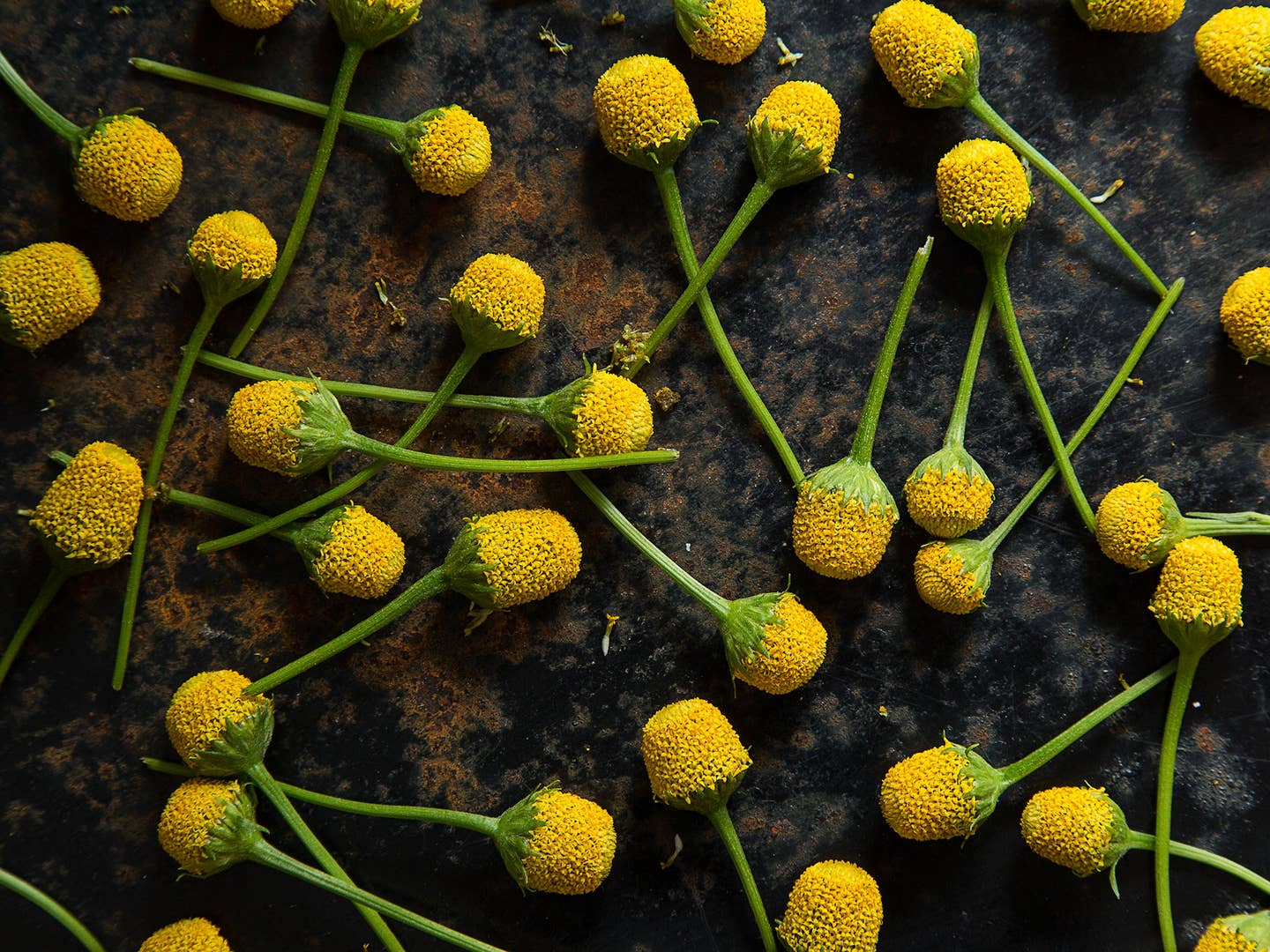 Techniques
Buzzy Ingredient: Cooking with Szechuan Buttons
"Buzz buttons" add an effervescent zing to dishes and cocktails.
Szechuan buttons—the edible flower buds of acmella oleracea, also called "toothache plant"—feel like an ingredient straight out of Willy Wonka's laboratory. Biting into one is an experiment with the unknown, a sensory experience that goes beyond just taste. Also known as buzz buttons, electric buttons, and electric daisies, the buds have a grassy, slightly sour flavor that's accompanied by a pleasant tingling sensation, almost like eating a handful of Pop Rocks. The effervescent, Champagne-like zing takes over slowly, dancing around the top of the tongue before giving way to a surprisingly welcome numbing, cooling effect.
Though reminiscent in taste and name to Szechuan peppercorns, Szechuan buttons don't belong in the same family. The plant's origins are rooted in Africa, South America, and parts of Asia. Their most common use was once medicinal; thanks to a naturally occurring alkaloid called spilanthol, the source of that tingling, numbing effect, the flower heads were often used to treat pesky toothache, throat, and gum infections (hence the nickname).
The raw leaves are traditionally used as flavoring for salads, soups, and meats in Brazil as well as India, where the buttons also flavor chewing tobacco. In the U.S. and Europe, they're a relatively recent import. Chef Ferran Adrià, who was an early fan of the ingredient, used them in his "electric milk," a wafer made with dehydrated milk and topped with Szechuan flower. Dutch supplier Koppert Cress, on Long Island's North Fork, introduced the buttons stateside around 2009; they're now being used by chefs for everything from dipping salts to sprinkling onto raw fish to garnishing cocktails to adding snap to desserts.
New York City-based, Michelin-starred chef Marc Forgione was introduced to the buttons by chef Lior Lev Sercarz. "Nothing had a similar effect as when you very simply put the flowers in your mouth and then tasted a bite of food," Forgione says. At his Tribeca restaurant, he uses the buttons to prepare the palate for an appetizer of kampachi tartare. "At first this might seem like theatrics. The server brings out the tray with the dish: a 'perfect bite' and a spoon with some Szechuan button." But by eating the button first, "The kampachi tartare is elevated to an entire experience rather than just a few bites."
A relative newcomer to the buttons, chef Bruce Kalman of Union, an Italy-meets-California spot in Old Town Pasadena, recently introduced the flowers in a beet cappelletti dish. "The Szechuan buttons fit in perfectly" with the vibrant spring pasta, fava beans, peas, horseradish, and carrot broth, he says, "lending a fizzy sensation with a peppery, floral finish. It's kind of like the 6th taste and definitely leaves a lasting impression."
Mariena Mercer, the chief mixologist at The Cosmopolitan of Las Vegas, created "The Verbena," the most widely ordered cocktail at the revered Chandelier Bar. This "exotic margarita" is composed of a variety of citrus juices, tequila, a house-made ginger syrup, and a garnish of Szechuan flower. "The cocktail itself is designed around the effects of the flower," she says, and advises "chewing the button slowly and making sure all parts hit your tongue" before tasting the drink. "After eating the buzz button, all the flavors are highlighted and intensified. The citrus becomes almost electric and the ginger adds the perfect spice to the cooling sensation that the spilanthol imparts."
To try them at home, start with a small, spare pinch of flowers as a garnish and go from there, increasing as needed for the desired effect. Forgione says, "the fun way to use them is to put them on a tray at a party, have people pop them in their mouths and then taste different bites of food." Chef Kalman suggests combining with olive oil, chiles, and garlic for "a flavor that will leave your dinner guests wondering how you did that." Consumers have easy access thanks to Seattle-based distributor Marx Foods, who ships the buttons to consumers in quantities of 30, 60, or 120 pieces (starting at $46 and best kept refrigerated for 10-14 days).