Giant Fennel-Chile-Rubbed T-Bone Steak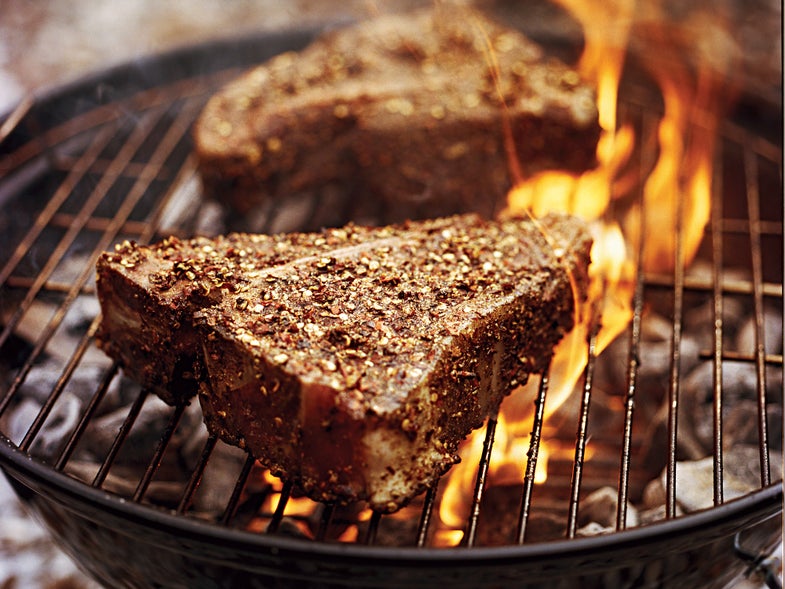 It's my only rub, and my favorite rub," says Andrea Reusing, James Beard Award-winning chef of Lantern restaurant in Chapel Hill, North Carolina, of her mildly hot fennel seed rub. It works on just about anything: chicken, mackerel, wild salmon, vegetables, steaks, whatever. "People who don't think they like licorice still like it, because the flavor plays off the peppers in a really nice way," she says. The subtle anise flavor will come through in the oven or on the stovetop, but cooking it over an open flame creates an irresistible crust. Reusing plans on serving this steak at her new restaurant The Durham, which opens July 2015.
Featured in: The New Grilling Essentials
Fennel-Chile-Rubbed T-Bone Steak
A custom rub on an extra-large steak yields restaurant-worthy food for a crowd. This one pairs earthy, anise-y fennel with spicy peppercorns and chile flakes. This recipe comes from Andrea Reusing, chef at The Durham.
Time: 1 hour, 15 minutes
For the Fennel-Chile Rub (makes 1 cup)
1⁄4 cup whole fennel seeds
1⁄4 cup whole black peppercorns
1⁄2 cup crushed red chile flakes
Instructions
Toast fennel seeds and peppercorns in a medium skillet over medium-high until seeds begin to pop, 1–2 minutes; let cool slightly. Working in batches, transfer to a spice grinder and pulse until coarsely ground. Mix with chile flakes in a bowl and then transfer to an airtight container. Store in the refrigerator for up to 3 months.
---
For the Steak
1 (2–2 1/2-lb.) T-bone steak, 2 1/2–3 inches-thick
Kosher salt, to taste
1 tbsp. olive oil
1⁄4 cup fennel-chile rub
Instructions
Season steak generously with salt; let sit at room temperature for 2 hours.
Build a medium-heat fire in a charcoal grill, or heat a gas grill to medium. (Alternatively, heat a cast-iron grill pan over medium.) Brush steak with oil and coat with the fennel-chile rub; grill, turning as needed, until cooked to desired doneness, about 45 minutes for medium-rare, or until an instant-read thermometer inserted into the thickest part of the steak reads 125°. Let steak rest 15 minutes before carving. Sprinkle with salt and serve.
Pairing note: "The 2008 Mayacamas Mt. Veeder Merlot ($38; sherry-lehmann.com), from Napa, or the 2012 Arnot Roberts Syrah ($40; winetransit.com), from California's North Coast, are both slightly gamey and work well with the rub's heat."—Vilma Mazaite, director of wine at laV; Austin, Texas