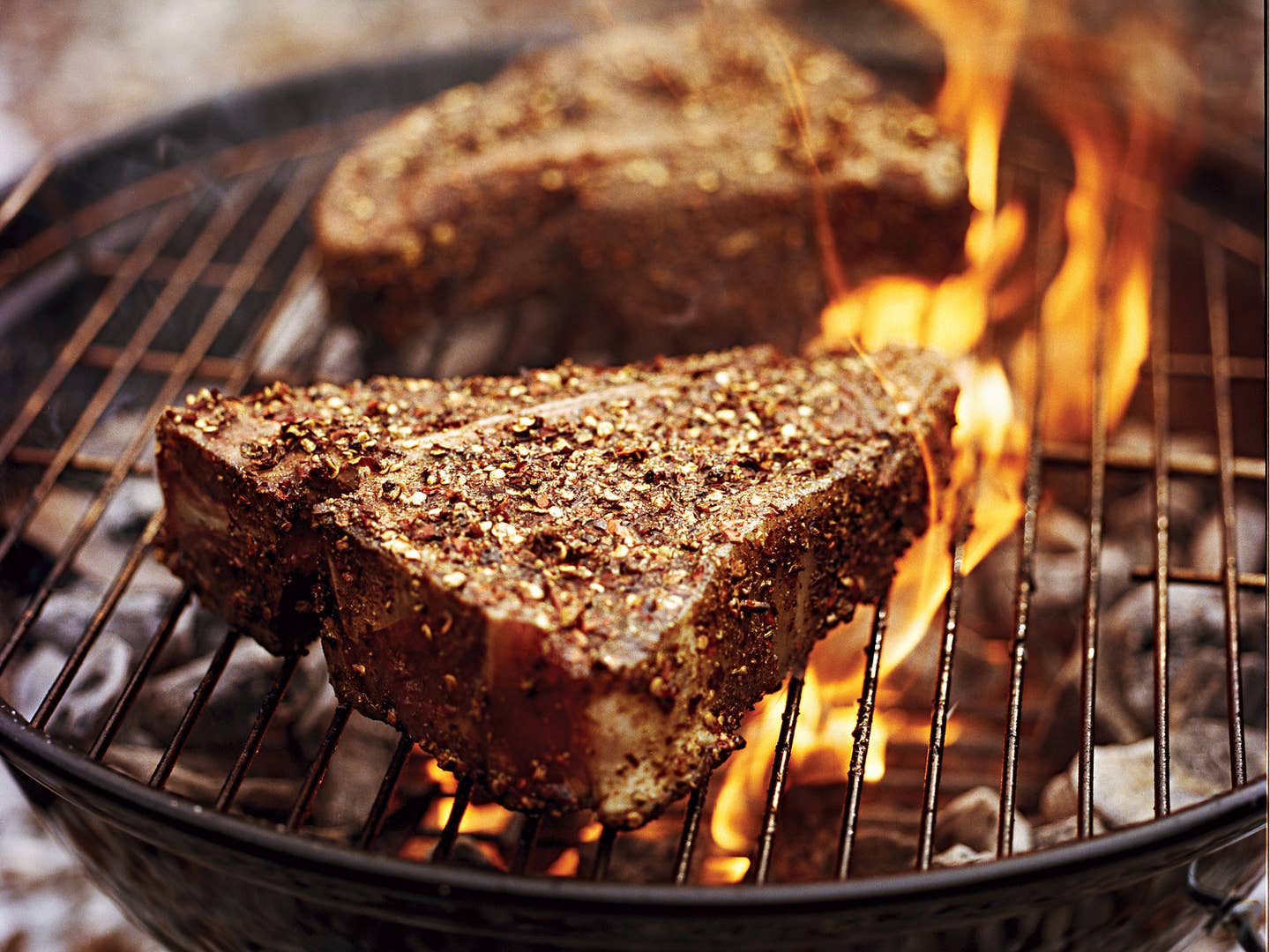 Techniques
The New Grilling Essentials
Seven grilling experts share their tips on taming the flame
Oh happy, smoky, bring-out-the-giant-tongs, never-leave-our-backyards day: Grilling season is here again. And though we love all the familiar rituals and simple pleasures of cooking outside, we're always open to learning a few new good tricks. Like how to grill a better burger—by keeping the meat itself off the grates. Or how a bit of gentle charcoal heat (and a bunch of compound butters and homemade chile sauce) can bring a seafood tower to new heights.
"Grilling is convivial," notes Edi Frauneder of New York's Edi & the Wolf. "There's something about this act of coming together over an open flame that just says vacation." Frauneder throws together a casually brilliant, crowd-pleasing, open-faced assemblage of pickled peaches and plums with burrata and arugula on top of homemade flatbread. It's a reminder that cooking with fire isn't just about big cuts of meat (though we've got ideas for that too) or who's got the bigger flames. Frauneder's dish is subtle, smoky, sweet, and tart. And like the rest of these inspired takes on summer grilling, it's exactly what we want to be cooking and eating right now.
"You can grill any oyster you'd eat raw," says John Finger of California's Hog Island Oyster Co., "but bigger is better, since the longer they cook, the more they shrink." Rules of thumb: Opt for Pacific over Eastern, and look for 4–5-inch shell size. Have your fishmonger shuck one before you buy; the meat should almost fill the shell.
While Brock insists that store-bought barbecue sauce will work perfectly well, a homemade version takes very little time and you can customize it to your tastes or whatever it is you're cooking.
Whether it's juicing grilled limes into margaritas, charring tomatoes for bloody marys, or making this reimagined sangria with caramelized fruits, grilling your drinks will add smoky depth to every sip. Get the recipe for Grilled Sangria »
Multi-task
One appliance, many uses.