Recipes
Tamales with Black Beans (Tamales y Frijoles)
Serves

makes 14

Cook

2 hours 55 minutes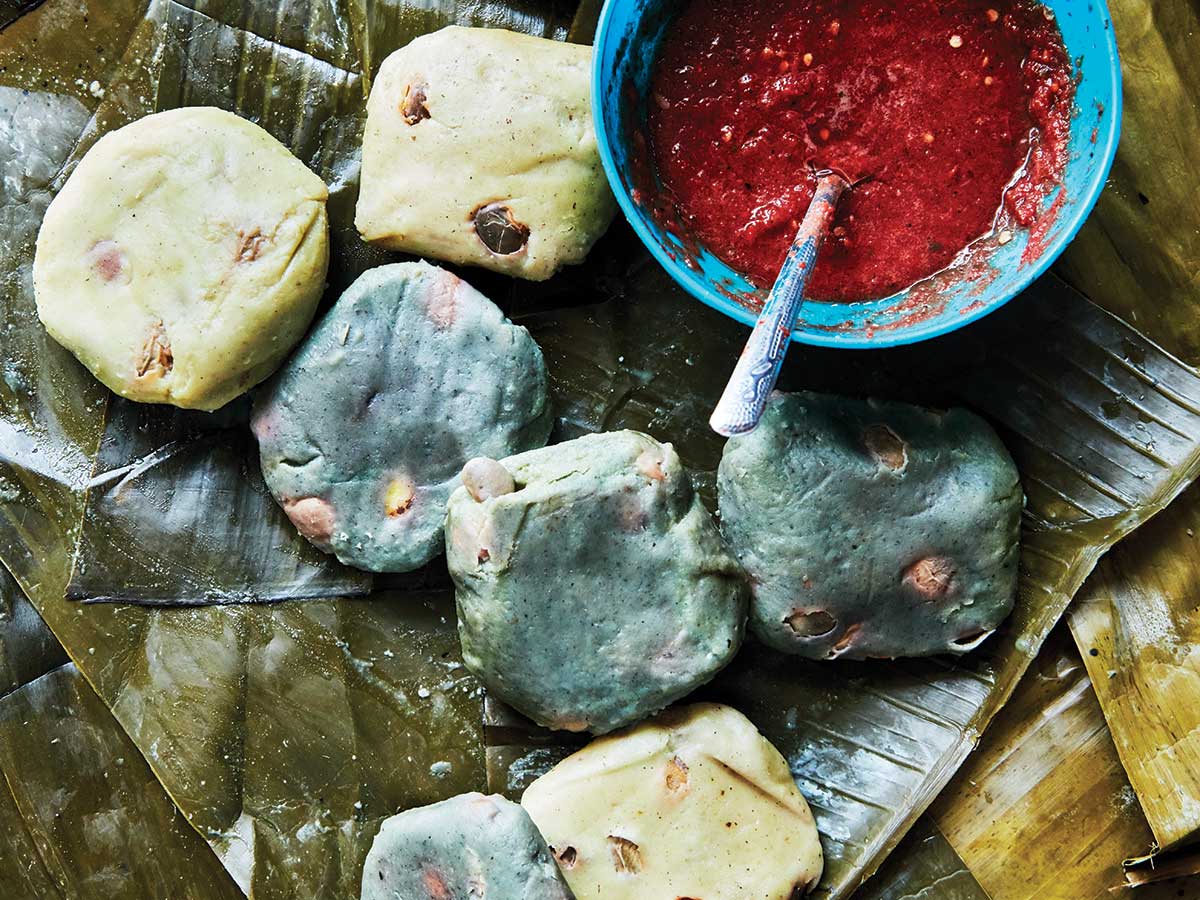 Meat and fat are scarce in Chiapas, so the local tamale dough is much leaner than it is in other regions. The most common meatless versions at the markets in southern Chiapas are wrapped in banana leaves and can include greens like hoja santa or chilipin, as well as black beans. At Yo'on Ixim in Puebla, the women make both blue corn and white corn versions, sometimes adding fresh shelling beans. Frozen banana leaves are easy to come by in Asian supermarkets—moisten them with water to keep them pliable while filling.
Ingredients
1 package frozen banana leaves, thawed, center seams removed, leaves cut into 8-inch squares, scraps reserved
4 cups prepared blue corn masa
1⁄2 cup vegetable oil or lard
1 tbsp. plus 2 tsp. kosher salt
1 lb. cooked black beans, drained and rinsed (2½ cups)
Charred Tomato and Chile Salsa, or substitute store-bought, for serving
Instructions
Step 1
Place the banana leaves in a wide bowl or baking dish of cold water while you prepare the masa. In a large bowl, combine the masa, lard or oil, and salt with your hands, kneading and squeezing the mixture until it forms a thick and pliable paste that doesn't crack around the edges. Cover and set aside for 30 minutes.
Step 2
Line the bottom of a medium pot with a few layers of banana leaves to keep the tamales from sticking (this is a good use for the scraps left over from cutting the squares). Add enough water to come about 3 inches up the sides of the pot. Cover the pot and set over low heat to warm.
Step 3
Turn the masa out onto a work surface. Flatten it into a large rectangle, and sprinkle the beans over the surface. Use the heels of your hands to press and knead the masa and beans together until they are well combined. Divide the mixture into fourteen ½ cup portions, then shape each into a chunky patty about ¾ inch thick. Wrap each patty loosely in a banana leaf square to cover, then stack the tamales seam side down in the pot. Cover the pot and adjust the heat as needed; steam until the masa is set, about 1 hour 10 minutes. Turn off the heat and let rest, covered, for 30 minutes. Serve warm with salsa.