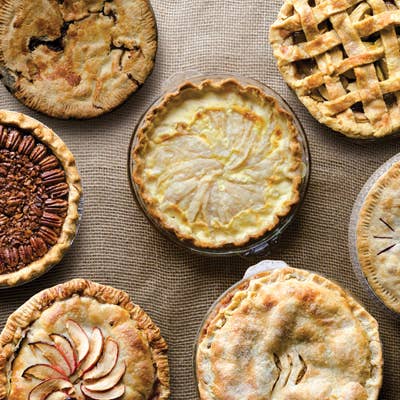 Techniques
6 Ways to Improve Your Thanksgiving Pie
How to boost the flavor of your crust and nail perfect apple pie
You Don't Need to Make Three Kinds of Pie
Some paroxysm of paranoia seems to hit us bakers in the days leading up to Thanksgiving: "I need to bake apple pie because of course I need apple pie but what if people want pecan pie instead but then there's my nephew who can't eat nuts and doesn't like fruit so clearly I need to make a pumpkin pie too and some flavored whipped cream and a palate cleanser sorbet to show that I'm not just doing the Basic Thanksgiving, I'm doing the Serious Hardcore Baker Thanksgiving."
Stop. Breathe. You do not need three pies at Thanksgiving. Or at least you do not need three different pies. Do so and you'll be wrangling as many as three separate crust recipes while playing the Oven Temperature shuffle, all the while reducing your chances of actually achieving the pie perfection you're hoping for.
So make your favorite pie and give it your all. Some people may not want that pie; they are welcome to bring their own. Or eat more stuffing. Or dig into a pint of Haagen Dazs that you've been keeping in the freezer for just such an occasion, you clever dog, you.
Thanksgiving's not Thanksgiving without pumpkin pie—and people who say it's way too dense. A simple way to keep all of your guests happy: Fold two whipped egg whites into the filling for an airier, souffle-like consistency.
Give Your Apples a Head Start
Don't like crunchy, undercooked apples in your pie? Neither do we. To ensure your apples cook thoroughly—and to collapse them a bit so you can fit more in your crust—give them a head start in a pan on medium heat with a pat of butter, a scant tablespoon of flour, and all your sugar, salt, and seasonings. Cook the apples for just a couple minutes until they soften slightly. The other advantage of this extra step? Checking your seasoning to make sure your the apples taste exactly the way you want them to.
How to Nail Perfect Meringue for Pie
Thanksgiving is editor Leslie Pariseau's excuse to make meringue—lemon meringue, chocolate meringue, a bowl of secret meringue she can hide for second dinner when everyone else is eating turkey sandwiches. The billowing fluff is especially satisfying when the stiff peaks are perfectly toasted. To do it, skip the oven broiler, which can easily burn your meringue in a matter of seconds, and stick to a blowtorch. It impresses the hell out of family, and it's also useful for browning marshmallows for sweet potatoes and flaming orange peels for rum punch.
Make Easy Flavored Whipped Cream
Flavored whipped cream is an easy way to add a little more oomph to your Thanksgiving dessert spread. Vanilla and bourbon are classic, but we're also partial to cinnamon or Earl Grey tea. Just steep your spice, herb, or tea in cold heavy cream for 30 minutes to an hour before whipping for a gentle flavor boost perfect with pie.
Add Some Vinegar to Your Pie Crust
A fast flavor boost for your pie crust: add a tablespoon of cider vinegar. The acidity cooks out of the finished crust, leaving behind a gentle apple sweetness that some say also tenderizes the dough a little more.