Culture
You Say Timpana, I Say Timpano
This Maltese (Italian-Greek-Egyptian) pasta bake has made its mark on the Mediterranean for centuries; here's why America loves it too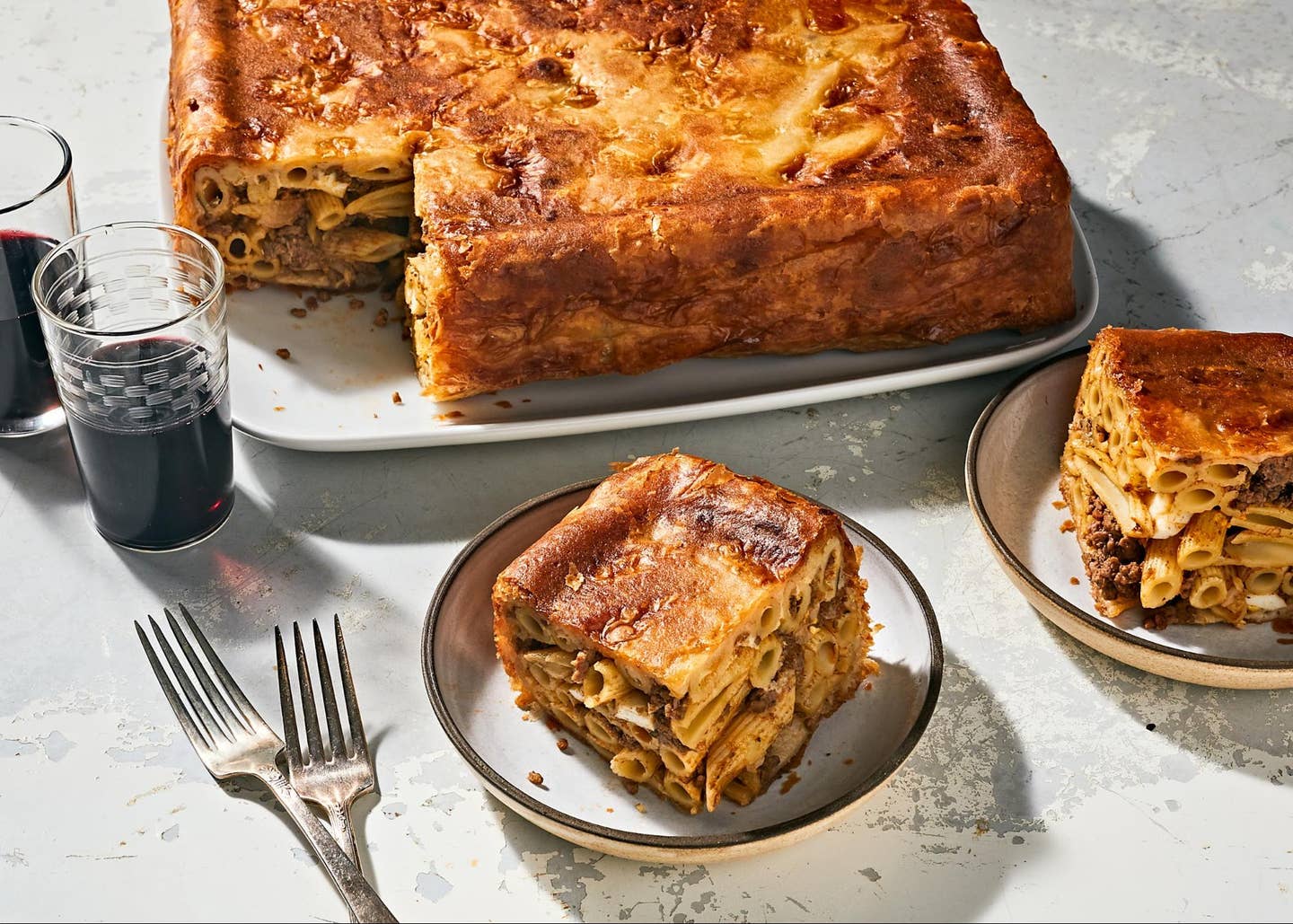 If you're not familiar with timpana, tubular pasta with meat sauce, bound with egg and cheese and baked in a pastry shell, it may sound a bit over the top. But food lovers from Malta to Egypt, Sicily to the Greek islands, know this to be true: there are few more impressive celebration dishes than this towering pie.
In America, we call this macaroni pie, or baked macaroni in pastry. The dish—called timpano in Italian, timpana in Maltese—is reputed to originate in Sicily, and given the islands' proximity to one another, the shared history comes as no surprise.
Antonio Carluccio, author of Pasta: The Essential New Collection from the Master of Italian Cookery, widely renowned as the godfather of Italian cuisine, dates this dish back to at least the 19th century, when Giuseppe di Tomasi di Lampedusa, a noble Sicilian behind the famed novel Il Gattopardo (The Leopard), counted it among his most adored foods. According to Carluccio, the original recipe called for "unborn eggs from the ovary of a chicken."
In Italian, the timpano is sometimes called timballo—a name given for the mold it is made in, which according to the book The Silver Spoon Puglia, is unique in having a diameter equal to its height.
Greeks have a similar dish, pastitsio, which includes bechamel, ground beef or pork, and forward notes of cinnamon or cloves. In Cyprus, the meat could be pork, beef, or lamb, and the cinnamon is a must, as is mint or parsley. Egyptians make the same bechamel-laced macaroni pie, minus tomato sauce. These crustless pasta pies don't quite boast the towering charm of the encrusted timpana (or timpano), often made with the addition of hard-boiled eggs, which, as you can imagine, makes each horizontal slice particularly alluring.
The mainstay of this dish can be macaroni (as in its American namesake) or more commonly, penne or ziti, which makes packing and cutting into neat, even squares a real possibility. The crust would typically be made of a flour and lard pastry, heavy with egg yolks (for color and flavor), and just enough sugar to tenderize.
Beaten egg and grated cheese bind the pasta, ensuring the layers stick and hold when cooled and cut—which is a must. Though it's best served warmish, cutting into the pie before it's cool enough to hold its shape is a mistake. To wit: in the 1996 cult film, Big Night, a four-minute scene details every step of mixing, rolling, shaping, saucing, layering, wrapping, and finally unveiling a 20-inch timpano for the "big night"—culminating with a pensive back-and-forth scene where the two brothers, Primo and Secondo, sniff, tap and listen to the towering pie before crowning it ready to cut and serve (tableside, of course).
Yes, there's effort involved here—historically the pasta, meat sauce, and pastry would all be made from scratch. Our version (made with puff pastry and dried pasta) is decidedly simpler, but no less delicious. Here's how to make it at home for any big night, or even a little one.
Start building base flavor with a mixture of onions, garlic, and meat, all browned over low heat, giving depth and umami to this starch-forward finished dish.
The addition of tomato paste, traditional Maltese spices, parsley, basil, bay leaf, and water creates a thick, heady sauce to coat the pasta—the backbone of macaroni pie.
In the grand scheme of things, the 30-minute slow simmer of meat, tomatoes, and spices is a small price to pay for ultimate satisfaction. Simmer the sauce until it's deeply flavorful, adding water only if needed to keep things saucy. When you're happy with the depth, toss the pasta and meat mixture together and set aside in a warmish (but not hot) place.
A traditional macaroni pie uses beaten egg plus grated cheese (traditionally, Parmigiano-Reggiano, though pecorino would work here, too) to help bind noodles to noodles. Starting with macaroni will yield a more tightly packed pie, but penne or ziti is traditional, and makes for more uniform patterning when sliced. Add your egg and cheese right to the warm meat-dressed-pasta, and toss several times to coat evenly.
The pastry casing is what sets a true timpana apart from its peers. A traditional lard and flour pastry, rich with egg yolks and just enough sugar to tenderize, requires mixing, resting, and rolling well in advance. Our fix: store-bought sheets of high-quality puff pastry. Layer the pastry over a 9-by-13-inch baking dish, and tuck it down into the corners so you can fill the pie tightly—the more compact it is before baking, the better your finished result.
Spoon the pasta and filling into the prepared pastry-lined pan, tamping down lightly to create compact layers. (Note: If you want to give your pie the full Big Night treatment, this is the place to layer in hard-boiled eggs or meatballs.) Finally, cover the pasta with another layer of puff pastry, crimping the excess over itself, and pinching every few inches to make a tight seal.
Slice a few vent holes (decoratively or practically—either method works) over the top of your pastry and bake in a preheated 400°F oven until the pastry is evenly golden brown. Remember that the inside is already cooked (and unless you've worked way in advance, probably already warm), so watching for pastry color is your best indicator of doneness here. To ensure the pastry is golden and crisp on the bottom, too, bake in the lower third of your oven, or even the bottom rack.
You'll want to serve your pie warm (though leftovers are incredibly tasty at room temperature), but not hot, when it will fall apart. The pastry will lock in heat, so cool on the countertop until you can easily slice through the pastry and pasta below—at least 10 minutes—then cut into nice even squares (or, should you choose to bake in a traditional timballo, or even an angel food cake pan, cut into wedges).
Ingredients
For the Maltese spice mixture:
1 Tbsp. coriander seeds
1 Tbsp. ground cinnamon
1 Tbsp. ground nutmeg
1 Tbsp. ground ginger
1 Tbsp. ground cloves
For the pasta:
1 large yellow onion, peeled and chopped
2 cloves garlic, peeled and minced
5 Tbsp. extra-virgin olive oil
1 lb. ground beef or pork
Kosher salt
1⁄4 cup tomato paste
6 fresh basil leaves, roughly torn
Leaves from 3 sprigs flat-leaf parsley, roughly chopped
1 bay leaf
1 tsp. cumin seeds, crushed
1 lb. penne or ziti, cooked according to package instructions and drained
2 hard-cooked eggs, peeled and chopped
3 eggs, lightly beaten, plus 1 egg, lightly beaten, for egg wash
1⁄4 cup grated Parmigiano-Reggiano
Freshly ground black pepper
All-purpose flour
1½ sheets all-butter frozen puff pastry (21 oz.), thawed
Instructions
Step 1
Make the Maltese spice blend: In a mortar and pestle or spice grinder, pound the coriander, cinnamon, nutmeg, ginger, and cloves until finely ground. Store in an airtight container. (Makes 3 tablespoons.)
Step 2
In a large skillet over medium heat, add the oil. When the oil is hot, add the onion and garlic; cook until soft, 12 minutes. Add the meat, season with salt, and cook, breaking up the meat with a wooden spoon, until browned, 15 minutes. Pour off fat. Stir in the tomato paste, basil, parsley, bay leaf, cumin, 1 teaspoon Maltese spice blend, and 1 cup water. Simmer for 25–30 minutes, adding more water if meat dries out. Remove and discard bay leaf.
Step 3
Preheat the oven to 400°F. In a large bowl, combine the meat mixture and pasta. Stir in the hard-cooked eggs, 3 beaten eggs, and cheese. Season with salt and pepper. On a lightly floured surface, roll out 1 sheet of puff pastry to 16 by 12 inches. Transfer to a 9-by-13-inch baking dish. Add the meat and pasta mixture. Roll out the remaining half sheet of puff pastry to 9 by 12½ inches, then place on top. Pinch the edges of the pastry together, brush the top with egg wash, and cut four 2-inch slashes. Bake until golden brown, about 40 minutes. Let cool for at least 10 minutes and up to 30, then unmold, cut into squares, and serve. (For the cleanest cuts, let the pie cool completely overnight and reheat in a 350°F oven before unmolding and slicing.)