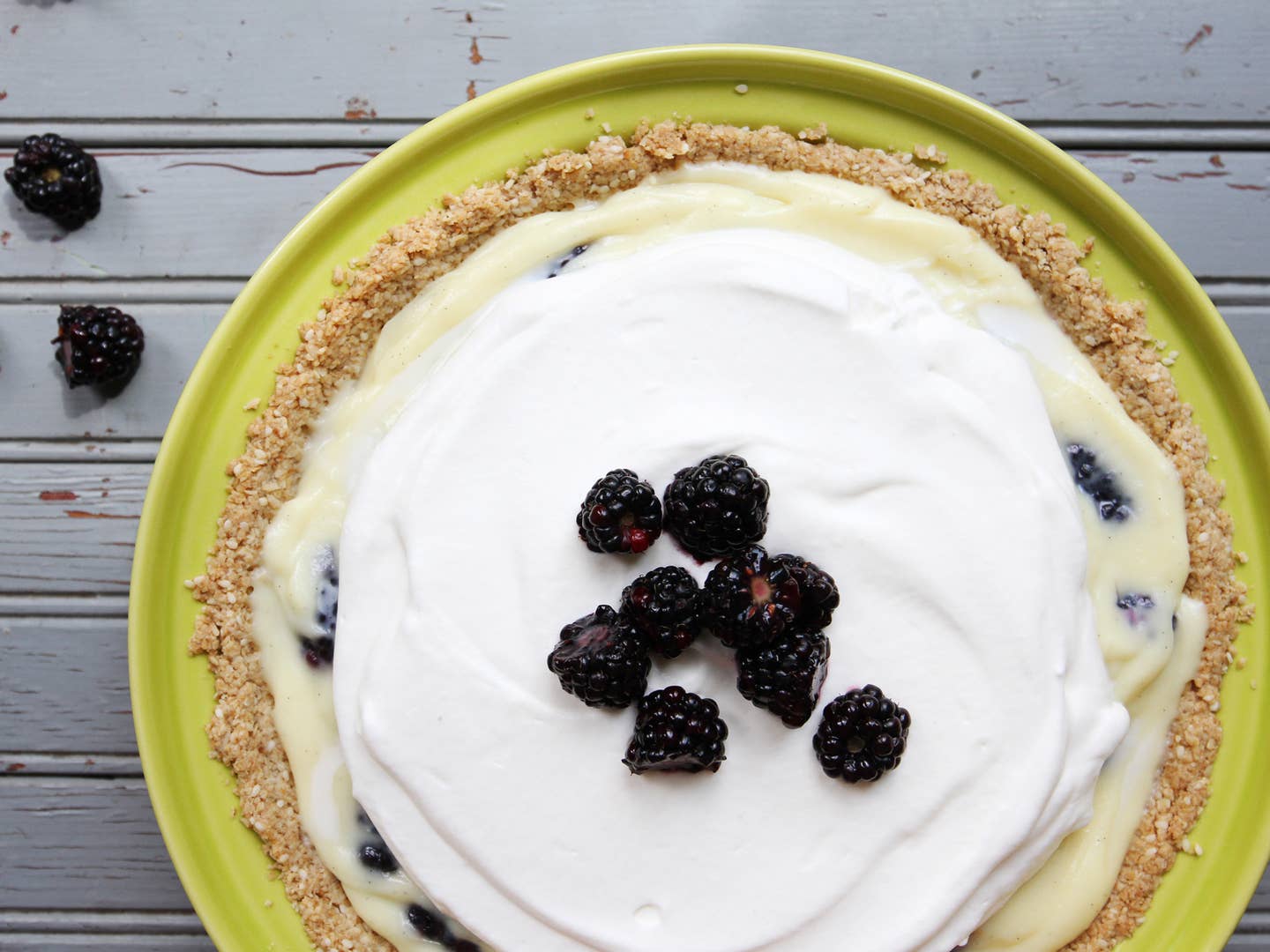 Techniques
Tips from the Best Pie Baker in Durham
Phoebe Lawless, pastry chef at Scratch Bakery, opens up about the secret to a perfect pie
Pie is my favorite food group, and because of that, no trip is too long, expensive, or inconvenient if it involves Scratch Bakery in Durham, North Carolina, run by the incomparable baker Phoebe Lawless. At Scratch, the pastries are made from local and seasonal produce, and are so good that Lawless was a James Beard Award pastry chef semi-finalist in 2014. She uses a base of classic southern technique as a jumping off point for a menu that includes everything from tomato pie to a cherry-and-ricotta tart.
For many home bakers, pie can be a triggering topic. Flashbacks to uncontrollably runny insides and blackened crust edges haunt me months after the initial trauma. So I hopped on the phone and got the scoop (or slice?) from Lawless, and she gave me plenty of tips and tricks to help me in my next pie baking endeavor. The most valuable lesson I learned from her might be something that I've known all along: no matter what, pie will always be delicious.
What's the biggest mistake that you see home bakers making?
They don't make pie often enough! The biggest secret to making pies is practice. It's the one technique that ensures you'll be successful. If someone's pie doesn't come out the way they envisioned it, they immediately feel a sense of failure. But it takes time.
Is it true that you have to keep all the ingredients very cold before you start baking?
It's absolutely true that everything should be cold, but we live in the modern age where there's air conditioning and refrigeration. It's not as fussy and delicate as people think it is. Folks shouldn't get stressed out about their fats, like butter, warming up slightly when working the dough. You can always put the mix into the fridge or freezer for 10-15 minutes if your fat seems too soft, but worrying about keeping everything on ice until the very last second isn't necessary.
What would you suggest to someone whose pies always have a runny fruit filling?
Know your fruits, and then adjust your methods based on the fruits you are using. Most berries (except blueberries) and stone fruits (peaches, plums, nectarines) tend to become very goopy when baked. An easy fix for this is to combine them with a fruit that doesn't become runny. For example, blueberries counteract the goopiness of cooked nectarines beautifully. Another option is to increase your thickener just a touch. Also: lower your expectations! Most pies you see on magazine covers or in grocery stores are built to last and to be photographed. They're not always made to be delicious. I'm okay with runny pies. You don't want it to be soup, but pies at their best might be runny. And quite frankly, I tend to like all my fruit desserts a little sloppy.
What's your favorite and least favorite fruit to use for baking pies?
I'm not a big fan of blueberries because the fruit is so high in pectin, which can make the texture really fussy and hard to manage. At the end of the day, if I'm making a pie for myself, I'll always choose peach. And they're perfect for summer.
Any parting words of wisdom for someone just starting to bake pies?
I sound like a broken record, but practice. Don't be afraid of failure, it's okay. The spectrum of what people consider to be a "bad pie" is still pretty small. It might not be the showstopper that you're hoping for on your Thanksgiving table, but very rarely is there really bad pie. They'll always be delicious.
Ready to take your kitchen by storm? I asked Phoebe for one of her favorite summer pie recipes, and suggested her blackberry cream pie with a toasted oat and sesame crumb crust. She likes this recipe because the oat crust provides an easy and delicious base that makes for a sturdy, no-fuss crust. This recipe also works just as well with strawberries, peaches, cherries, or whatever is in peak season. It's a great way to use fruit that is just beyond its usability, whether it's bruised or overly ripe.