Berlin's Green Party
In Germany's meat-loving capital, vegetables have surprisingly captured the culinary imagination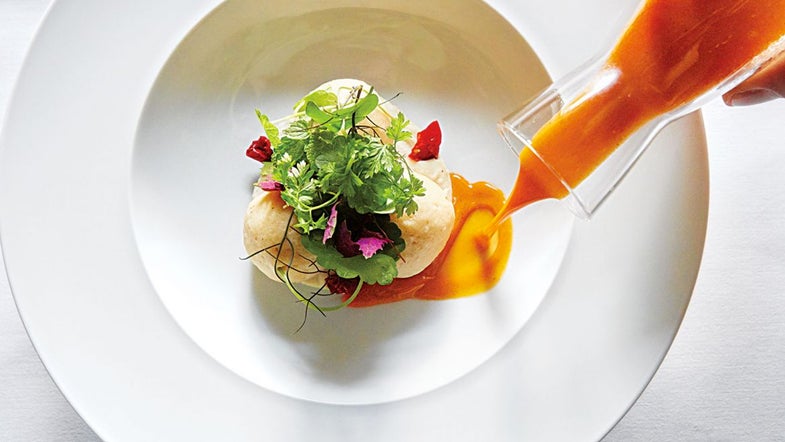 Good Taste Award Winner 2015: Berlin, The New Vegetarian Capital
The European city that has become the Old World's most avant-garde culinary laboratory was, until very recently, an unlikely candidate for gastronomic glory. Berlin doesn't have the seemingly indomitable epicurean pedigree of Paris, or Barcelona's spectacular produce. It also lacks the worldly, well-heeled, novelty-loving international clientele that keeps London's restaurants humming, and it has no chef who's internationally exalted at the level of someone like Copenhagen's René Redzepi. But somehow, Berlin is the first major Western city where vegetarianism has achieved complete culinary parity with the traditional carnivore's diet, and the city's new vegetarian cooking is intersecting with the growth of an increasingly popular locavore food scene to create a unique, and often brilliant, meat-free Mittel European-accented cuisine.
A very particular local anxiety feeds Berlin's appetite, because it is a place where the tumultuousness of the past often still preys on the tranquility of the present: Beyond its evident healthiness and ecological probity, vegetarian eating incarnates a trinity of values—idealism, virtuousness, redemption—that creates a deeply hopeful and soothing mental balm for the inhabitants of one of the world's most spectacularly traumatized cities. For many Berliners, the decision to stop consuming meat and to start eating as locally and seasonally as possible is a public affirmation of a personal desire to make the world a better place. And if the transformation of a famously pork-loving city that idolizes eisbein and currywurst—the ur Berlin street food of sliced sausage with a sauce of ketchup, Worcestershire sauce, and curry power—seems sudden, it's actually been simmering for 70 years.
Brilliant contemporary dishes, like chef Josita Hartanto's seitan (chewy textured wheat protein) onion roast with pumpkin-seed noodles, red pepper jus, and eggplant parmesan at the trendy Prenzlauer Berg district restaurant Lucky Leek, couldn't have existed in pre-war Berlin, because it was the postwar foreign influx—Turks, Greeks, and Italians, recruited to rebuild the ruined city—that changed the city's foodways forever. "We used to think that vegetables were food for sick people," said the Oma (grandmother) of a Berliner friend, adding, "it was the auslanders who brought us the vegetables of the sun—peppers, eggplant, zucchini, and others. At first we found them strange, but when we learned how to cook them, we discovered they're delicious," she said with a chuckle.
On a warm summer night, my old friend's Oma, whom I had anxiously invited to dinner at Lucky Leek (I worried the food might be too odd for her), and I began our meal with a salad that would quickly prove to any skeptic that it's as easy to create sensuality and desire when cooking with plants as it is with meat or fish. Composed of crushed macadamia nuts, several kinds of seaweed, rice cake, and shiitake nigri (shiitake pickled in miso) and dribbled with curry-leaf oil, it was pleasantly provocative, with flavors as intricately layered and juxtaposed as those found in any good beef stew. My main course was a different seitan, this one treated like game in a lush poivrade sauce and served with grandmotherly garnishes of carrot purée, creamed mushrooms, and Serviettenknödel, the bread dumplings that are a stalwart of Central European cooking.
"Excuse me, is that good?"
Yes, it's delicious, I told the older woman at the table just across from ours.
"It looks and smells like a sauté of venison," she said. "You don't miss the meat?"
"No, not at all," I said. Then the lady's amused granddaughter ended our conversation. "I'm sorry, my grandmother's a vegetarian virgin," the young woman said.
After World War II, Berlin was a broken but wide-open city that gradually evolved into sort of a utopian island," said Jean-Christian Jury, a 60-year-old French-born chef who opened his excellent vegan restaurant, La Mano Verde, in 2008 and has become le père culinaire to what's probably the world's most talented constellation of vegetarian and vegan chefs.
"Since Berlin was once removed from mainstream postwar life in West Germany, the city attracted unconventional creative people who wanted to live a healthy progressive liberal lifestyle. That often included being vegetarian," Jury explained. "When the wall came down in 1989, this influx of people not only grew but became more international, and the demand for vegetarian cooking exploded. This is why I moved to Berlin from London—I wanted to create vegetarian cooking that would go beyond nutritious and be so delicious even non-vegetarians would want to eat it. Today, at least a third of the people who visit La Mano Verde aren't regularly vegetarian. They come because they love the food."
Jury wasn't the only one to envision a serious future for vegetarian cooking in Berlin, which today has more than 30 vegan restaurants alone. Nightlife entrepreneur Heinz Gindullis, aka "Cookie," an Englishman who's been a vegetarian since he was five years old and who started his eclectic career as a dishwasher in a kosher Berlin restaurant, opened Cookies Cream, a glamorous vegetarian restaurant hidden down a service alley in an industrial-feeling space off the famous Unter den Linden, in 2007. The building, once a part of the French Cultural Center under the GDR, proved difficult to find: "We want to create a mystery that causes you to leave your normal self behind," explained Markus Jänsch, the managing director of Cookies Cream. A native of Munich who became a vegetarian after moving to Berlin several years ago, Jänsch described the restaurant's success: "Berlin has attracted a creative class who think a lot about what they eat," he said. "These people care about animals and care about the environment."
What impressed me most about my meal at Cookies was that chef Stephan Hentschel's cooking almost never reminded you that you were eating vegetarian food. Instead, a sophisticated and overtly sensual dish like soft-boiled quail's egg in brioche with port-wine-and-shallot sauce, potato foam, and truffle jus could easily have kicked off dinner in a steakhouse, while a crunchy potato lasagna with asparagus, gnocchi-like Swiss cheese "truffles," radishes, and mushrooms had a deliciously trashy charm that was pointedly at odds with the puritanical sanctimoniousness of the drab '60s vintage "health-food" cooking once associated with vegetarianism.
"In the past Berlin was a working-class city without a bourgeoisie that cared about good food," said Ilhami Terzi, the delightful and incisive Turkish-German owner of Kopps, one of my favorite vegan restaurants in Berlin since I began exploring the city's green scene several years ago. "This started to change when more and more people went vegan. They were attracted by health benefits and environmentalism, but they didn't want to lose the pleasure of good food," said Terzi. He serves this newly vegan clientele frankly delicious dishes like kohlrabi-saffron soup garnished with celery and Passe-Pierre seaweed, and sweet-potato-and-leek paté with orange, fennel, and pumpkin seeds.
For my part, the vegetarian cooking in Berlin is so compellingly original I always choose the vegetal menu over the conventional one when given the choice, like at the new, puckishly named Nobelhart & Schmutzig (the name, taken from a sports page headline, means "noble, hard, and dirty"). The brilliant modern Prussian bistro, occupying a shop front remodeled with an open kitchen surrounded by a counter, is located near the site of the famous gate known as Checkpoint Charlie in the now-vanished Berlin Wall.
"By being brutally local, we're inventing a new way of eating and cooking in Berlin today," said Billy Wagner, one of the best young sommeliers in Germany and the restaurant's owner. "When our city was sundered, we forgot about what grew on our doorstep, and all anyone cared about was Italian-style cooking, because that was the country our fruit and vegetables came from and where we went on holiday," the generously bearded Wagner explained to me the night I settled on a stool at this low-lit and almost impossibly popular restaurant, a place the prestigious German newspaper Die Welt has dubbed the country's "most radical restaurant."
"For 15 years, local agriculture has been coming back," Wagner says. "And now with the booming demand for organic local seasonal produce from vegetarians, regional agriculture is in the midst of a little renaissance."
Wagner and chef Micha Schäfer have created their own fragile food chain with the help of very small-scale local suppliers, who get a shout out on their menu. "We're trying to be as indigenous as possible," said Wagner. "Micha and I work together to find substitutes for imported foods. Verjus can bring the same acidity to food as citrus in many dishes. Our salt comes from Göttingen and raw milk butter from Szczecin over the border in Poland."
What makes a vegetarian meal here satisfying is that it's composed of dishes that couldn't exist anywhere else but in Germany's Brandenburg province, which surrounds Berlin. King oyster mushrooms with pickled elderberries and elderberry coulis, radish salad with pickled beech tree sprouts and emerald green parsley purée, and sorrel ice cream with dill-blossom meringue were the purest and most primal expression of early summer in central Europe I've had since the mad lust of a first kiss with a Czech lover 20 years ago. These wildly horny dishes blindsided the dying convention of vegetarian food as neutered, bland, and sad.
Every city I visit regularly gifts me with a craving for a specific dish. In Rome, it's the spaghettone carbonara at Roscioli, while Valencia means paella, Vienna tafelspitz and schnitzel, and Singapore laksa, oh please more laksa. For years, a boarding pass marked TXL for Tegel Airport in Berlin brought on an urgent desire to head for the sausage heaven that is the lavish wiener-and-wurst stall of the food hall at KaDeWe, the German capital's best department store. But now I crave Jury's spaghetti de la mer, gluten-free rice-flour spaghetti cooked with wakame and Passe-Pierre seaweed, sundried tomatoes, and sesame, chile, and coriander-garlic oils. Berlin has changed a lot, and its bold new culture of vegetarian delectation has changed me, too.
Recipes from Berlin's Vegetarian Front
Spaghettini with Carrots, Olives, and Red Endive »
Fried Beets with Raspberry Sauce and Hazelnuts »
Seaweed Salad with Orange and Macadamia Nuts »
Avocado and Apple "Tartare" with Fried Walnut Dumplings and Chive Cream »
Spinach and Potato Dumplings with Cold Tomato Sauce »
Green Minestrone with Kohlrabi, Olives, and Spinach Pesto »
Travel Guide: Berlin
Where to Eat Green in Germany's Capital
Cookies Cream
Tucked away just off Unter den Linden near the Brandenburger Tor, one of Berlin's best vegetarian restaurants pulls a fashion crowd.
Behrenstrasse 55
Daluma
Vegetarian entrepreneurs in Berlin are pioneering healthy fast casual eating, and the recently opened Daluma in Mitte aces the concept with cold-pressed juices and raw-food salads.
Weinbergsweg 3
Lokal
Perfect for dinner (be sure to make a reservation) after a day on museum island, this hipster bistro proudly works with as much local seasonal produce as possible.
Linienstrasse 160
Kopps
Not only is the vegan cooking outstanding at this Mitte restaurant, but owner Ilhami Terzi pours a great list of organic wines by the glass. Excellent weekend brunch buffet, too.
Linienstrasse 94
Lucky Leek
The menu changes often at this deservedly popular vegan restaurant in the hip Prenzlauer Berg district, but dishes like sour-and-spicy soup with glass noodles and herb-stuffed wontons, and split-pea bonbons with apricot peperonata sauce, show off the kitchen's cosmopolitan style.
Kollwitzstrasse 54
La Mano Verde
Vegan chef Jean-Christian Jury, a native of Toulouse, was the one who first showed Berliners the gourmet side of green eating with dishes like creamy lime-almond gazpacho with avocado; eggplant terrine with "cheese" made from nuts and basil; and green-apple Charlotte cake.
Uhlandstrasse 181–183
Nobelhart & Schmutzig
Run by sommelier Billy Wagner and chef Micha Schäfer, Berlin's hottest bistro is hyper-local, which means modern Prussian cooking sourced in and around Berlin. A vegetarian prix-fixe tasting menu is offered alongside the conventional one, and both are brilliant.
Friedrichstrasse 218
For where to shop green, check out Berlin's Best Markets »