Recipes
Spaghettini with Carrots, Olives, and Red Endive
Serves

serves 4

Cook

20 minutes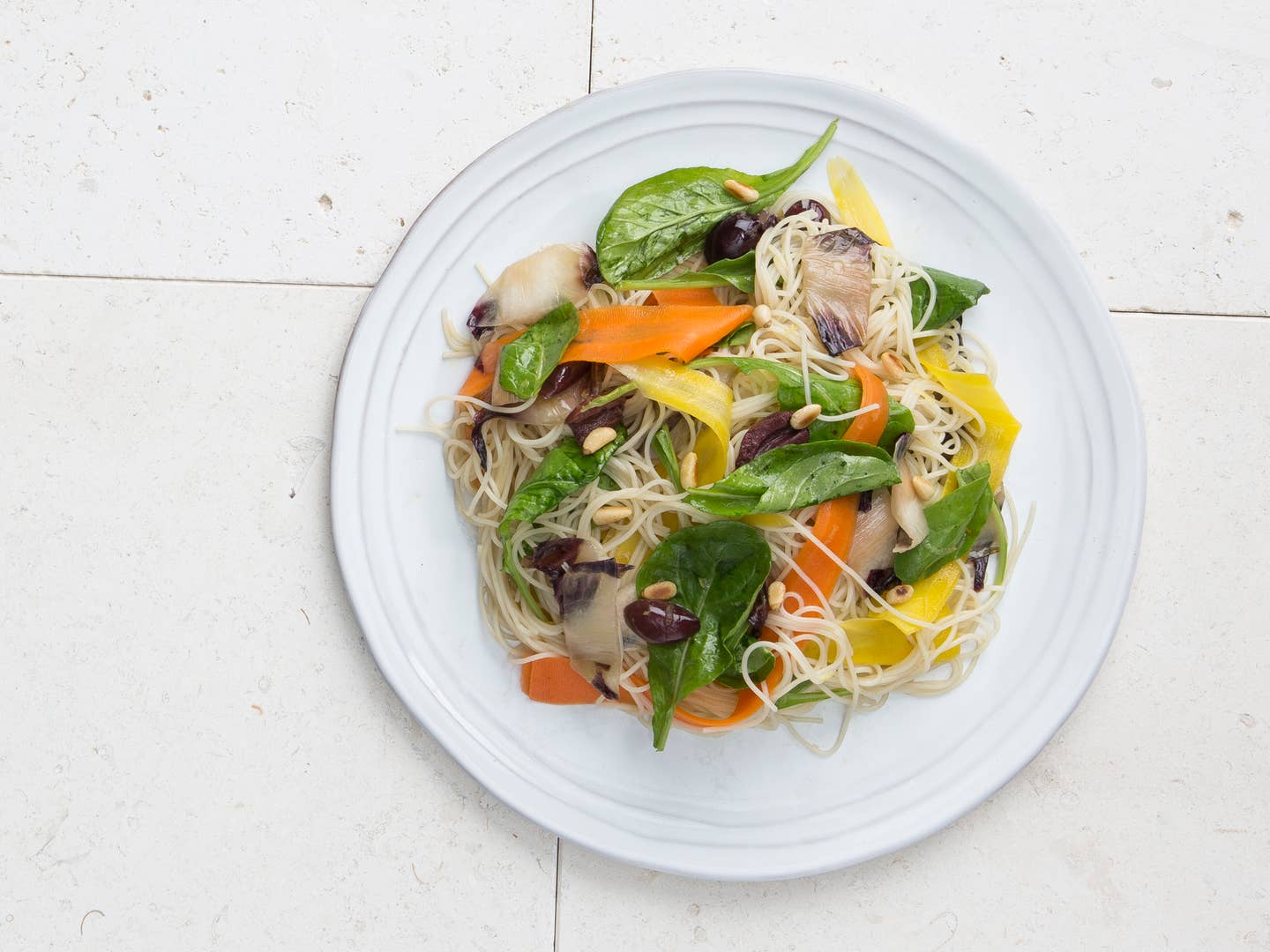 Carrot ribbons cooked al dente and lightly braised red endive add color to this simple vegetable-packed pasta dish, brightened with lots of lemon zest. Josita Hartanto of Berlin's Lucky Leek uses multicolored carrots for a beautiful presentation.
Ingredients
2 tbsp. pine nuts
3 tbsp. olive oil
12 oz. red endive or radicchio, cut into 2-inch pieces
1 1⁄2 tbsp. sugar
Kosher salt and freshly ground black pepper
8 oz. spaghettini
2 medium carrots
1⁄4 cup pitted and halved kalamata olives
Finely grated zest of 1 lemon
1 cup packed arugula
Instructions
Step 1
In a 12-inch skillet, cook the pine nuts over medium-high heat, tossing, until toasted, about 2 minutes. Transfer the pine nuts to a bowl and add the olive oil to the skillet. Add the endive and sugar and season with salt and pepper. Cook the endive, stirring, until wilted and tender, 3 to 4 minutes. Transfer the endive to a bowl and wipe the skillet clean.
Step 2
In a large saucepan of boiling salted water, cook the pasta, stirring, until al dente, about 3 minutes. Drain the pasta, reserving 1 cup of the pasta water. Meanwhile, using a vegetable peeler, peel the carrots into long thin slices.
Step 3
Return the skillet to high heat, add the reserved pasta water, and bring to a boil. Add the carrots and cook until crisp-tender, about 1 minute. Stir in the reserved endive along with the olives and lemon zest, and then add the pasta and toss to coat in the sauce. Remove the skillet from the heat, season with salt and pepper, and stir in the arugula. Transfer the pasta to a serving platter and sprinkle with the pine nuts.