Recipes
Green Minestrone with Spinach Pesto
The crimson classic gets a verdant makeover with the addition of kohlrabi and briny olives.
Serves

serves 4

Cook

45 minutes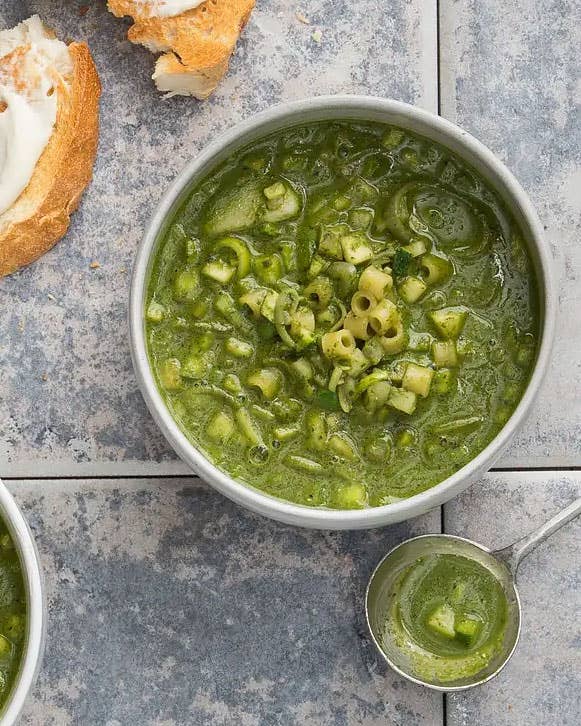 Chef Josita Hartanto, of Berlin's vegan restaurant Lucky Leek, makes her minestrone with hearty kohlrabi, fennel, and briny green olives. The soup is brightened with a freshly made pesto, which is stirred in just before serving.
Ingredients
5 cups packed baby spinach (about 5 oz.)
2 cups packed basil leaves
5 tbsp. pine nuts, lightly toasted
1 cup raw unsalted cashews
Kosher salt
1 cup ditalini pasta, cooked to al dente
5 tbsp. extra-virgin olive oil, divided
½ cups thinly sliced shallots
1 garlic clove, thinly sliced
2 cups finely chopped zucchini
1 cup finely chopped kohlrabi
1 cup thinly sliced leek
¾ cups finely chopped fennel
Freshly ground black pepper
4 cups vegetable stock
¼ cups frozen peas
6 large green olives, pitted and coarsely chopped
Toasted country bread slices
Instructions
Step 1
Make the pesto: In a blender, purée the spinach, basil, pine nuts, and 3 tablespoons of the oil. Scrape into a bowl and set aside. Wash the blender.
Step 2
Make the cashew cream: To the empty blender, add the cashews, salt to taste, and ¾ cup boiling water and let soak until the water comes to room temperature, about 30 minutes. Purée to a silky consistency; set aside.
Step 3
While the cashews are soaking, make the soup: To a pot set over medium-high heat, add the shallots, garlic, and remaining oil and cook until softened, 5–7 minutes. Add the zucchini, kohlrabi, leek, and fennel, season with salt and black pepper, and continue to cook, stirring frequently, until the vegetables have softened, about 6 minutes. Pour in the vegetable stock and turn the heat to high. When the liquid boils, turn the heat to medium-low and cook, stirring occasionally, until the vegetables are tender, about 10 minutes. Stir in the peas, olives, and reserved pasta and cook until warmed through, about 2 minutes more. Stir in the reserved pesto.
Step 4
To serve, ladle the minestrone into bowls and accompany with toasts swirled with the cashew cream.