Recipes
Watermelon, Feta, and Jalapeño Salad
Give your summer salad a spicy, Asian kick.
Serves

serves 6

Cook

10 minutes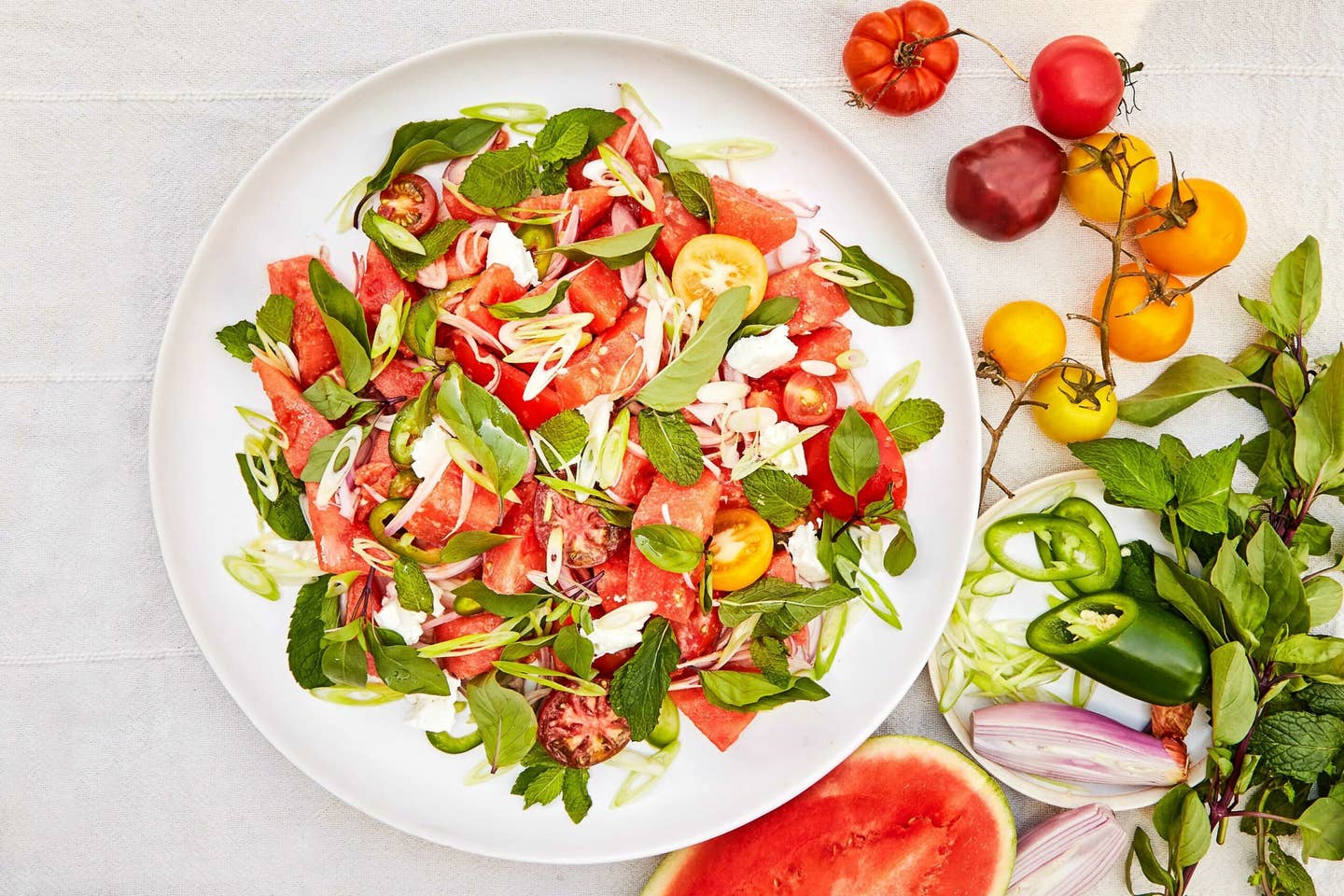 Watermelon salad is a refreshing summery staple. For a Southeast Asian spin, chef Chris Shepherd of Underbelly in Houston adds fish sauce, chile, and Thai basil to the classic combination of watermelon and feta. For more recipes, check out
Ingredients
2 tbsp. fish sauce
1 tbsp. plus 1 1/2 tsp. fresh lime juice
2 tsp. honey
3 shallots (1 coarsely chopped, 2 thinly sliced)
1 garlic clove, coarsely chopped
1 red bird's eye chile, stemmed
2 tbsp. canola oil
12 oz. watermelon flesh, cut into 2 1/2 x 1 1/2-inch rectangles
1⁄4 cup crumbled feta
2 vine-ripe tomatoes, cored and quartered
1 jalapeño, stemmed and thinly sliced
Kosher salt and freshly ground black pepper
1⁄4 cup mint leaves
1⁄4 cup torn Thai basil leaves
3 scallions, thinly sliced
Instructions
Step 1
In a blender, combine the fish sauce, lime juice, honey, chopped shallot, garlic, and bird's eye chile and process until smooth; with the motor running, slowly drizzle in the oil until completely emulsified. To a large bowl, add the watermelon, feta, tomatoes, and jalapeño; add the dressing, season to taste with salt and black pepper, and toss to combine. Transfer to a serving platter, top with sliced shallots, mint, basil, and scallions, and serve at room temperature.