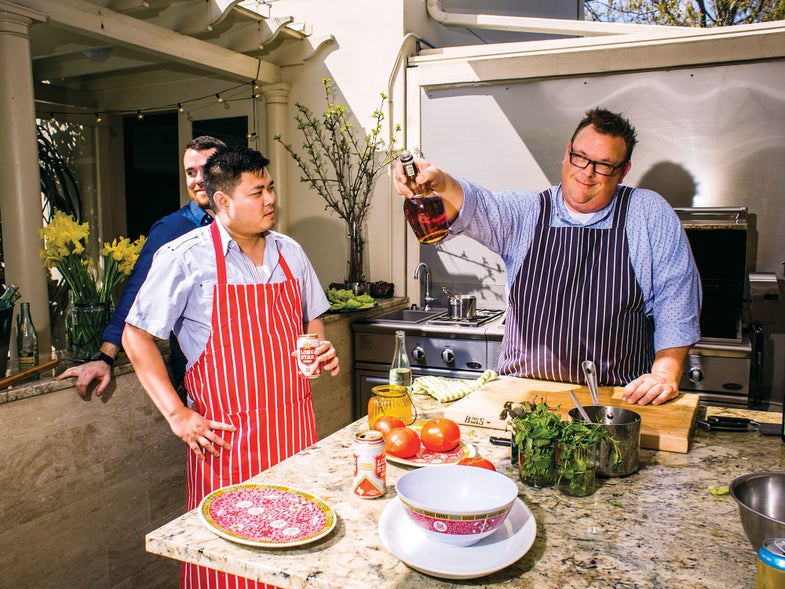 Tell Chris Shepherd that you've never been to Houston and in an instant you're an exchange student and he's your host dad. He stops at nothing less than full immersion. The chef puts on his apron, fires up his grill, and as he prepares an Asian-inflected menu for one of his frequent Sunday get-togethers, begins the lessons.
Tunes from country singer-songwriter Lyle Lovett and rapper Paul Wall, both Houston-born, blare from his iPhone. He hands me a Topo Chico sparkling water and puts in a pickup order at a nearby Shipley's, a donut chain that sells warm Eastern European pastries called kolaches, here filled with sausage and cheese (it's a Czexas thing). Soon come the rapid-fire fun facts about his hometown: The most diverse city in the country? Houston, he claims. The first word said on the moon? Houston. You'd never guess it, but do you know where a lot of Dutch folks are moving to these days? Houston. By lunch, I'm having fake memories about old ball games at the Astrodome.
At his restaurant, Underbelly, Shepherd has a bold statement printed at the top of his menu: "Houston is the new American Creole city of the South." Using the word "Creole" in a more general sense, to describe the mixing of disparate cultures, Shepherd is explaining that he cooks a version of Houston food derived from the culinary traditions of the enormous ethnic populations that live there. This plus-sized white guy, raised in Tulsa, Oklahoma, cooks what he calls Houston cuisine, and instead of barbecue brisket he makes stewy braised goat with rice-cake-like dumplings, red curry with pork belly, and fried, turmeric-marinated grouper served over rice noodles, all seasoned from a coterie of flavorings—Chinese five spice, fish sauce, gochujang (the spicy fermented Korean condiment)—not widely used in Texas cowboy cookery.
A lot of chefs travel the world doing stages (chef-speak for unpaid internships) in temples of haute cuisine, but not Shepherd. "I staged at local Indian and Thai restaurants," he says. Beginning as a culinary student at the city's Art Institute, he ate his way through local mom-and-pop shops observing how today's Houstonians, one quarter of whom are foreign-born, cook.
"I would go in and be like, 'I want this, this, and this,'" Shepherd says. "The guy would be like, 'Okay, okay, and not for you.' They thought I couldn't handle it." But after persuading them to serve him pickled sausage and stinky beans—and consuming them by the plateful—the chef made inroads. "I'm not a small man and some of these places only have a four-burner stove, a fryer, and four little Thai ladies who don't speak English. I'm standing there in the corner, and they're looking at me like, 'Why are you here?' But they started to trust me, and they taught me."
Underbelly is closed on Sundays, and even though its staff members work together all week, they often spend their day off in each other's company eating and drinking bourbon. Shepherd sometimes joins, or, when not entertaining, he stays home observing No Pants Sundays. ("I met my downstairs neighbor while I was on my balcony, in my underwear, eating a bowl of pho," he says. "I love spending Sundays that way.")
As his restaurant family arrives—folks from Underbelly and his two other establishments, Hay Merchant, a craft beer bar, and Blacksmith, a coffee shop—the chef's hands are in constant motion tossing charred cabbage with a tangy nuoc mam dressing, rubbing pork collar with a cilantro-based marinade before laying it on the flaming grill, and delicately slicing tender, mirin-marinaded flank steak.
Someone—one of the fresh-faced restaurant folks with a never-explained nickname like Nugget or Spider Monkey—pops open a bottle of W.L. Weller bourbon and offers it to Shepherd. He takes a few swigs and starts brushing an enormous slab of ham ribs on the grill with a mustard-fish sauce glaze, then grabs chopsticks to arrange crunchy marinated cucumbers on top of soba noodles for his way-better-than-your-average-pasta-salad pasta salad.
"Mama Tran wouldn't approve!" jokes Lesa Tran Lu about her stickler mother, an expert in Chinese cuisine, when the succulent char siu chicken comes off the grill. The chicken is pink from sitting in a marinade of vinegar, sugar, Chinese five spice, and untraditional beet powder. Lu, the child of Vietnam War refugees, is a chemist at Rice University and Shepherd's "Yoda of fermentation." She helps hone his in-house pickling operation, and he, in turn, has lectured her classes about the science of food. Shepherd admits he's afraid of Mama Tran's opinion, but he reminds himself that he doesn't claim to be an authentic Asian chef. He's only making an introduction: "My food is a gateway drug," he says.
He may be the only chef with a website guiding patrons to go elsewhere: to the awesome little Sichuan place, to the spot with his favorite bowl of pho, to the rice bakery with Houston's best kimchi. He also may be the only chef who drives a Chevy Silverado and paints his toenails; who is as conversant in Asian ingredients as he is in the Houston Texans' O-line; who is a trained sommelier and prefers his bourbon straight from the bottle; and who lectures at a prestigious university but doesn't like pants.
I ask Shepherd if he would characterize his food as American, and his response zigs and zags from 17th- and 18th-century immigration patterns in the South to cooking with pig's blood. Finally, he talks himself into a definitive answer: yes.
Shoeless now, apron off, shorts thankfully still on, Shepherd has his hands full. In one, he's swirling a glass of 2005 Châteauneuf-du-Pape by its dainty stem, and with the other he grabs a perfectly pink piece of the flank steak, tops it with some of his Coca-Cola-pickled onions, wraps it in a lettuce leaf, and drops the culture-crossing bite in his mouth. "Now that's love," he says.
See all the recipes from A Houston Cookout with a Far East Reach in the gallery, below.