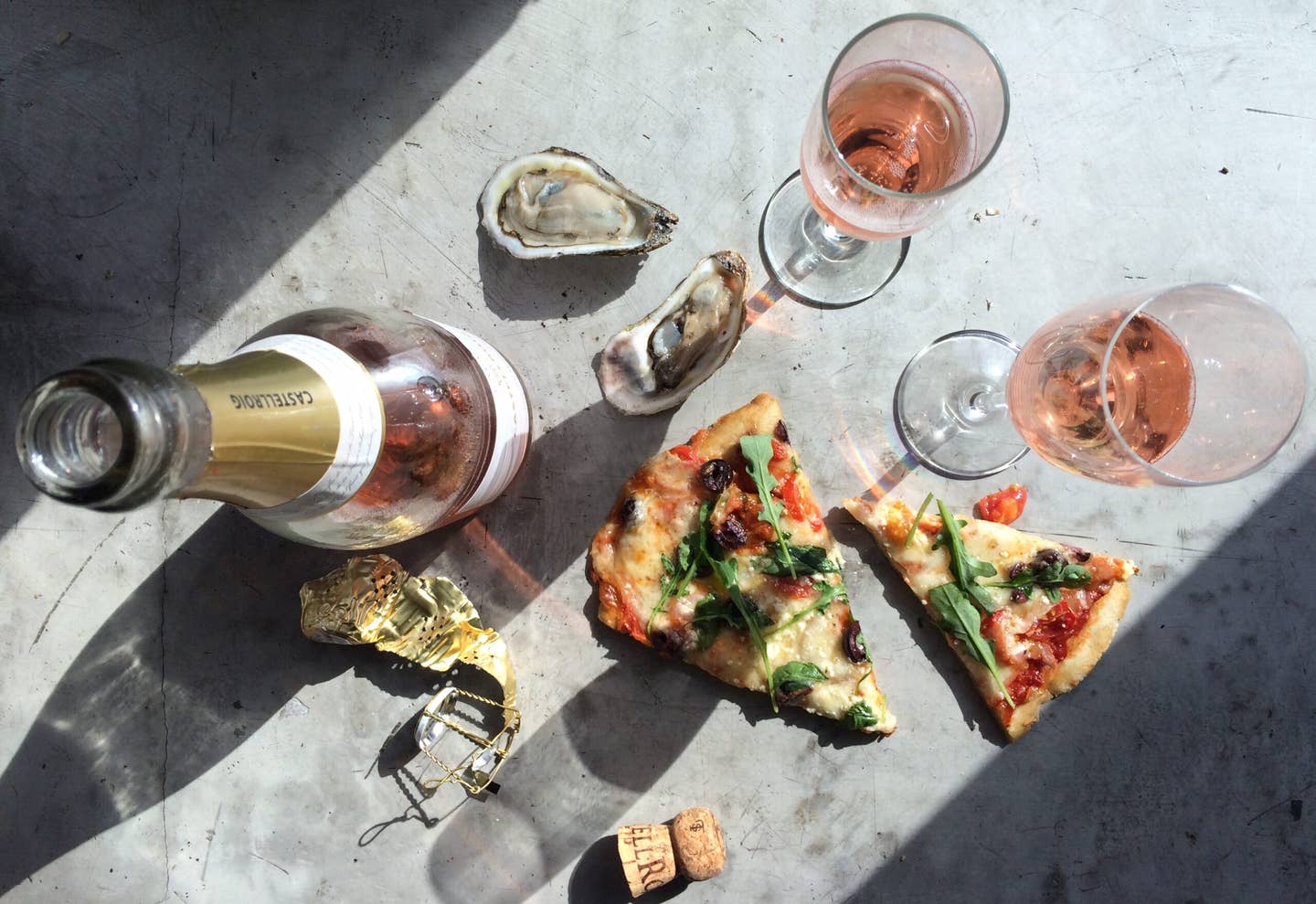 Techniques
What We Learned This Week: August 24-28, 2015
How to shuck oysters, turn your oven into a smoker, and bake a golden pie crust
The SAVEUR staff knows how to celebrate the weekend, so it isn't uncommon to get ready with rosé, pizza, and oysters on Friday afternoon. We took the opportunity to teach some of the editors how to easily shuck oysters. Wrap a kitchen towel over one hand and use it to hold the oyster firmly. Using an oyster-shucking knife, insert the tip into the hinge and lightly twist it to pry the hinge open. We recommend enjoying with sparkling wine and pizza, but feel free to enjoy them how you please. Check out our video for extra guidance!
We recently tested this delicious Goan Coconut Cake, a semolina cake with four different coconut based ingredients. I was so excited that I couldn't wait for it to cool completely before I cut into it. While I was quite happy with my decision in the moment, food editor Ben Mims explained why that is actually a bad habit to have. Any cake should be cooled completely before cutting into to ensure a moist product. Surprisingly it is very similar to roast meat, having to rest to prevent its juices from flowing out. Cake has steam circulating within its crust, so letting it cool completely allows the moisture to be absorbed by the cake, instead of being released in the air. While patience often runs thin while baking, we found that letting any cake get to room temperature before slicing is worth the wait.
Thanksgiving testing is in full force for our November issue, and we made a smoked turkey that has us all very excited for the holiday season. While we do not have a smoker big enough for a turkey, we found a way to get a smoky flavor using an oven. Whenever you are roasting anything—chicken, rib roast, really anything—heat a stove top smoker according to manufacturer's directions with your preferred wood chips over high heat. Open the lid very slightly to monitor smoke. Once a steady of stream of smoke is coming out, after about 2 minutes, transfer it to the over rack below your roast and keep the lid open. Continue cooking the item as you would, and it'll get smoked at the same time.
The owners of Dolcezza Gelato from DC came by the test kitchen to have a tasting of some of their gelato and sorbet flavors. Using seasonal ingredients, their rose plum sorbet tasted of fresh plums and the marscapone and berries gelato tasted of the ripest summer fruit. Though those two were good flavors, we discovered our new favorite flavor combination for gelato: Lemon Ricotta Cardamom. Bright lemon and cardamom meld with creamy ricotta gelato, making for the ultimate summer frozen treat. We were truly impressed by these artisans that even makes push-pops of their flavors, reminiscent of the popular ice-cream truck selection. Instead of making jam to preserve summer fruit, we now believe gelato and sorbet are better options.
We made one of our favorite cookie recipes, punitions, which are French shortbread cookies. The recipe calls for salted butter, an ingredient sparsely used in the test kitchen. However, for this recipe it is a necessity. I assumed it was strictly for flavor with the salt balancing out the sugar in the dough. After some research, we found another benefit of using salted butter in shortbreads. The salt tightens the proteins in the dough, helping to make it chewier. We love a good scientific explanation for baking techniques, almost as much as we love these cookies.
Food editor Ben Mims chimed in with another baking tip this week when baking pie. Many folks add water or cream to eggs to create a wash, but we use only beaten eggs with a little salt. The salt denatures the proteins in the egg, speeding up the Maillard reaction, which leads to better browning. Next time you want to make a pie, add a pinch of salt to the egg wash and you will see a darker, more even color.