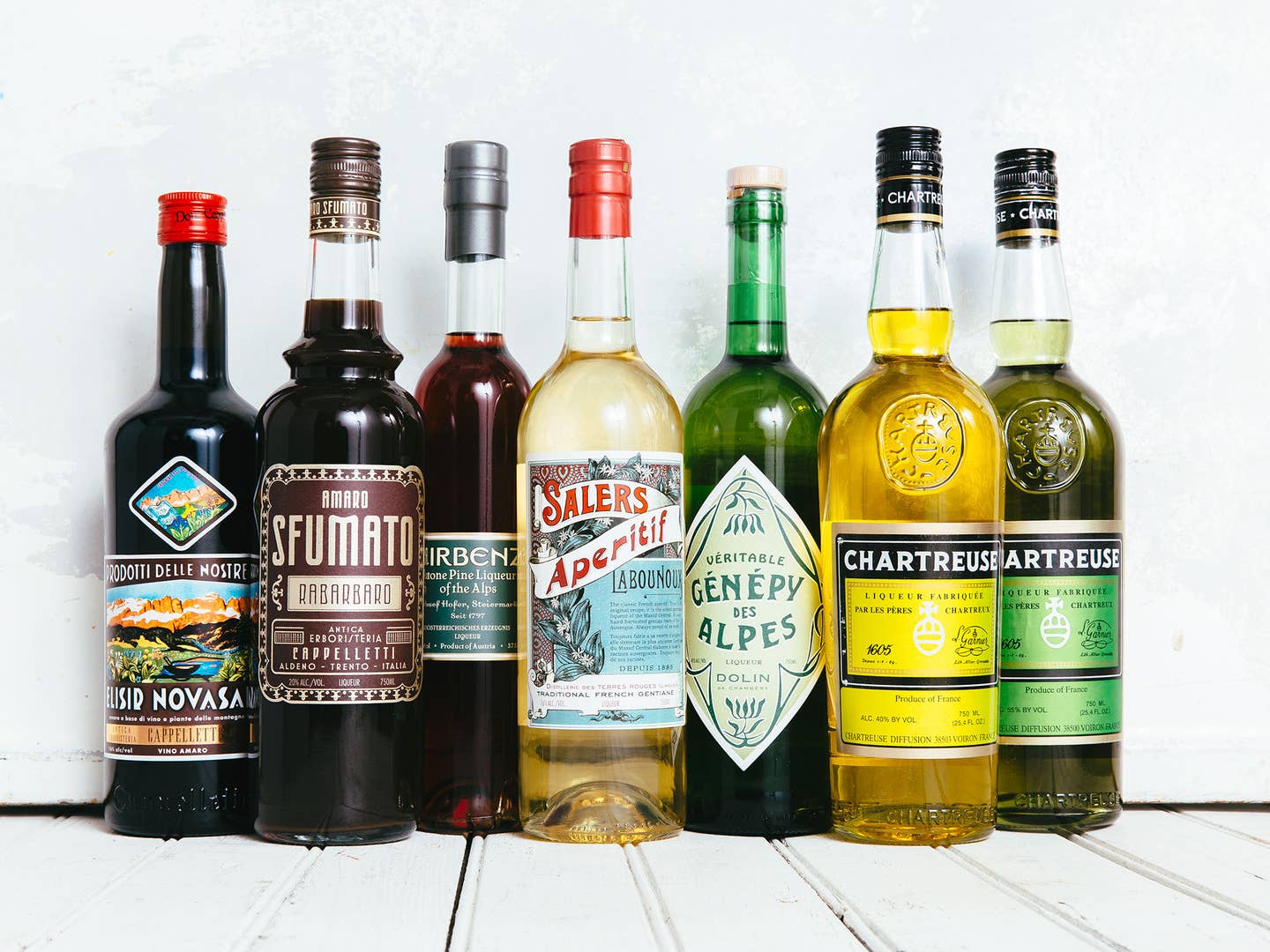 Drinks
6 Essential Alpine Spirits That Transport You to the Ski Chalet of Your Dreams
These centuries-old mountain spirits are getting new love—here's why they're worth getting to know
It may be 2017, but in bars across the country, people are drinking like it's 1605. Alpine booze, a storied category dating back centuries, is loosely defined as any of the spirits and liqueurs originating from across the eight countries that make up the mountainous region of the Alps, including France, Switzerland, Italy, and Austria. Long popularized in Alpine ski resorts as après-ski sippers, more variations of the local liquids are now finding their way stateside and cropping up on menus nationwide.
The broad label encompasses everything from Austrian pine liqueurs to French aperitifs and several Italian amari—including some of the oldest known liqueurs still in existence, such as France's Chartreuse, which was originally developed by apothecaries and monks to soothe a range of minor ailments. These days, ask any bartender about them and you'll understand the new excitement behind this unique and evocative category.
"When you hear the word 'Alpine,' you're immediately transported," says Chad Solomon, co-creator at Midnight Rambler in Dallas, Texas. "I think of 'green', 'piney' and 'coniferous,' but there's also the root side of it as well which is best represented by gentian." He adds that novice drinkers may find Alpine spirits and liqueurs "medicinal." "That's because they are products that hearken back to the world of the apothecary and the Enlightenment era," the bartender explains. "They are almost like time capsules."
Will Elliott, bar director of the French-inflected Sauvage and Maison Premiere in Brooklyn, New York says the category is defined by the local ingredients that flavor the alcohol. "In my mind, what really exemplifies the style are sweetened liqueurs infused with localized botanicals and green herbs," says Elliott.
And while those piney sips, redolent of Christmas trees, are linked with visions of winter wonderlands, the same flavors may also inspire memories of summer camping and fall hunting season for some. "There is an association with the mountains," says Eric Seed, president of Haus Alpenz, a Minnesota-based importer of alpine liqueurs. But when introducing people to Zirbenz, a liqueur made from the fruit of Arolla stone pine, he's had reactions that range from "summer cabins" to "golf course" to "hunting season."
As bartenders continue to serve Alpine spirits and liqueurs beyond their natural mountainous habitat, it becomes clear that they are as diverse and versatile a category as any. From herbal gentian to smoky Sfumato, here are the essential Alpine bottles to know right now.
Even within a diverse category packed with history, Chartreuse stands out for its romantic origin story. In 1605, the Carthusian monks, one of the oldest Christian orders in the world, received a gift from the king: a prized recipe of 130 botanicals, developed by a great alchemist as an "elixir of life." The original recipe text was so complicated that it wasn't fully deciphered until 1737, giving birth to Chartreuse's famed Elixir Vegetal was perfected. (To note, the Elixir Vegetal is still not available in the U.S., but the two expressions of Chartreuse that followed are.)
The recipes remain closely guarded to this day. At any point only two monks, who have taken vows of silence, know the recipe for distilling the spirits. "It's passed from monk to monk," explains Tim Master, Director of Specialty Spirits for Chartreuse importer Frederick Wildman and Sons. "When the recipe has been handed down, it's more like 'one handful of this,' 'another of that.'"
Green Chartreuse debuted in 1784; its sweeter sibling, yellow Chartreuse arrived in 1838. Developed as beverages and for use in cocktails, these familiar liqueurs appear in classic drinks like the Last Word, the Alaska, and Swampwater. The bottles have similar roots but distinct flavors. "The yellow has light honey notes, with some Indian spices underneath," Ezra Star, general manager at Drink in Boston, says. "The green is sweeter and more bold than the yellow. It has more of those evergreen flavors like mint."
Despite these differences, however, Sauvage's Will Elliott explains that the monks who produce the stuff don't make such distinctions. "The two liquids are seen as variations of the same spirit, and are meant to mixed," says Elliott. "Two parts yellow to one part green is called an Episcopal. Two parts green to one part yellow yields a Cardinal."
Considered the historic predecessor to Chartreuse, génépy is a type of a Alpine wormwood, which is different, but related, to the wormwood found in vermouth and absinthe. "[Génépy] is a simplification of Chartreuse," Elliott says. "It's lighter, not as symphonic." According to Elliott, it's the use of tarragon that best teases out the signature anise quality of génépy from the supporting flavors of mint and green herbs.
Despite the fact that génépy had been readily available in Alpine villages for centuries, Will Elliott remembers the first time it became available to New York bars. "It was so exciting. What had ever entered the market that tasted anything like Chartreuse," Elliott recalls of the first time génépy was brought into Maison Premiere. "I would say that was 2014. That was the first time anyone had tried it unless they'd gone skiing."
Fast forward a few years and génépy is one of the alpine liqueurs featured prominently on Elliott's menu at Maison Premiere's sister restaurant, Sauvage. Look to Sauvage's Vin Parfait, which fuses it with bright Beaujolais and lemon cordial in a light, refreshing quaff.
Search for gentian information on the internet and you'll as likely get medical and herbalist results along with the odd cocktail page. Gentian, a vast category of flowering plants, is found all over the world and is touted as a natural cure for maladies ranging from fever to malaria (as with any herbal or natural cure, check with doctors about its uses). Across Alpine villages, gentian has been macerated into spirits for centuries. It's such a common potable that even local grocery stores hawk a proprietary version of the spirit.
Across the Atlantic, bartenders are experimenting with Salers version of the liqueur, the oldest of the remaining producers and the only one imported to the United States that doesn't use artificial coloring. "If you taste it on its own, you get that floral hit and a lot of earth," says Eric Seed. "In France, gentian is served over ice, with a splash of lemon juice. Just adding a piece of lemon brings out another dimension. On its own, it's very angular but no one drinks it neat."
Chad Solomon, who currently has several Alpine-influenced drinks on the Midnight Rambler menu, uses gentian in a delicate champagne cocktail. "I was approaching the build of a cocktail as a perfumer—base note, middle note, top note—and translating that to root, leaf, flower, and fruit," he says of his Bohemian Bloom. "Overall the drink elements are very well integrated but the gentian adds an astringent note." That bitterness can be crucial to tempering the perception of sweetness and providing structure on the palate.
Few things will bring Alpine forests to life like a liqueur made directly from the flowers of the Arolla stone pine tree. Such is the evocative nature of Austria's Zirbenz, which has been handcrafted and bottled by the family distillery Josef Hofer since 1979. The wild pine is grown and harvested at high elevations, then mixed with nothing but sugar and water, resulting in a bracing pine taste and a spectrum of woodsy flavor notes. Think Christmas tree.
"Zirbenz is definitely a little bit unusual," Will Thompson, beverage director at Boston's Ruka, Lolita and Yvonne's, says. "It's not quite a base spirit. It's not a cordial, it's somewhere in between." Thompsons says he believes the bottle has a place in the back bar, and enjoys drinking with soda.
The unmistakable pine scent and flavors can be overwhelming at first, but can also bring to life a specific time and place. "It's a really, really powerful thing when you have an ingredient that evokes nostalgia," he adds.
To be clear, Elisir Novasalus and Sfumato Rabarbaro taste nothing alike. The only things they have in common is that they are both amari and are both made by the Cappelletti family. But we're going to close out our Alpine primer with these weird-but-interesting selections.
First up: Novasalus. At Manhattan's Amor & Amargo, an intimate bar that prides itself on its range of bitter liquids, Novasalus is the bitterest potion in the collection, according to Amor & Amargo beverage director Sother Teague. Like Zirbenz, it's made from pine but instead is sweetened with pine sap. "Sweetened" is perhaps not the best word, since pine sap, unlike maple, is not particularly sweet. The resulting liquid is famously bitter.
"It's got some peppery notes, some citrus notes, and of course those pine notes," Teague says. "You can feel it on your lips. It's sticky and lip-smacking. That's from the pine note that comes on the back behind those flavor notes, and then it is lingeringly bitter. It stays with you." As powerful as it is, Teague only uses Novasalus sparingly, noting that even a quarter of an ounce will alter a drink dramatically.
Next up, the Sfumato. If Zirbenz is bottled Christmas, then Sfumato is a liquid campfire. The amaro is made from Chinese rhubarb, which naturally smells and tastes smoky. This particular expression amps up the smoke, resulting in textures analogous to peat in whiskies or the dusky notes of mezcal.
"People always want rhubarb to taste like pie," Teague says. "But grab a piece of rhubarb out of the earth and take a bite out of it. It does not taste like pie. It's got this tartish back note and this one booms with smoke."
Teague makes a Manhattan-style drink with mezcal, Sfumato, gentian and Byrrh, a fortified quinine wine. Finished with yuzu bitters, the resulting drink features "grassy smoky notes, sweet citrus, and bits of pine."