Recipes
This Argentinian Choripán Recipe Wins Summer
The country's spicy sausage sandwiches are fun to make and eat—and can feed a crowd
Serves

serves 4

Cook

40 minutes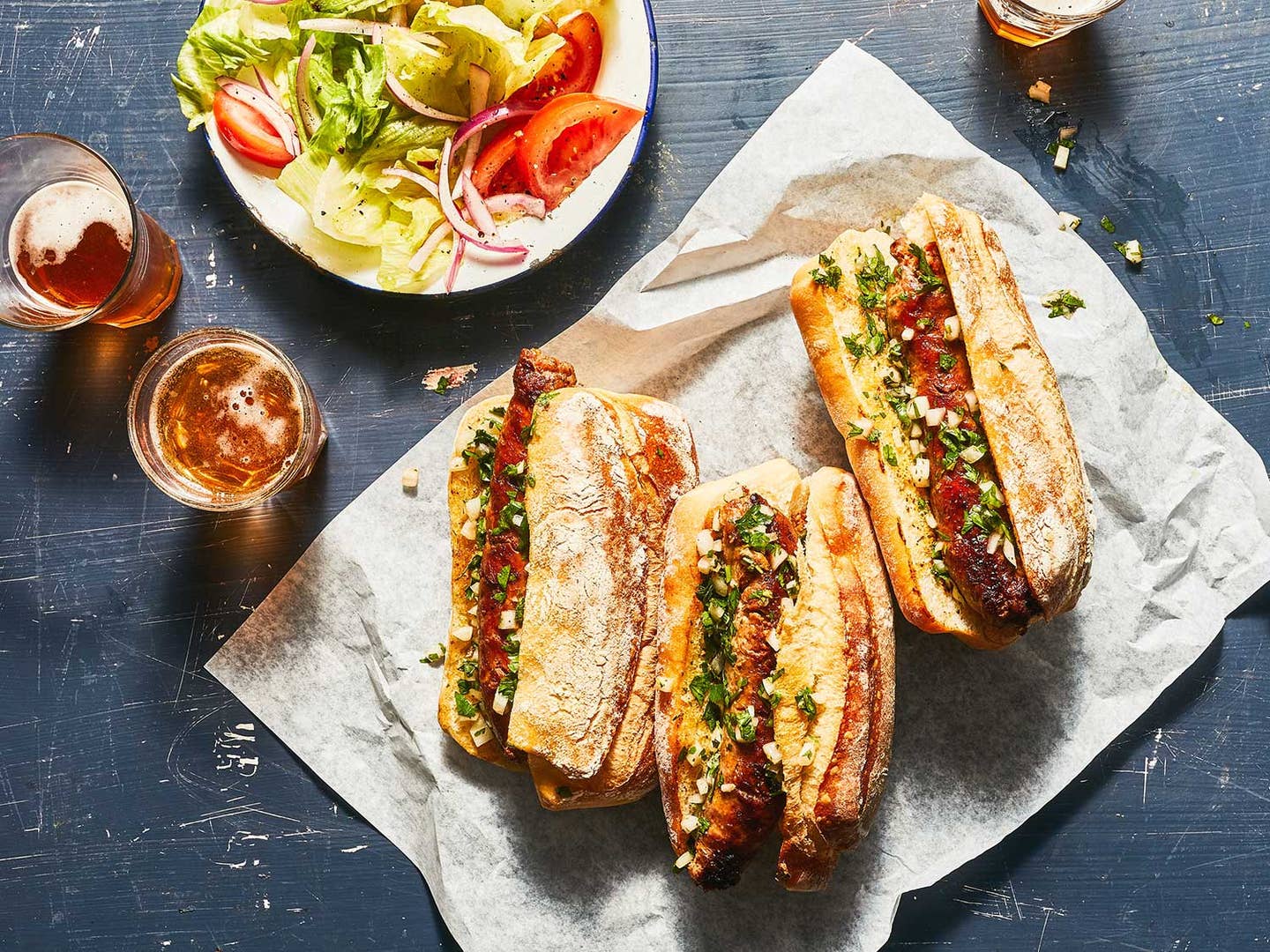 You can hardly swing a chorizo around Buenos Aires without bumping into a choripán vendor. One of the most iconic street foods and grilling recipes of Argentina as well as parts of Chile, Brazil, and Uruguay, the simple sandwich consists of a split long roll, a grilled or griddled chorizo link, and a slathering of oily, herby chimichurri on the bread. Almost as intoxicating as the aroma of the sausages are the sound of them sizzling atop the country's famous parrillas (open-fire grills), which can be heard down the block.
You can find chorizo everywhere from fire-fueled asados (open-fire grilling sessions), to appetizers in fine Buenos Aires restaurants, or even slow-cooked at roadside stops en route to the countryside. But you're mostly likely to run into choripán stands highly foot-trafficked by workers or tourists and near open space, such as parks, fútbol stadiums, outdoor markets, and street fairs. The smoky, lightly spicy sausage usually consists of pork or pork and beef, and vendors will cook them slowly and until well-seared, sometimes splitting them lengthwise down the center to promote faster, more even cooking and help fill the roll.
Although the sandwich is named after the combination of sausage (often nicknamed chori) and the French-style bread (pan), one of the most defining and indispensable ingredients is the chimichurri. An ubiquitous condiment in and around Buenos Aires and many parts of Argentina made with dried or finely chopped oregano, sometimes parsley, onion, oil, vinegar, and often chile, chimichurri is used to dress the bread for choripán and give a counterbalancing bite of oniony, herby freshness to the sandwich overall. Today, more and more cooks and chefs are experimenting with chimichurri, using more fresh herbs, or playing with vinegar and spices.
To make choripán at home isn't complicated. Here are some simple tips.
Properly Grill the Chorizo
The chorizo used in choripán are typically thick, fresh (not smoked) links made and seasoned with pimentón or hot smoked paprika, garlic, and wine. If you can't find fresh Argentinian style chorizo, ask your butcher or meat counter for a fresh pork or pork and beef sausage alternative that's spicy and ideally a little smoky.
To cook the sausages, preheat a grill or grill pan to medium heat. Use a moderate temperature to patiently cook the links until they are deeply bronzed on the outside and fully cooked throughout. If desired, you can split the sausages in half lengthwise once they're nearly cooked to check the doneness, and continue searing the inside if needed. You can also opt to split the sausages open in this style so they fit more evenly in the bun.
While French-style or hoagie-shaped rolls are a natural fit for encasing a sausage, their varying styles from bakery to bakery mean you may want to tweak your roll to your tastes. If the bread is especially spongy, split it lengthwise down the center roast the center lightly atop your grill or grill pan for a slight crispiness and robustness. If it's especially dense, consider plucking out a little of the center of each roll to better fit the sausage and allow for an easier bite.
Argentinians will tell you that a proper chimichurri needs time to rest, letting the herbs and onions marinate well in the oil and vinegar before using the sauce to top sandwiches and grilled meats. Typically this holds true of tabletop varieties in the country, which are often made using dried herbs or a combination of dried and fresh, and dark and saturated in appearance. While this all-fresh, more coarsely chopped version can last multiple hours without the herb leaves darkening, even just 15 to 30 minutes of resting is enough to make a cohesive sauce. Use white onion, which has the spiciest kick, and be sure the herbs are fully dried before chopping.
While sausage is good hot, warm, or at room temperature, choripán is typically eaten fresh off the grill, standing around the vendors or service counters as a lunch or snack break. Do like the Argentinians do and serve your chorizo at peak warmth so the flowing juices can leak onto and flavor the bread, and you can taste and smell all the spices within the meat.
Ingredients
For the choripan:
4 fresh chorizo sausages, Argentinian-style if possible
Four 6-inch hero rolls, split lengthwise, connected on one side like a hinge
For the chimichurri:
¼ cup finely chopped fresh Italian parsley leaves
¼ cup minced white onion
1 small garlic clove, grated on a microplane
¼ cup plus 3 Tbsp. extra-virgin olive oil
3 Tbsp. red wine vinegar
½ tsp. kosher salt
¼ tsp. freshly ground black pepper
Instructions
Step 1
Prepare the choripán: Preheat a grill pan over medium-high heat or a grill to medium heat. Add the chorizo and let cook, turning occasionally with tongs as needed, until the sides are deeply seared and the center is fully cooked through, 30–35 minutes.
Step 2
Meanwhile, make the chimichurri: In a medium jar or bowl, add the parsley, onion, and garlic and stir briefly to combine. Add the olive oil, vinegar, salt, and pepper, and stir well. Let rest at least 15 minutes. (Chimichurri can be left out at room temperature for up to 12 hours before serving.)
Step 3
If desired, briefly warm the insides of the rolls over the grill as desired. You can also split the sausages lengthwise if desired.
Step 4
Place one cooked sausage into each roll. Slather one side of the roll and some of the sausage generously with chimichurri, and serve immediately.