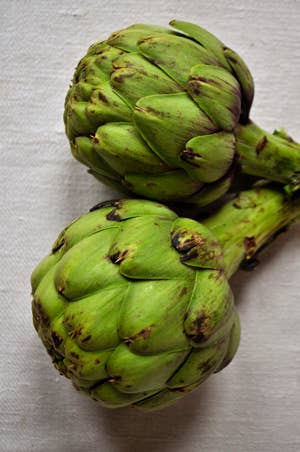 The globe artichoke, a member of the thistle family, was brought to California by Italian immigrants. Today, California produces all of the commercially grown artichokes in this country; artichoke farms are concentrated in the area around Castroville (near Monterey), the self-declared Artichoke Capital of the World. Artichokes are available year-round, but peak season begins in March and extends through May, and there's a small secondary harvest in October.
While globe artichokes—the kind Americans love to boil and serve with butter or a vinaigrette—are popular in the United States, smaller varieties are better known in other parts of the world. In Morocco, small artichokes are stewed with lamb and spices in tagines; in Italy, they're served alla giuda (Jewish style)—flattened, fried to a crisp, and dusted with coarse salt. These varieties can be hard to find here, but baby globe artichokes make a fine substitute. These are simply regular artichokes that grow toward the base of the plant and never reach the full size of artichokes harvested from the top of the stalks.
Featured Artichoke Recipes
When shopping, look for artichokes that are relatively heavy for their size, with tightly packed bracts (petals).
Squeeze them, too—a fresh globe artichoke will squeak audibly. Artichokes don't keep well, so use them as soon as possible.
Globe artichokes are available at most supermarkets, as are baby artichokes, which are usually packed in large cups and wrapped in plastic.