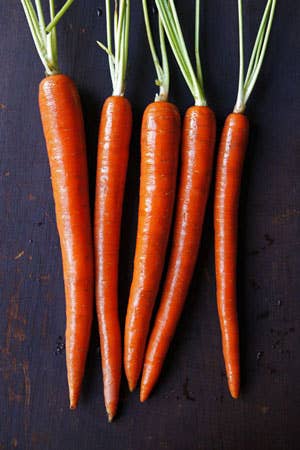 There's more to carrots than the flavorless orange shreds you might find in prepackaged salads. Farm-fresh carrots are irresistibly sweet and crunchy, and they come in other colors than just orange: white, purple, and red are also common shades. We tend to prefer the "mini"-size carrots for eating raw, since they're typically sweeter than their full-size counterparts. Grate raw carrots for use in salads, or steam them and serve with a citrus glaze. Cooked carrot makes a good pureed soup, which can be served either hot or cold. Fresh small carrots, while delicious when eaten raw, can also be steamed with their greens still attached. Carrot greens taste a bit like parsley and chrysanthemum and can be used separately raw as a salad garnish or minced and stirred into hot soups.
Before deciding how to use a bunch of carrots, snap off a small piece and taste it for bitterness. Carrots that have a bitter flavor are better cooked than used raw.
Small carrots should be used as soon as possible, while full-size carrots can be stored for up to ten days in the fridge.
When buying carrots, look for bunches with greens attached. The greens are a good indicator of freshness. Look for fluffy, short greens.
Organic carrots do not need to be peeled, but make sure you peel nonorganic carrots before eating or cooking them.
Regular orange carrots are available year-round in all grocery stores; small carrots and colored carrots are most easily found at your local farmers' market throughout the summer. All types of carrots are also available online at Melissa's Produce.