All Dressed Up
Our favorite American salad dressings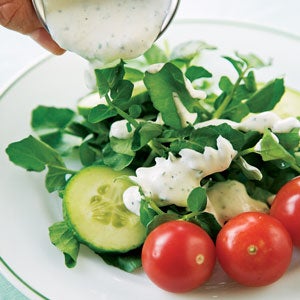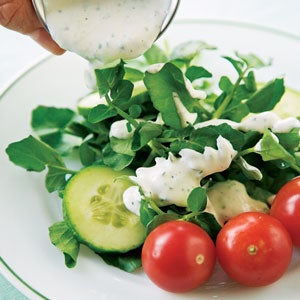 Bottled salad dressings have improved considerably in recent years, but making fresh-tasting dressings at home, especially the five American favorites listed here, is easy and yields superior results. Most salad dressings belong to one of two main families: those that fit under the rubric of vinaigrettes and those that are mayonnaise based. The former—a combination of oil and vinegar or sometimes another acid, such as lemon juice—lend themselves gracefully to delicate tossed salads. The latter, richer ones pair well with substantial composed salads like the classic chef's, with peppery greens like watercress, and with crisp iceberg lettuce. Certain salads call for cooked preparations, such as Hot Bacon Dressing, an ideal match for tougher greens like mature spinach, which wilts to toothsome perfection when dressed with the heated sauce.
1. Ranch: A tangy-creamy combination of mayo, buttermilk, sour cream, chives, parsley, garlic powder, and onion powder, ranch dressing was invented in the 1950s by a California ranch owner named Steve Henson, who served the dressing to guests at the Hidden Valley dude ranch, outside Santa Barbara.
2. Thousand Island: This rich, thick dressing (a combination of mayonnaise, chili sauce, and chopped pickle, onion, pimientos, and hard-cooked egg), as well as its close relatives russian and blue cheese, is the obligatory partner for a cold, crisp wedge of iceberg lettuce.
3. Green Goddess: A mixture of mayonnaise, sour cream, chopped herbs, lemon juice, tarragon vinegar, and anchovies, this elegant sauce was invented in the 1920s at San Francisco's Palace Hotel. The anchovies give the dressing a back note of earthy saltiness, making this delicious combination even more so.
4. Balsamic Vinaigrette: This dressing holds pride of place in the ever growing pantheon of vinaigrettes—a somewhat remarkable fact considering that balsamic vinegar was nearly impossible to find in the United States before the 1980s. The complex, sweet flavor of that vinegar adds depth to salads but not overbearing heaviness, especially when it is combined with a good extra-virgin olive oil.
5. American French: Anyone who's remotely familiar with French food knows that the spare vinaigrette one gets on salads in that country looks and tastes nothing like this colorful stateside invention, usually a tangy-sweet combination of egg yolk, ketchup, sugar, salt, paprika, white pepper, dry mustard, vinegar, and olive oil.