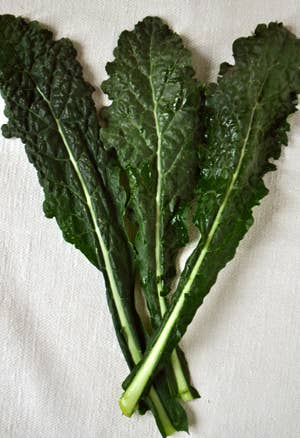 Techniques
One Ingredient, Many Ways: Kale
Packed full of antioxidants and fiber, kale is a staple of the autumn and winter kitchen
If discovering a love of kale is the home cook's version of finding religion, consider me one of the converted. I was introduced to the sturdy, leafy green during my last year of college, right around the same time that I first sampled kale's fellows in the dark-and-leafy category, Swiss chard and collard greens. Within a few bites, I was hooked: I loved its sweet-spicy flavor and robust raw texture, which grew silky and tender after a slow saute in garlic and soy sauce.
After college, my obsession only grew. I made weekly trips to the farmers market and stocked my vegetable crisper with leafy bunches of pine needle-green Lacinato kale (also called Tuscan kale, Cavolo nero and, curiously, Dinosaur kale). Two, three, sometimes even four nights a week I ate steamed kale topped with crispy slivers of garlic and a soupy fried egg - my rendition of the starving college grad's ramen noodle diet. A few years on, during my first date with my now-husband, I snapped off a stem of kale at the Brooklyn Botanic Garden that had been planted as decoration and ate it raw, indignant that something so delicious could be relegated to ornamental status. (Luckily, this act of produce protest didn't deter him from a second date.)
As recently as 1998, kale was considered specialty produce; along with kabocha squash and gooseberries, it appeared in Uncommon Fruits and Vegetables
, Elizabeth Schneider's guidebook published to demystify lesser-known flora. Kale, she writes, was one of the first cultivated cabbages, first grown more than 2,000 years ago in the Mediterranean. Today, kale in all its forms - including the Lacinato I love, the frilly-topped curly kale, and the merlot-hued purple varieties - is catching up in popularity to its cool-weather brassica cousins like Brussels sprouts and broccoli, and its list of devoted followers continues to grow. Perhaps that's because kale has a way of capturing cooks' imaginations. Consider massaged kale salad, the dish that, two years ago, had people rolling up their sleeves and getting intimate with their salad bowls. Or kale chips, those crispy baked umami-bombs that manage to turn a healthy green into convincing junk food.
Kale is a hardy plant that benefits from a blast of cold weather (which lends it sweetness), making it widely available at the autumn farmers market. Its savory applications are seemingly infinite (I've yet to find a dish that doesn't benefit from throwing a handful of chopped kale into the mix), but so far a good kale dessert proves elusive. Then again, despite my raging sweet tooth, I'd gladly accept an extra helping of garlicky sauteed kale scooped right out of the pan in lieu of pie or pudding - and maybe even chocolate cake.
SAVORY
Kale Tarts with Fennel and Olives
Briny olives and feta pair with sweet fennel and kale on these puff pastry tarts.
Raw Kale Salad with Lemon and Currants
The spicy flavor of raw kale is offset by creamy Pecorino cheese, bright lemon, and sweet-tart dried currants.
Creamed Kale
Hearty kale gets a touch of decadence under a slip of butter, stock and cream.
Shredded Brussels Sprouts and Kale Salad
Shredded kale and brussels sprouts taste delicious when paired with a simple dressing of whole grain mustard, lemon juice and olive oil.
Kale and Chicken Brown Rice Salad with Cherries
Take this hearty mix of chiffonaded kale, slivered almonds, brown rice, cooked chicken and sweet fresh cherries to work for a satisfying lunch.
Garlicky Greens
This simple preparation of braised, garlic-kissed greens lets kale's distinctive spicy-sweet flavor shine through.
Cod with Braised Kale and Potatoes
Kale leaves add texture and color to this simple braised cod stew.
Food Network:** Massaged Kale Salad**
Spicy pepitas and sweet mango round out this hearty massaged kale salad.
Smitten Kitchen:** Baked Kale Chips**
Baked until crisp and sprinkled with sea salt, these chips transform kale into healthy, satisfying junk food.
101 Cookbooks: Kale and Olive Oil Mashed Potatoes
Flecks of green kale turn creamy mashed potatoes into a handsome side dish.
Alaina Sullivan:** Frittatas with Kale Mint and Pecornio**
These eggy, kale and mint-spiked frittatas are baked in ramekins for particularly beautiful presentation.
DRINK
For the Love of Food:** Kale Smoothie**
Sweetened with bananas and apple juice, this healthy kale juice will satisfy adults and kids alike.
My Green Diet:** Peach Mango Kale Smoothie**
Blend kale with frozen mango, fresh peach, ice and orange juice for a delicious, frozen margarita-like smoothie.
Leah Koenig is a freelance writer and author of The Hadassah Everyday Cookbook: Daily Meals for the Contemporary Jewish Kitchen
.__