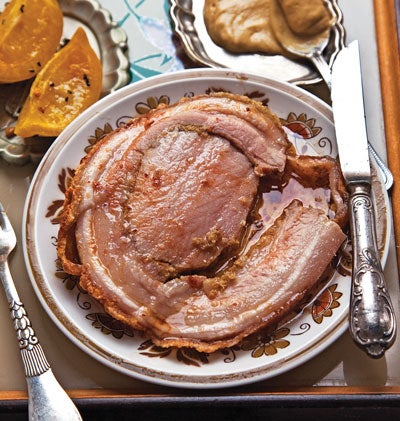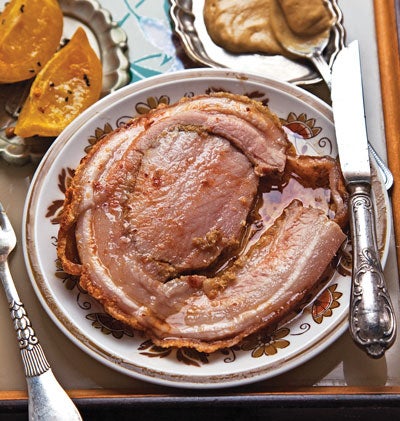 Sealing this pork roast in plastic wrap and foil during cooking locks in the juices—It's a technique we learned from Hillary Sterling, the chef de cuisine at the New York City restaurant A Voce Madison.
Find this recipe in our cookbook, SAVEUR: Italian Comfort Food
Yield: serves 10-14
Ingredients
3 tbsp. lemon zest
2 tbsp. crushed fennel seeds
12 cloves garlic, finely chopped
1 (12–14 lb.) skin-on pork belly
1 (3–5 lb.) trimmed pork loin
Kosher salt and freshly ground black pepper, to taste
1 1⁄2 tsp. baking soda
Instructions
Mix lemon zest, fennel seeds, and garlic in a small bowl. Follow our instructions for assembling porchetta. Refrigerate the roast, fully wrapped, for at least 24 hours or up to 3 days.
Transfer meat, still wrapped, to a rimmed baking sheet fitted with a rack. Let come to room temperature, about 2 hours. Heat oven to 325˚ and arrange oven rack in bottom third of oven. Cook porchetta until an instant-read thermometer inserted into center of roast reads 130˚, about 3 hours. Carefully remove foil and plastic wrap from roast and pat dry. Rub baking soda on skin. Set oven to broil and continue cooking porchetta, turning frequently, until skin is crisp all over, about 20 minutes.
Pairing Note Gamy roast pork is a great match for bouncy, fruity gamays. Try the 2009 Beaujolais Nouveau Villages Perreon by Domaine de la Madone ($12). — David Rosengarten