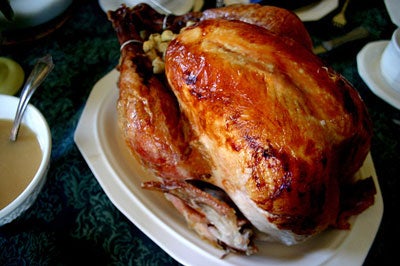 When I polled friends on basting the Thanksgiving bird, I learned that there were a lot of unhappy baster-owners out there. They complain that the cylinders get sticky and the bulbs fall off. I've found two basters with a better track record. The Tovolo Dripless Baster comes in stainless steel or clear polycarbonate, both of which are dishwasher-safe, and the plastic version comes with a cleaning brush. This baster also has an angled tip with a silicone valve inside that prevents juices from spilling out (and causing Grandma to slip on your kitchen floor). KitchenAid makes another good, dishwasher-safe baster: this one has a flexible silicone bulb and comes with a nylon bristle brush.
Another turkey-preparation tool that I like are poultry lifters, giant two- or four-pronged forks that make maneuvering your bird a lot easier. After years of doing things the hard way, with spatulas and granny forks, I finally bought some inexpensive lifters at Bed Bath & Beyond. They come in handy for chickens as well.
For carving, you can't go wrong with Wusthof and Henckels. But also consider Zabar's, which sells its own line of reasonably priced high-carbon knives, which are hand-sharpened and honed in Solingen, Germany, the so-called "City of Knives." Zabar's carving knives are available in 8- and 10-inch lengths with straight, wavy, and granton edges. (Many butchers like granton-edged knives because the alternating scallops on the blade create air pockets that help the knife cut cleanly.)
As for the gravy, without which most of us don't really like turkey, I have two recommendations: Rosle's silicone flat whisk, the perfect tool for scraping the bottom of your roasting pan, and the Deni Gravy Warmer, available at chefscatalog.com, among other places. This electric ceramic warmer has a stainless-steel base that retains heat, and it can be used for all kinds of sauces and syrups, in addition to gravy. This would make a great gift for those impatient Thanksgiving chefs who bark at everyone to sit down and eat before the food gets cold, for heaven's sake!