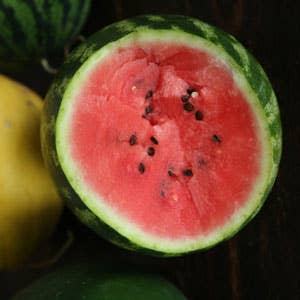 Techniques
Why We Love Watermelon
In all its juicy, colorful guises, this summer fruit offers a world of refreshment.
The North Carolina State Farmers Market, off Interstate 40 in Raleigh, isn't what comes to mind when most people think of farmers' markets these days. There are no cooking demonstrations, no tables where customers can pick up their community-supported-agriculture boxes, no honor-system Radio Flyer red wagons for carting around children and produce. But when I was there at dawn one Friday morning last summer, there were more watermelons, of all sizes and shapes and stripes, than I had ever seen in my life.
In an open-air warehouse, workers maneuvered pallets of the fruit onto tractor-trailers destined for produce distributors up and down the East Coast. In a parking lot, huge cardboard boxes of both mini and mammoth melons were being bought and sold over handshakes between farmers and wholesale shoppers. Everywhere I looked, I saw flashes of crimson, pink, and yellow: the flesh of melons that had been slashed open so that potential buyers could take a taste with plastic spoons. Later that morning, when more farmers arrived to set up retail booths, watermelon names were scrawled on paper signs—sugar babies, jubilees, crimson sweets, seedless, and so on. Sure, plenty of other high-summer produce like peaches and plums was there for the taking, but watermelon was what everyone wanted, especially at $3 a pop, or two for $5. Some shoppers were balancing the fruit on their shoulders; others were eating slices of it and spitting the seeds on the pavement as they walked around in the sweltering heat.
I'd come to the market in Raleigh because I'm crazy about watermelon—the taste of it, the simplicity of it, the amazing capacity it has to refresh and restore during summer's hottest moments. When the fruit is in season, I always keep at least a quarter of a watermelon in the coolest part of my fridge; sometimes I sprinkle it with salt, a habit I picked up from my Sicilian grandmother, and other times I douse it with lemon juice or just eat it on its own. I go through phases when I crave it as I do no other food, and over the years my love for it has led me to seek out lots of different varieties—yellow-fleshed ones that taste of honey and spice, say, or pink ones with a muted sweetness. And in recent years, learning about the myriad ways that cooks in other cultures use watermelon has made me think about the fruit in an entirely new light, whether it's the garlicky, dill-strewn pickled watermelon slices that I've seen being sold from buckets by Russian immigrants in New York City's Brighton Beach neighborhood, not far from where I live, or the roasted watermelon seeds I tasted at a Vietnamese New Year's celebration at a friend's house.
Still, I'll always owe my fondness for watermelons to North Carolina, where I spent my teenage years and much of my 20s. Although that state doesn't devote as much land to growing the fruit as do the country's largest producers, Texas (with 40,000 acres) and Florida (32,000), it lays claim to a fervent watermelon culture. Few other states host as many watermelon festivals, crown as many watermelon queens, and throw as many watermelon socials. I'll never forget my introduction to that last ritual: it was my first week of high school, sometime in August, and the principal, a stoic man with a slow drawl, announced over the P.A. that students were to meet in the parking lot to eat some of the watermelon his family had harvested from their farm. There were groans at the idea of school-sanctioned fun, but once we got outside and found our buttoned-up principal in plain clothes, hacking watermelons with a machete on the bed of his red pickup truck, we instantly reverted to being kids. Since then, I've been reminded time and again that there's more to watermelon than its taste. Watermelon is a symbol for all things summer, and a magical sort of social glue, at that.
I had never thought much about seeking out different varieties of watermelon until I realized a while back that I was having a hard time finding the kind I grew up eating; they were oblong, pale skinned, sweet, and pocked with lots of large, black seeds. Years ago, at a farm stand in Carrboro, North Carolina, I bought one from a vendor who called it a charleston gray. So, on the morning of the state market in Raleigh, I walked up to a group of old-timers selling melons and asked where I could get one. They all shook their heads. "You rarely see charleston grays anymore," said Odis Johnson, a farmer from Benson, in the central part of the state. "But that sure was a good melon. Sweet as a mother's love."
Watermelon belongs to a large family of climbing vines that includes cucumbers, gourds, and other types of melon. The fruit, Citrullus lanatus, flourishes in warm and temperate climates across the world, and, because of watermelon's extensive root system, even arid regions can produce fruits that contain as much as 90 percent water, making watermelon a valuable source of hydration in places where water is scarce. Watermelon is believed to be native to Africa, where wild varieties have been consumed for thousands of years. Upon encountering them in the Kalahari Desert, the explorer David Livingstone wrote in 1857, "In years when more than the usual quantity of rain falls, vast tracts of the country are literally covered with these melons . . . some are sweet, and others so bitter that [they] are named by the Boers the 'bitter watermelon'." The bitter fruit to which Livingstone referred was actually citron, a cousin of the watermelon. It has pale yellow flesh that is tough and bland when raw but squashlike and succulent when cooked.
There's proof that watermelons were cultivated in Egypt as early as 2000 B.C. The fruit is believed to have traveled to India around A.D. 800 and to China roughly 300 years later. In India it quickly proliferated; although some Hindus shunned red-fleshed varieties because they resembled the meat of a cow, a sacred animal, cooks in northern India incorporated watermelon into salads and even curries. In many parts of India, the pulp of watermelon is churned into a sharbat, a type of sweet, slushy drink. In Turkey (which consumes more watermelon than any other country in the world), a similar refreshment, called ªerbeti, is popular. The Moors brought the fruit to Spain as early as the eighth century, and it soon spread across the European continent.
Most scholars agree that watermelon seeds were first brought to North America aboard slave ships, and records show that farmers began growing watermelon in the colonies as early as 1629. Though the fruit was quickly embraced by Americans, for several centuries it was considered more an African food, like okra, than an American one. This notion, in part, laid the groundwork for the racial stereotypes the fruit would later come to represent, says Frederick Douglass Opie, the author of the new book Hog & Hominy: Soul Food from Africa to America (Columbia University Press, 2008). "Though both whites and blacks would eat watermelon at the earliest July Fourth celebrations," he says, "at the start of Jim Crow it was used as a way of ridiculing African Americans and seen as something undignified."
In early American cookbooks (and many contemporary ones, for that matter), the only recipe one tends to find for the fruit is for watermelon rind pickles, a traditional Southern preparation. That is hardly surprising, considering that watermelon is such a refreshing treat on its own. In his 1894 novel Pudd'nhead Wilson, Mark Twain sang watermelon's praises: "The true southern watermelon is a boon apart, and not to be mentioned with commoner things . . . . When one has tasted it, he knows what the angels eat."
It is only in recent times, as more restaurants featuring cuisines from around the world have opened, that Americans have become acquainted with how the rest of the world eats the fruit: be it in a salad with a salty counterpoint, like olives or feta, or pureed and used in desserts like a gelo di melone, a panna cotta-like Sicilian specialty topped with whipped cream and chopped pistachios. In Chapel Hill, North Carolina, at the legendary restaurant Crook's Corner, chef Bill Smith turns an otherwise traditional summer tomato-and-herb salad into something else entirely with the addition of watermelon; the tomatoes' acidity both accentuates and moderates the sweetness of the fruit. In New York, at the restaurant Fatty Crab, Zak Pelaccio pairs a watermelon pickle with crisp pork belly, a riff on a Chinese-Malaysian theme. And in Atlanta, Anne Quatrano, the chef-owner of Bacchanalia and the Floataway Cafe, makes risotto tossed with preserved watermelon rinds and also wraps watermelon in slices of country ham. (Read about more favorite watermelon pairings and dishes in "Plays Well with Others")
Quatrano is such a fan of watermelon, in fact, that she's started growing her own. Like many of today's watermelon enthusiasts, she has a passion for heirloom varieties: she raises blacktail mountain, cream of saskatchewan, and others. (See Variety on the Vine, to learn about other watermelon cultivars.) "I love how different these old varieties taste, how subtle tasting some of them are," she told me, adding that she found the seeds through a nonprofit organization called the Seed Savers Exchange, which is dedicated to rescuing and sharing heirloom seeds. Amy Goldman, an heirloom grower in upstate New York and the author of the book Melons (Artisan, 2002), credits a founder of that group, Kent Whealy, with saving moon and stars, a juicy variety with a dark green rind speckled with golden dots. Created in 1926, that heirloom variety had all but disappeared, but now that people like Whealy, Goldman, and Quatrano are preserving seeds and cultivating the melons, they are easy to find again.
While some people are working hard to save the seeds of old melon varieties, seed companies are pouring energy into the development of others with patented names like Tri-X313 and Super Seedless 7167. Jonathan Schultheis, an agricultural-extension specialist and professor in the Horticulture Science Department at North Carolina State University in Raleigh, is one of the leaders in the field of melon science. He explained to me that most of the varieties grown today in the United States are hybrids that have been bred for longer shelf life, disease resistance, durability, and sweetness.
This kind of cross-breeding, Schultheis said, is nothing new; hybridized varieties have been around since the late 1930s. Even my beloved charleston gray was born in a horticulture lab. It was invented in 1954 by one Charles Frederic Andrus, who worked at the USDA Vegetable Breeding Laboratory in Charleston, South Carolina. Though it's hard to find now, that melon was heralded as a commercial breakthrough because its elongated shape and thick rind allowed it to be shipped safely without its cracking. Indeed, charleston grays, I found out, dominated the East Coast market for close to 30 years, and now many hybrids—the pink-fleshed starbrite, for example—have some charleston gray in their genes. Schultheis was pessimistic about my chances of finding any charleston grays. Still, he said, if anyone were to have them, it would be Brent Jackson, one of North Carolina's most productive watermelon farmers, who has more than a thousand acres of the fruit planted around the town of Autryville, about an hour south of Raleigh. I decided to pay him a visit.
During peak season, the Jackson Farming Company operates out of a mobile home that sits in front of a million-dollar refrigerated warehouse where thousands upon thousands of pounds of watermelons await shipping around the world. The building is flanked by a fleet of old school buses whose windows and seats have been removed so that the vehicles can be used for storing watermelons during harvesting. Jackson shook his head when I mentioned the charleston gray. "When we started, in 1978, that's what we grew: charleston grays, jubilees, and crimson sweets," he said. "That was all that was available, but over the years, watermelons have done like TVs; they've gotten smarter and smarter and smarter." And smaller. Jackson recalled that his watermelons used to weigh 30 to 40 pounds, compared with the so-called icebox varieties—four- to eight-pounders—that he mostly sells today.
We got into Jackson's truck and drove past mile after mile of watermelon patches and tobacco fields. After a while, we pulled over alongside a field that was studded with green orbs: melons almost ready for harvest. Off in the distance, I spotted a car speeding off. "Probably a thief," Jackson said, as we walked out into the field. Then he crouched down over a large, oblong watermelon, took a knife from his pocket, and shoved the tip of it into the rind. The entire watermelon snapped open with a forceful thump, as if it were releasing a season's worth of pent-up energy. The flesh was shockingly scarlet. He carved out a piece and handed it to me to taste.
"It's a hybrid called celebration," he said. It wasn't the charleston gray I'd been hoping to find, but it sure was delicious—bursting with juice and flavor. And besides, there was still a good chunk of summer left for me to continue my search.