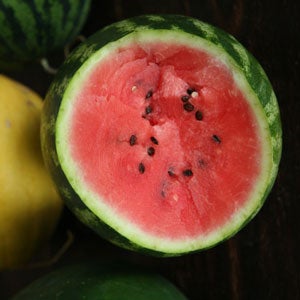 This recipe comes from author Shane Mitchell's paternal grandmother.
Watermelon Pickle
A Southern cook's beloved standby side dish.
Yield:
makes About 6 Pints
Ingredients
1 cup kosher salt
1 (8–10-lb.) watermelon, rinsed and quartered
5 cups sugar
4 cups white vinegar
2 sticks cinnamon
2 tbsp. whole cloves
Instructions
Dissolve salt in 8 cups cold water in a large bowl. Cut off red watermelon flesh from white-green watermelon rind and save for another use. Trim off and discard thin green skin, leaving white and pale green part of rind intact, then cut into 1″ pieces (you should have about 7 cups). Add pieces of rind to salt water, cover, and refrigerate overnight.
The following day, boil sugar and vinegar together in a medium nonreactive pot over high heat, stirring often, until sugar dissolves, 4–5 minutes. Add cinnamon and cloves, reduce heat to medium, and simmer until reduced by one-third, 25–30 minutes. Meanwhile, drain rind, then put into a large pot, cover with water, and boil until translucent, about 15 minutes.
Drain rinds and add to pot with vinegar syrup. Reduce heat to low and simmer, stirring often, until syrup has reduced again by one-third, about 2 hours. Discard cinnamon and cloves.
Fill 5–6 hot sterilized pint canning jars with hot pickle and syrup to ¼" from the top. Screw on the hot sterilized lids and process in a canning pot of gently boiling water for 20 minutes. Remove jars from pot and set aside to cool completely. Refrigerate after opening.