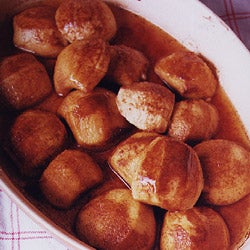 (Ugnsbakade Äpplen)
These baked apples may be served as dessert or to accompany mustard-glazed ham and other julbord meats.
Yield: serves 6
Ingredients
6 granny smith apples
½ cups light Swedish syrup
3 tbsp. butter
Freshly whipped cream
Instructions
Preheat oven to 425°. Peel and core apples. Cut apples in half lengthwise, then place, cut side down, in a medium baking dish.
Drizzle with syrup, dot with butter, and bake, basting occasionally with pan juices, until soft, about 35 minutes. Serve warm with freshly whipped cream.