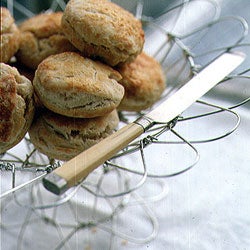 The secret to avoiding rock-hard biscuits, according to cookbook author Marion Cunningham, is not to overhandle the dough; a light hand makes a flaky, airy biscuit.
Baking-Powder Biscuits
According to cookbook author Marion Cunningham, baking-powder biscuits are more American than any other food.
Ingredients
Butter
2 cups all-purpose flour
1 tbsp. baking powder
1 tsp. salt
1⁄3 cup vegetable shortening, chilled
1 cup milk
Instructions
Preheat oven to 425°. Lightly grease a baking sheet with butter. Sift flour, baking powder, and salt into a large mixing bowl, then stir with a fork until well blended.
Add shortening to flour mixture in 5 or 6 large pieces, cutting it into flour with a pastry cutter, or rubbing it in with your fingers. The mixture should have the consistency of coarse cornmeal, with no large pieces of shortening visible.
Add milk and stir in with a fork just until mixture pulls away from sides of bowl. The dough will be quite sticky.
Turn dough out onto a lightly floured work surface. Dust hands with flour and gently knead dough just until it's no longer sticky and holds together, about 30 seconds. Pat dough into a circle about 9″ round and 3⁄4″ thick.
Cut out biscuits with a cookie cutter or the rim of a juice glass and place on baking sheet. If biscuits touch each other, they will have tender sides when baked; if you prefer crisp sides, separate them a bit. Bake until tops are golden, about 12–15 minutes. Serve warm.