Recipes
Bread and Butter Pudding Served with Clotted Cream and Compote of Apricots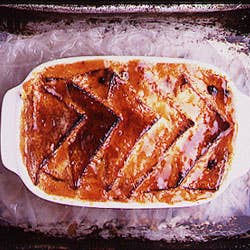 Clotted cream is essential for this recipe, from Paul Heathcote's Rhubarb & Black Pudding: A Year in the Kitchen of Lanshire's Star Chef (Fourth Estate, 1998), by Matthew Fort.
Ingredients
For the Compote of Apricots
9 oz. dried apricots
1⁄2 pod vanilla
Zest of 1/2 orange
1⁄2 stick cinnamon
For the Pudding
5 slices white bread (sliced thin), cut on a diagonal
2 1⁄2 oz. (5 tbsp.) butter, softened
3 1⁄2 oz. (2⁄3 cup) sultanas (golden raisins)
8 oz. (1 cup) cream
8 oz. (1 cup) milk
3 eggs
2 oz. (1⁄4 cup) sugar
1 pod vanilla
1 oz. (2 tbsp.) icing sugar (confectioners' sugar)
1 oz. (2 tbsp.) apricot jam
7 oz. clotted cream
Instructions
Step 1
At least 2 hours ahead, make the compote of apricots: Bring 9 fl.oz. (about 1 cup) water to the boil and pour over the apricots in a heat-proof bowl. Leave to stand for about 30 minutes. Add the remaining ingredients, pour into a pan and bring to the boil. Simmer for about 10 minutes. Leave to cool and remove the vanilla and cinnamon.
Step 2
Preheat the oven to 375°. Butter the bread and remove the crusts. Place one layer of bread on the base of a 10" × 6" × 2 1⁄2" rectangular earthenware dish and cover with a layer of sultanas. Place the rest of the bread on top.
Step 3
Mix the cream, milk, eggs, and sugar, and pass through a sieve. Slice the vanilla pod down the centre and scrape out the seeds. Add to the custard mixture and pour over the bread. Allow to soak for 5 minutes.
Step 4
Place the dish in a bain-marie and cook in the oven for about 30 minutes. Remove and allow to cool for about 15 minutes.
Step 5
Preheat a hot grill (broiler). Dust the pudding with icing sugar and glaze under the grill until golden (if it starts to soufflé, remove from the grill and let it cool a little longer before repeating the glazing process).
Step 6
Spread the top with the apricot jam and serve cut into wedges, with a quenelle (three-sided oval) of clotted cream (mold it with 2 tablespoons) and the compote of apricots. Spoon some English custard (crème anglaise) around the plate, if you like.