Bread and Butter Pudding Served with Clotted Cream and Compote of Apricots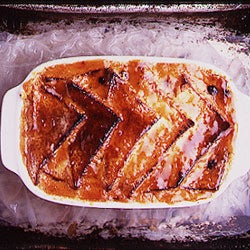 Clotted cream is essential for this recipe, from Paul Heathcote's Rhubarb & Black Pudding: A Year in the Kitchen of Lanshire's Star Chef (Fourth Estate, 1998), by Matthew Fort.
Bread and Butter Pudding Served with Clotted Cream and Compote of Apricots
From English chef Paul Heathcote comes this lovely pudding with the very British touch of clotted cream.
For the Compote of Apricots
9 oz. dried apricots
1⁄2 pod vanilla
Zest of 1/2 orange
1⁄2 stick cinnamon
For the Pudding
5 slices white bread (sliced thin), cut on a diagonal
2 1⁄2 oz. (5 tbsp.) butter, softened
3 1⁄2 oz. (2⁄3 cup) sultanas (golden raisins)
8 oz. (1 cup) cream
8 oz. (1 cup) milk
3 eggs
2 oz. (1⁄4 cup) sugar
1 pod vanilla
1 oz. (2 tbsp.) icing sugar (confectioners' sugar)
1 oz. (2 tbsp.) apricot jam
7 oz. clotted cream
Instructions
At least 2 hours ahead, make the compote of apricots: Bring 9 fl.oz. (about 1 cup) water to the boil and pour over the apricots in a heat-proof bowl. Leave to stand for about 30 minutes. Add the remaining ingredients, pour into a pan and bring to the boil. Simmer for about 10 minutes. Leave to cool and remove the vanilla and cinnamon.
Preheat the oven to 375°. Butter the bread and remove the crusts. Place one layer of bread on the base of a 10″ × 6″ × 2 1⁄2" rectangular earthenware dish and cover with a layer of sultanas. Place the rest of the bread on top.
Mix the cream, milk, eggs, and sugar, and pass through a sieve. Slice the vanilla pod down the centre and scrape out the seeds. Add to the custard mixture and pour over the bread. Allow to soak for 5 minutes.
Place the dish in a bain-marie and cook in the oven for about 30 minutes. Remove and allow to cool for about 15 minutes.
Preheat a hot grill (broiler). Dust the pudding with icing sugar and glaze under the grill until golden (if it starts to soufflé, remove from the grill and let it cool a little longer before repeating the glazing process).
Spread the top with the apricot jam and serve cut into wedges, with a quenelle (three-sided oval) of clotted cream (mold it with 2 tablespoons) and the compote of apricots. Spoon some English custard (crème anglaise) around the plate, if you like.