Bread with Prosciutto and Olives (Torta Salata Pasquale)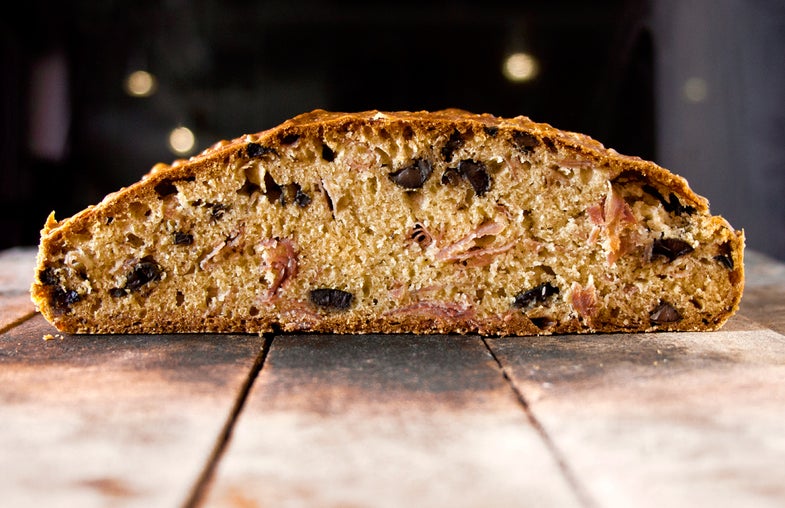 This recipe is a savory alternative to pizza pasquale, the sweet bread traditionally served with salame on Easter morning.
Yield: serves 12
Ingredients
3 3⁄4 cups flour
1 1⁄2 tbsp. baking powder
3⁄4 cup olive oil
1 1⁄4 cups dry white wine
6 eggs
1⁄4 lb. prosciutto
1⁄4 lb. mortadella
1 cup sliced pitted black olives (preferably Italian, such as gaeta)
1⁄2 cup grated parmigiano-reggiano
Freshly ground black pepper
Instructions
Preheat oven to 350°. Grease and flour an 8½"×11″ cake pan.
Sift flour and baking powder together into a large mixing bowl. Make a well in the center and add olive oil, dry white wine, and ½ cup water. Stir with a fork until well blended.
Beat eggs in another mixing bowl and stir into flour mixture.
Slice prosciutto and mortadella into short strips and add to batter with black olives and parmigiano-reggiano. Season with freshly ground black pepper, pour into pan, and bake until golden, about 1 hour. Cool slightly, then turn out onto a wire rack to cool completely.