Chicken "Osso Buco" with Penne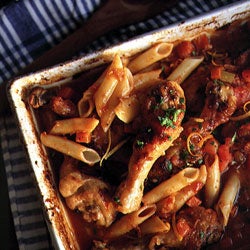 This is our version of chef Michel Richard's creation from Home Food: 44 Great American Chefs Cook 160 Recipes on Their Night Off (Clarkson Potter, 1995)—which itself is a variation on a classic Italian veal shank dish.
Yield: serves 4
Ingredients
8 chicken drumsticks
4 tsp. all-purpose flour
2 tbsp. extra-virgin olive oil, plus extra for pasta
1 carrot, peeled and diced
1 onion, diced
1 stalk celery, diced
8 cloves garlic, peeled and chopped
1 cup chardonnay or other dry white wine
2 cups tomato sauce
4 cups chicken stock
Zest and juice of ½ orange and ½ lemon (or 1 orange), plus more if needed
Salt and freshly ground black pepper
1 bouquet garni (1 sprig thyme and 1 bay leaf)
1 1⁄2 – 2 cups penne
1 tomato, diced
Chopped fresh parsley, for serving
Instructions
Lightly coat drumsticks with flour. Heat olive oil in a large ovenproof skillet over medium heat. Add drumsticks and cook until golden brown, about 2 minutes per side. Transfer to a plate and keep warm.
Add carrots, onions, celery, and garlic to skillet and cook over medium heat until lightly browned, about 3 minutes. Add wine and scrape up any browned bits. Add tomato sauce, chicken stock, zest, and juices. Season to taste with salt and pepper and add bouquet garni. Continue cooking, uncovered, over medium-high heat until sauce thickens, 20–30 minutes.
Preheat oven to 325°. Return chicken to pan and bake, covered, until chicken is cooked through, 20–30 minutes.
Meanwhile, bring a large pot of water to a boil. Add salt and cook penne until al dente. Drain and toss with a little olive oil. To serve, spoon chicken and sauce over pasta and garnish with tomatoes and parsley.