Carbonnade (Flemish Beef and Beer Stew)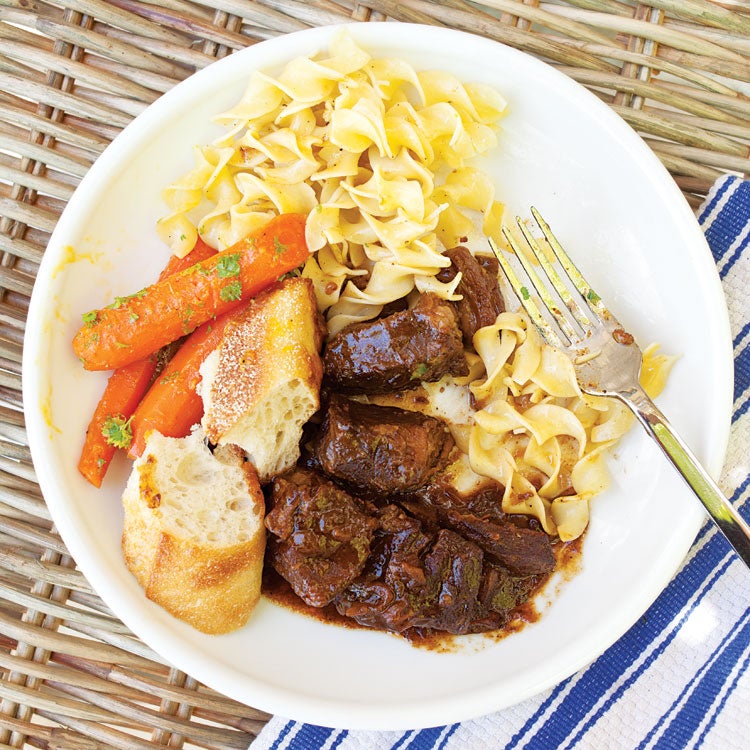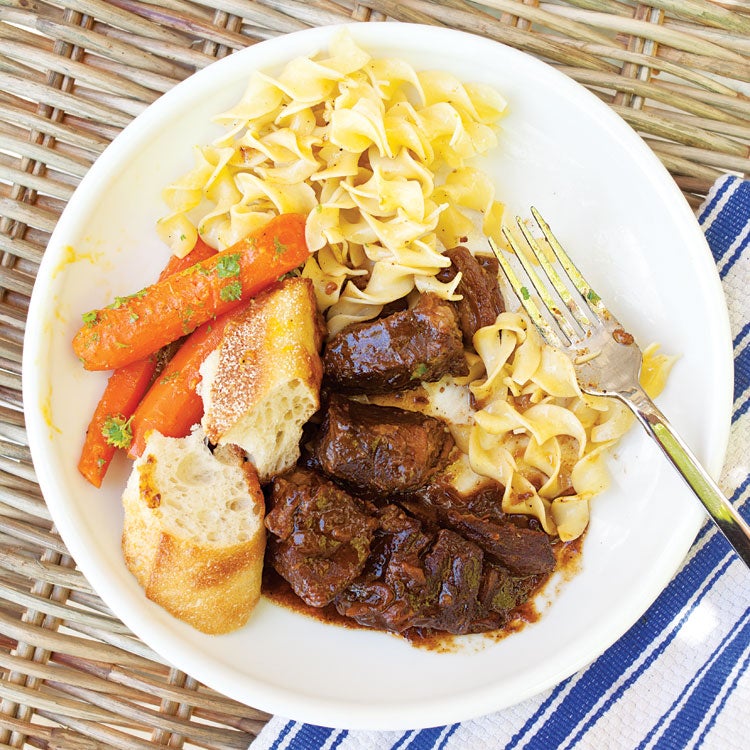 I've turned out many plates in my career, but only certain dishes have become meals I feed my own family, like boeuf carbonnade a la flamande. I was taught to make this Flemish beef and onion stew by my mentor, Belgian chef Leon Dhaenens, when I was a young cook. Unlike French beef stews made with wine, carbonnade relies on the deep, dark flavor of Belgian abbey-style beer. But what really gives carbonnade its distinctive character is the addition of brown sugar and a fillip of cider vinegar, a sweet-sour combination that plays beautifully against the caramelized onions and rich beer. —Charlie Palmer, chef-owner of Aureole in New York City and Las Vegas
What You Will Need
Carbonnade (Flemish Beef and Beer Stew)
Unlike French beef stews made with wine, carbonnade relies on the deep, dark flavor of Belgian abbey-style beer.
Ingredients
2 lb. beef chuck, cut into 2″ x 1/2″-thick slices
Kosher salt and freshly ground black pepper, to taste
1⁄4 cup flour
4 tbsp. unsalted butter
4 slices bacon, finely chopped
6 cloves garlic, finely chopped
3 medium yellow onions, thinly sliced lengthwise
2 cups Belgian-style ale, like Ommegang Abbey Ale
1 cup beef stock
2 tbsp. dark brown sugar
2 tbsp. apple cider vinegar
3 sprigs thyme
3 sprigs parsley
2 sprigs tarragon
1 bay leaf
Bread, for serving
Instructions
Season beef with salt and pepper in a bowl; add flour and toss to coat. Heat 2 tbsp. butter in a 6-qt. Dutch oven over medium-high heat. Working in batches, add beef; cook, turning, until browned, about 8 minutes. Transfer to a plate; set aside. Add bacon; cook until its fat renders, about 8 minutes. Add remaining butter, garlic, and onions; cook until caramelized, about 30 minutes. Add half the beer; cook, scraping bottom of pot, until slightly reduced, about 4 minutes. Return beef to pot with remaining beer, stock, sugar, vinegar, thyme, parsley, tarragon, bay leaf, and salt and pepper; boil. Reduce heat to medium-low; cook, covered, until beef is tender, about 1 ½ hours. Serve with bread.
See all 150 classic recipes featured in our 150th issue »