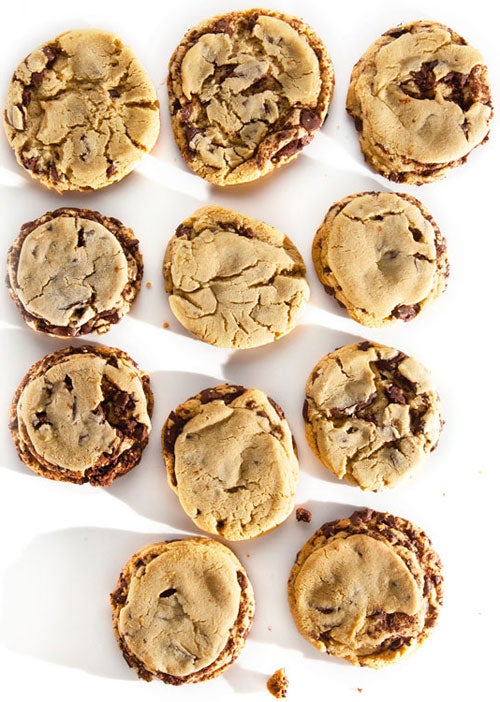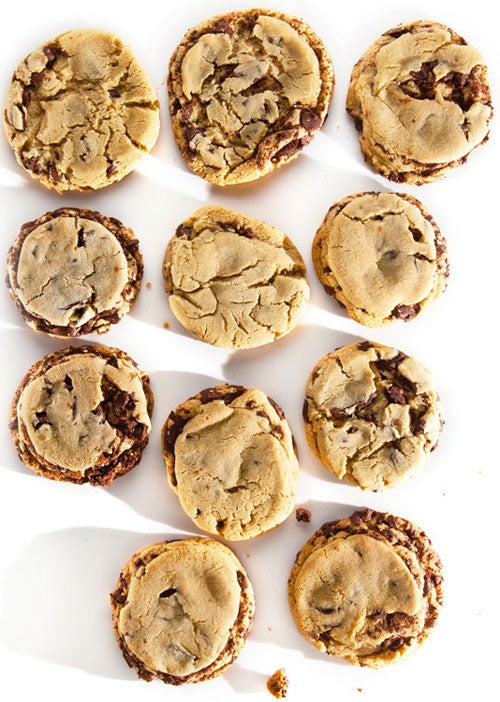 The beauty of making classic Toll House cookies is discovering how malleable the recipe can be. Once I'd learned that layering sheets of butter into dough makes puff pastry irresistibly flaky and rich, I resolved to create a chocolate chip cookie with equal textural appeal. I tried layering pieces of chocolate into cookie dough in a similar style, and I was delighted with the results: crisp around the edges, moist and tender inside, and so marbled that every bite contained the consummate balance of sweet dough, melting bittersweet chocolate, and crystalline salt. —Sarah Copeland, author of The Newlywed Cookbook (Chronicle Books, 2011)
Chocolate Chip Cookies
Looking for the best chocolate chip cookie recipe? It's tough to beat this classic Toll House cookie recipe.
Yield:
makes About 2 Dozen
Ingredients
2 1⁄4 cups flour
3⁄4 tsp. baking soda
3⁄4 tsp. kosher salt
16 tbsp. unsalted butter, softened
3⁄4 cup packed dark brown sugar
3⁄4 cup sugar
1 tsp. vanilla extract
4 egg yolks
9 oz. bittersweet chocolate, roughly chopped
Instructions
Heat oven to 375°. Whisk together flour, baking soda, and salt in a bowl; set aside. Combine butter, both sugars, and vanilla in a large bowl; beat on medium-high speed with a hand mixer until smooth and fluffy, about 3 minutes. Add yolks two at a time, beating after each addition; add dry ingredients; beat on low speed until just combined. Transfer dough to a work surface; divide into 3 equal pieces. Flatten each into a 4″ x 6″ rectangle; wrap in plastic wrap. Chill for 30 minutes.
Place one dough rectangle on a floured work surface; sprinkle with half the chocolate. Top with another rectangle, sprinkle with remaining chocolate, and cover with last rectangle. Using a floured rolling pin, flatten rectangles into a 9″ x 6″ x 1 1⁄2″ rectangle. Using a 2″ round cutter, cut out cookies; transfer to parchment paper—lined baking sheets, spaced 3″ apart. Gather scraps, reroll into a 1 1⁄2″-thick disk; cut out more cookies. Bake, rotating baking sheets halfway through cooking, until lightly browned and set, about 15 minutes.