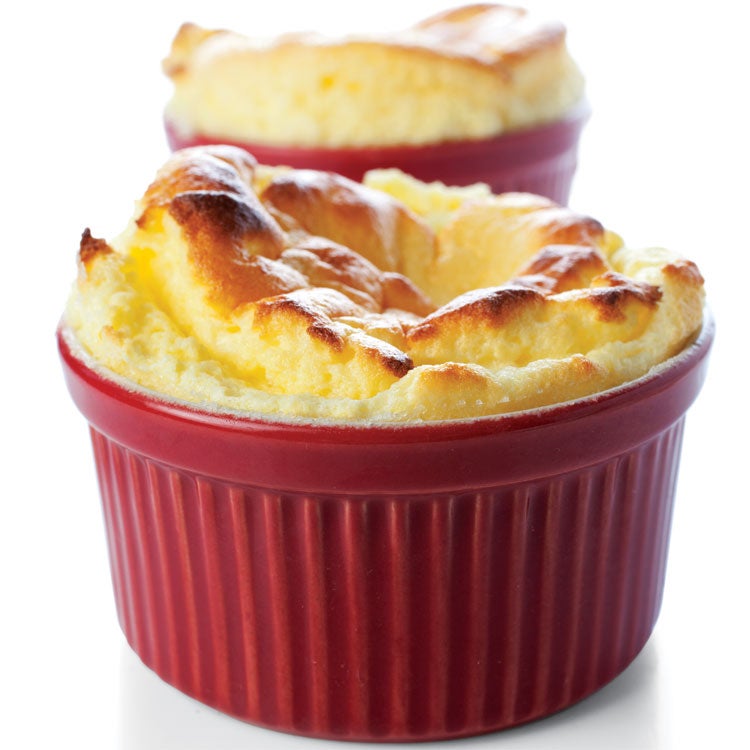 There is something unforgettable about a soufflé. I remember my first, at the magnificent Le Perroquet restaurant in Chicago in 1978. It was in that hushed dining room that I actually swooned, not only for the soufflé—a magical blending of eggs, air, and acid—but for my profession, too. Under duress (amounting to a lot of begging), Le Perroquet's owner, Jovan Trboyevic, hired me, putting me to work on the pastry station, where I made dozens of soufflés every night, never tiring of their delightful ascent in the oven and their faint wobble as waiters whisked them out to the dining room at just the right moment. —Mary Sue Milliken, co-chef-owner of Los Angeles's Border Grills and Truck
Lemon Soufflé
There's something unforgettable about the soufflé—a magical blending of eggs, air, and acid.
Ingredients
2 tbsp. unsalted butter, plus more for greasing molds
1⁄2 cup sugar, plus more for molds
3 tbsp. flour
2 tbsp. lemon zest
8 eggs, separated, plus 1 egg white
1 cup milk
1⁄2 cup fresh lemon juice
Confectioners' sugar, to garnish
Instructions
Heat oven to 375°. Grease eight 6-oz. ramekins and then coat with sugar, tapping out excess; set aside on a baking sheet. Whisk together 1⁄4 cup sugar, flour, zest, and egg yolks in a 2-qt. saucepan; add milk and stir until smooth. Place pan over medium heat; cook, stirring often, until thickened, about 12 minutes. Pour through a fine strainer into a large bowl; stir in butter and juice.
Place egg whites in a bowl; whisk until soft peaks form. Add remaining sugar; beat until firm peaks form. Add 1⁄3 of the whites to lemon mixture; stir until smooth. Add remaining whites; fold until combined. Divide batter among ramekins; bake until risen and golden brown, about 18 minutes. Immediately transfer to serving plates, and dust with confectioners' sugar.