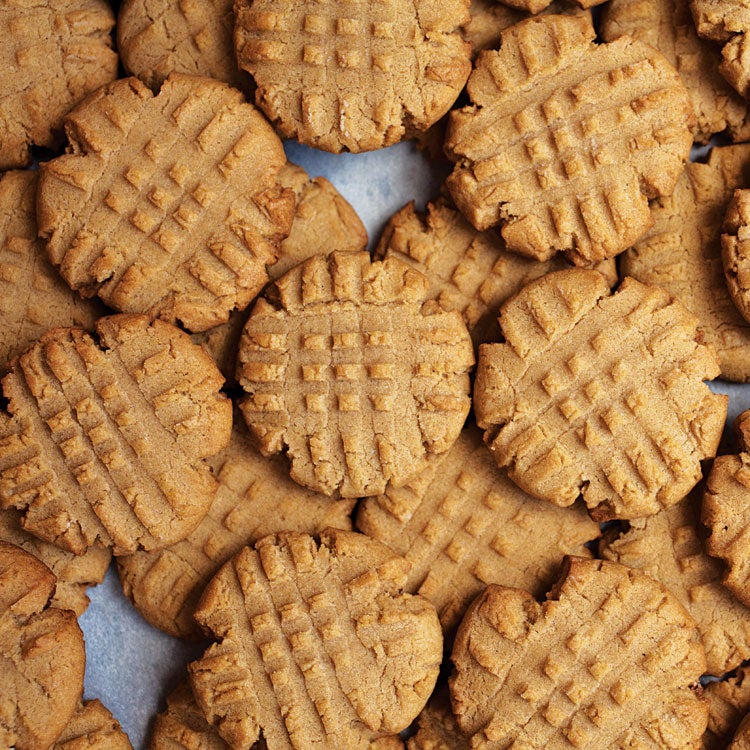 They were the cookies I gladly skipped over at school bake sales in favor of chocolate chip because to me, peanut butter seemed like health food—its early promoter, John Harvey Kellogg, first marketed it as such in the 1890s, and despite its sweetness, the wholesome image has pretty much stuck. Why would I ruin the pleasure of eating a cookie, I reasoned, with an ingredient that was supposed to be good for me? Now, led by my palate instead of prejudice, I relish a soft, chewy peanut butter cookie, whether made from the stir-as-you-use-it natural kind or a mass-market brand like Peter Pan. —Kellie Evans
Peanut Butter Cookies
These classic fork-tine-mashed peanut butter cookies retain all the chewiness and deep toasty flavor you remember.
Yield:
makes about 4 1/2 dozen
Ingredients
3 cups flour
2 tsp. baking powder
1 tsp. kosher salt
1 cup sugar
1 cup packed dark brown sugar
12 tbsp. unsalted butter, softened
2 eggs
1 cup peanut butter
2 tsp. vanilla extract
Instructions
Heat oven to 350°. Whisk together flour, baking powder and salt in a bowl; set aside. Beat sugars and butter together in a bowl with a hand mixer until pale and fluffy, about 3 minutes. Add eggs one at a time, beating well after each, until smooth. Add peanut butter and vanilla; beat until smooth. Add flour mixture; beat until combined.
Using a tablespoon, portion out dough and roll into balls; place 2″ apart on parchment paper—lined baking sheets. Using a fork, press tines over balls in a crosshatch pattern to flatten. Bake, rotating baking sheets halfway through cooking, until golden brown, about 12 minutes.