Hongshao Qiezi (Red-Cooked Eggplant)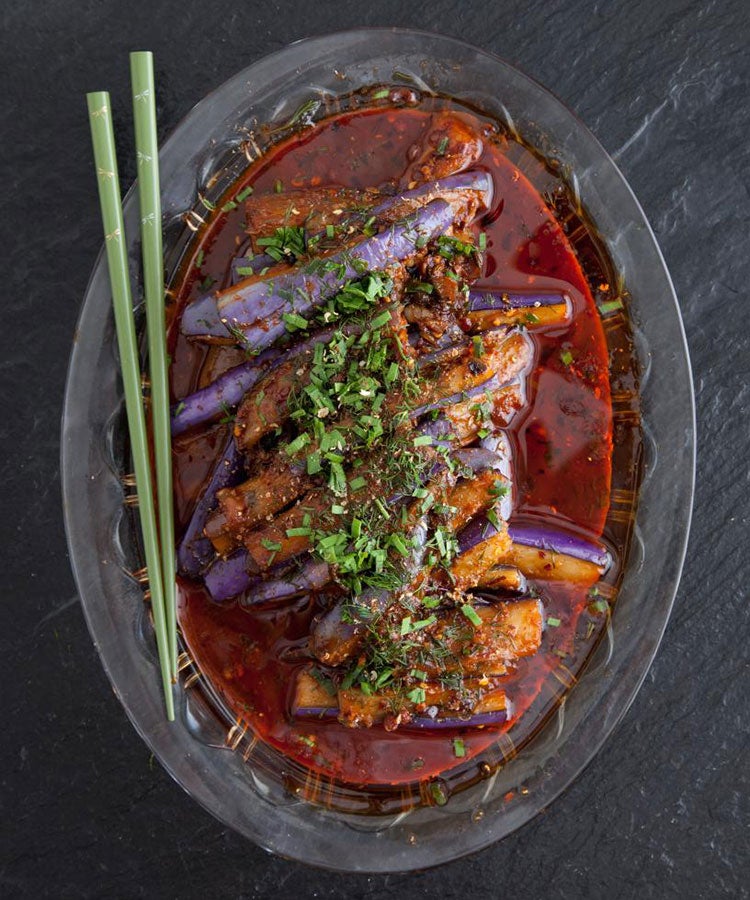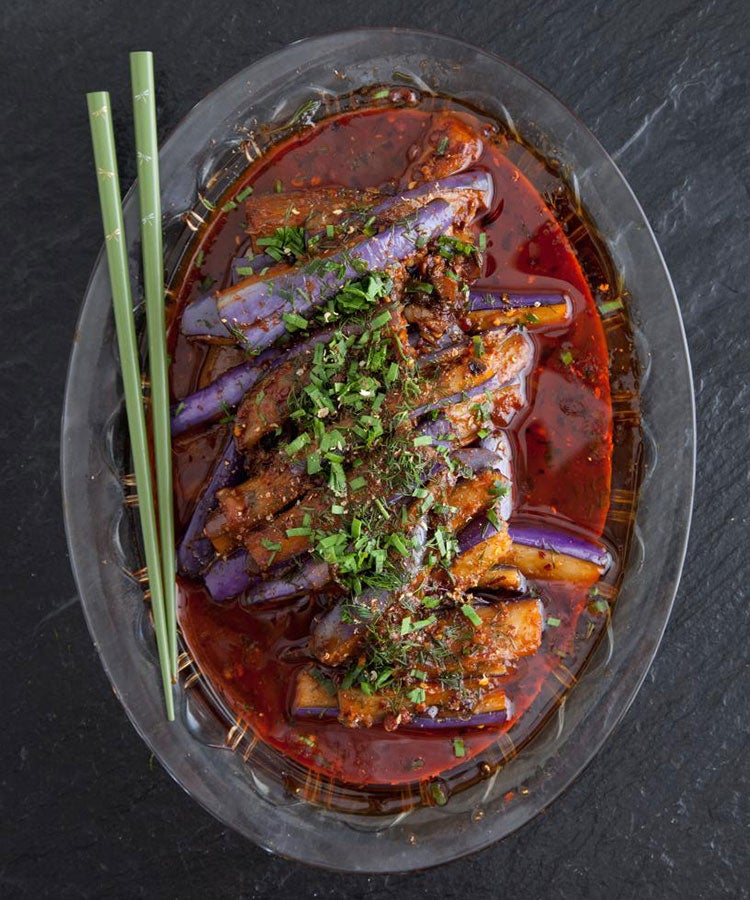 When San Francisco finally gained a Shanghainese restaurant in the 1970s, my mother, who was raised in Shanghai, insisted our family try their red-cooked eggplant. I can recall the melting tenderness of the vegetable, colored a dark red from braising in soy sauce and sugar. Mama never cooked eggplant this way at home, perhaps because my father insisted on eating Cantonese. Years later I learned from my friend Florence Lin how to prepare it. While ground pork or dried shrimp can be added, she favored just Asian eggplant cooked in peanut oil and then braised in soy sauce along with ginger, sugar, and water. I've recently discovered another intriguing take on the recipe, from Danny Bowien of the Mission Chinese Food restaurants in San Francisco and New York. Bowien employs ingredients—dill, chiles de arbol, anchovies—that no Shanghainese home cook would. But the result is just as delicious. —Grace Young, author of Stir-Frying to the Sky's Edge (Simon & Schuster, 2010)
Hongshao Qiezi (Red-Cooked Eggplant)
This dish, from Shanghai, is meltingly tender and colored a dark red from braising in soy sauce and sugar.
Ingredients
5 Chinese eggplant, quartered lengthwise, cut into 3″ pieces
3 cups canola oil
3 tbsp. light brown sugar
2 tbsp. Chinese chili bean paste
1 tbsp. tomato paste
1 bay leaf
1 oil-packed anchovy filet, finely chopped
1 sachet of spices (5 whole cloves, 4 whole star anise, 2 pods black cardamom, one 4″ strip peeled orange zest, and 1 stick cinnamon, halved, wrapped in cheesecloth and tied with kitchen twine)
2 cups chicken stock
1 1⁄2 tsp. Szechuan peppercorns, crushed
1 1⁄2 tsp. dark soy sauce
1 tsp. fennel seeds
2 chiles de árbol, stemmed
2 tbsp. Chinese cooking wine
12 tsp. fish sauce
3 cloves garlic, mashed
1 tbsp. finely chopped dill
1 tbsp. finely chopped chives
1⁄4 cup hot sesame chili oil
Instructions
Submerge eggplant in a bowl filled with ice water for 5 minutes. Meanwhile, heat oil in a 14″ flat-bottomed wok over medium-high heat. Drain eggplant, dry thoroughly with paper towels, and add all to the oil. Cook until just soft and golden, about 3 minutes. Using a slotted spoon, transfer eggplant to a bowl, cover with boiling water, and let sit for 3 minutes. Drain; dry with paper towels.
Discard all but ¼ cup oil in wok; return to medium heat. Add sugar; stir until sugar dissolves and mixture looks like separated peanut butter. Add 1 tbsp. chili paste, tomato paste, bay leaf, and anchovy; cook for 1 minute. Add sachet of spices, stock, 1 tsp. peppercorns, dark soy sauce, fennel seeds, and chiles; boil. Cook until reduced by half, about 15 minutes; discard bouquet garni. Add remaining chili paste, wine, fish sauce, and garlic; cook for 1 minute. Add eggplant; fold into sauce. Transfer to a plate; garnish with remaining peppercorns, dill, chives, and chili oil.