Recipes
Old-School Veal Piccata
The Italian American classic, enlivened with lemon juice and capers, comes together in under an hour.
Serves

serves 6

Cook

40 minutes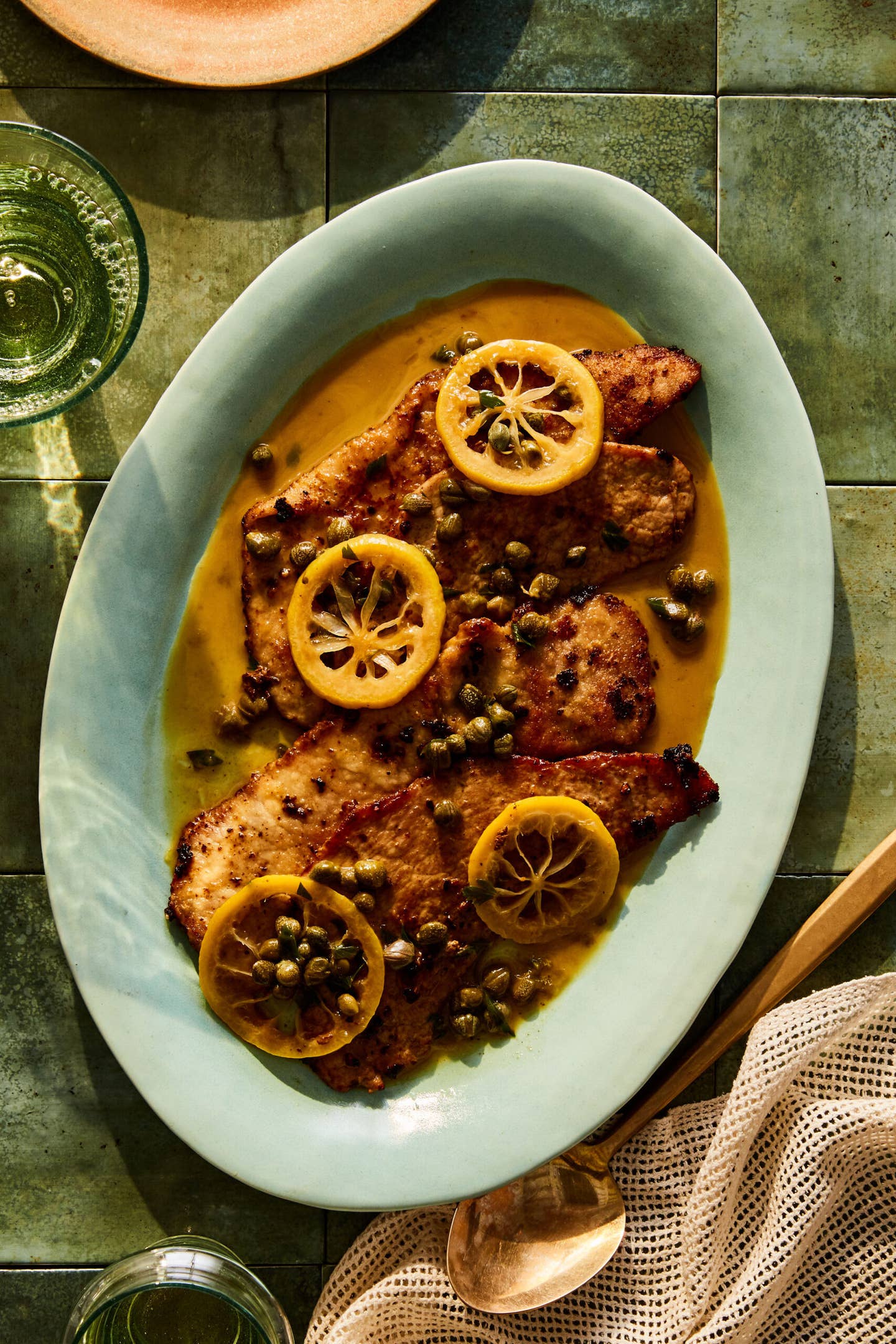 Like chicken marsala and veal saltimbocca, veal piccata is an old-school Italian import that's a mainstay of the Italian American restaurant. Our signature recipe starts with pan-fried veal scaloppini and keeps things staunchly traditional with a simple white wine-lemon sauce. Capers and a parsley, thrown in just before serving, add brightness and texture, while a knob of butter thickens the sauce. Garlic lovers may wish to sauté two finely chopped cloves in the skillet before adding the wine in step 3. Buttered spaghetti is a good accompaniment.
Ingredients
2 lb. (about 12) veal cutlets, pounded ¼-in. thick
Kosher salt and freshly ground black pepper
½ cups all-purpose flour
4 tbsp. unsalted butter, divided
2 tbsp. olive oil, plus more as needed
½ cups dry white wine
1¼ cups homemade chicken stock (or low-sodium chicken broth)
1 lemon, sliced into ⅛-in.-thick rounds, seeded
1 tbsp. fresh lemon juice
¼ cups drained capers
2 tbsp. coarsely chopped parsley
Instructions
Step 1
Place a serving platter on the rack in the center of the oven and preheat to 200ºF. In a shallow dish or pie plate, place the flour. Season the cutlets generously with salt and pepper, then dredge in the flour, shaking off any excess. Transfer to a plate by the stove.
Step 2
To a
large skillet
set over medium-high heat, add the oil and 2 tablespoons of the butter. When it's hot and shimmering, add enough cutlets to cover the bottom of the pan without overcrowding. Fry, turning once, until golden brown, 3–5 minutes. Transfer to the serving platter, then repeat with the remaining cutlets, adding more oil if the pan looks dry.
Step 3
To the empty skillet, add the wine and cook, scraping up any browned bits, until reduced by half, about 3 minutes. Add the stock and lemon slices and boil until reduced by half again, about 9 minutes more. Stir in the lemon juice, capers, parsley, and remaining butter and season with salt and black pepper to taste. Pour the sauce over the veal and serve immediately.