Recipes
Chicken Marsala
The trifecta of tender scallopini, mushrooms, and fortified wine forms the basis for this rich and saucy weeknight dinner.
Serves

serves 4 to 6

Cook

40 minutes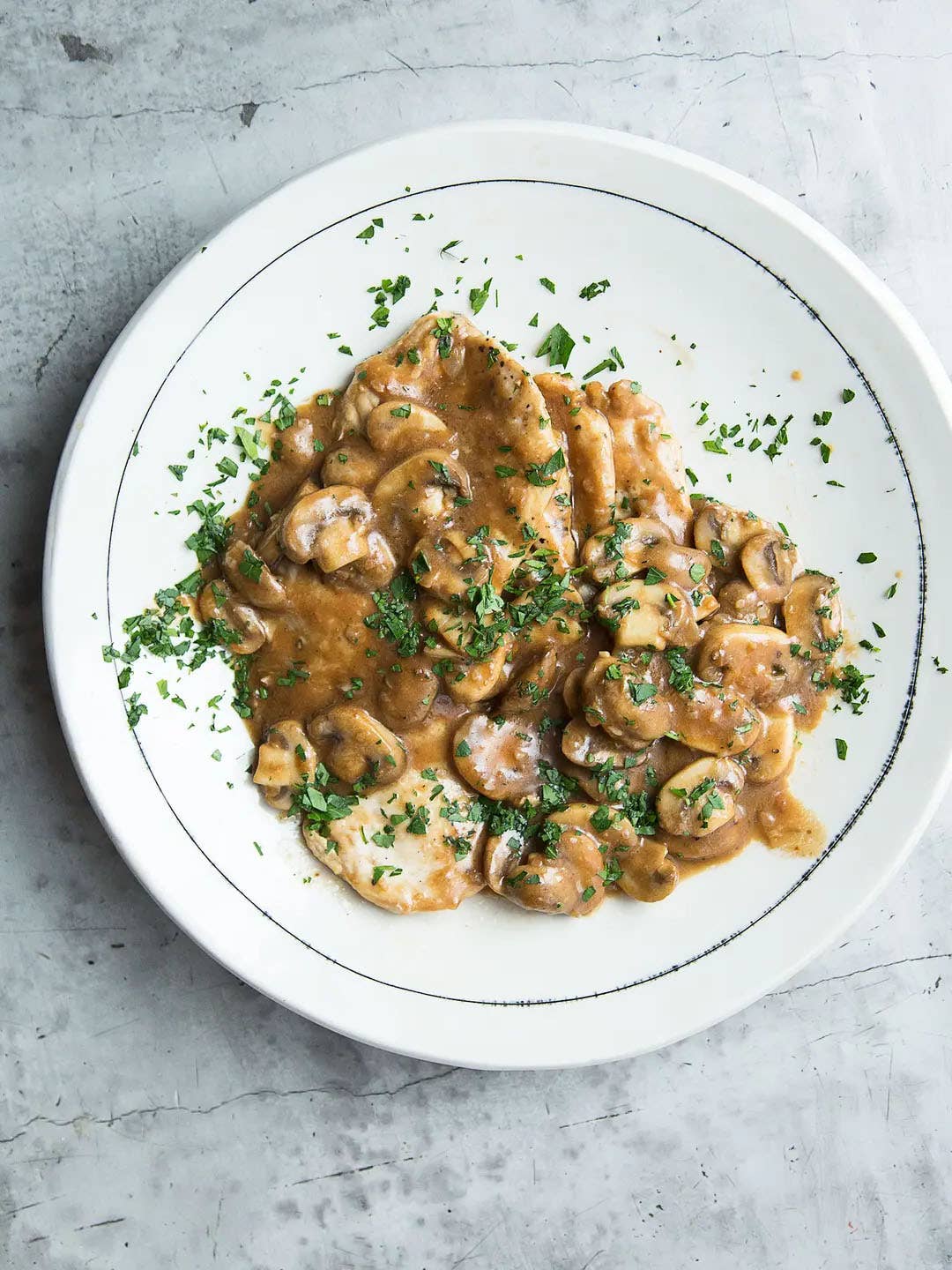 This dish has its origins in traditional Italian scallopini from Sicily and is a staple throughout Italian-American homes. Pounding the chicken cutlets thin before cooking makes them terrifically tender, while deglazing the pan with Marsala and stock creates a quick, rich sauce. Use a dry Marsala wine for this recipe, and save the sweet versions for sipping or for whipping up a batch of after-dinner zabaglione.
Ingredients
1¼ lb. chicken breasts (about 8), pounded ¼ in. thick
Kosher salt and freshly ground black pepper
⅓ cup plus 1 Tbsp. all-purpose flour
5 Tbsp. olive oil, divided
5 tbsp. unsalted butter
8 oz. white button mushrooms
2 tbsp. minced shallots
1 clove garlic, minced
1⁄3 cup dry Marsala wine
1⁄3 cup chicken stock
1 tbsp. finely chopped parsley, for garnish (optional)
Instructions
Step 1
Season chicken with salt and pepper and dredge in 1⁄3 cup flour. Heat 2 tbsp. oil and 1 tbsp. butter in a 12" skillet over medium-high heat. Working in batches, add chicken, and cook, turning once, until golden brown, about 3 minutes. Transfer to a plate, and set aside. Add 2 tbsp. oil and 1 tbsp. butter, and then add mushrooms; cook until golden brown, about 8 minutes. Transfer to plate with chicken, and set aside.
Step 2
Heat remaining oil in skillet, and then add shallots and garlic; cook, stirring, until soft, about 1 minute. Stir in remaining 1 tbsp. flour; cook for 2 minutes. Add Marsala and stock; cook, stirring and scraping bottom of pan until slightly thick, about 2 minutes. Return chicken and mushrooms to skillet, and cook until heated through, about 2 minutes. Remove from heat; stir in remaining butter. Season with salt and pepper; garnish with parsley, if you like.