Recipes
Cornbread Stuffing
Serves

serves 8-12

Cook

2 hours 15 minutes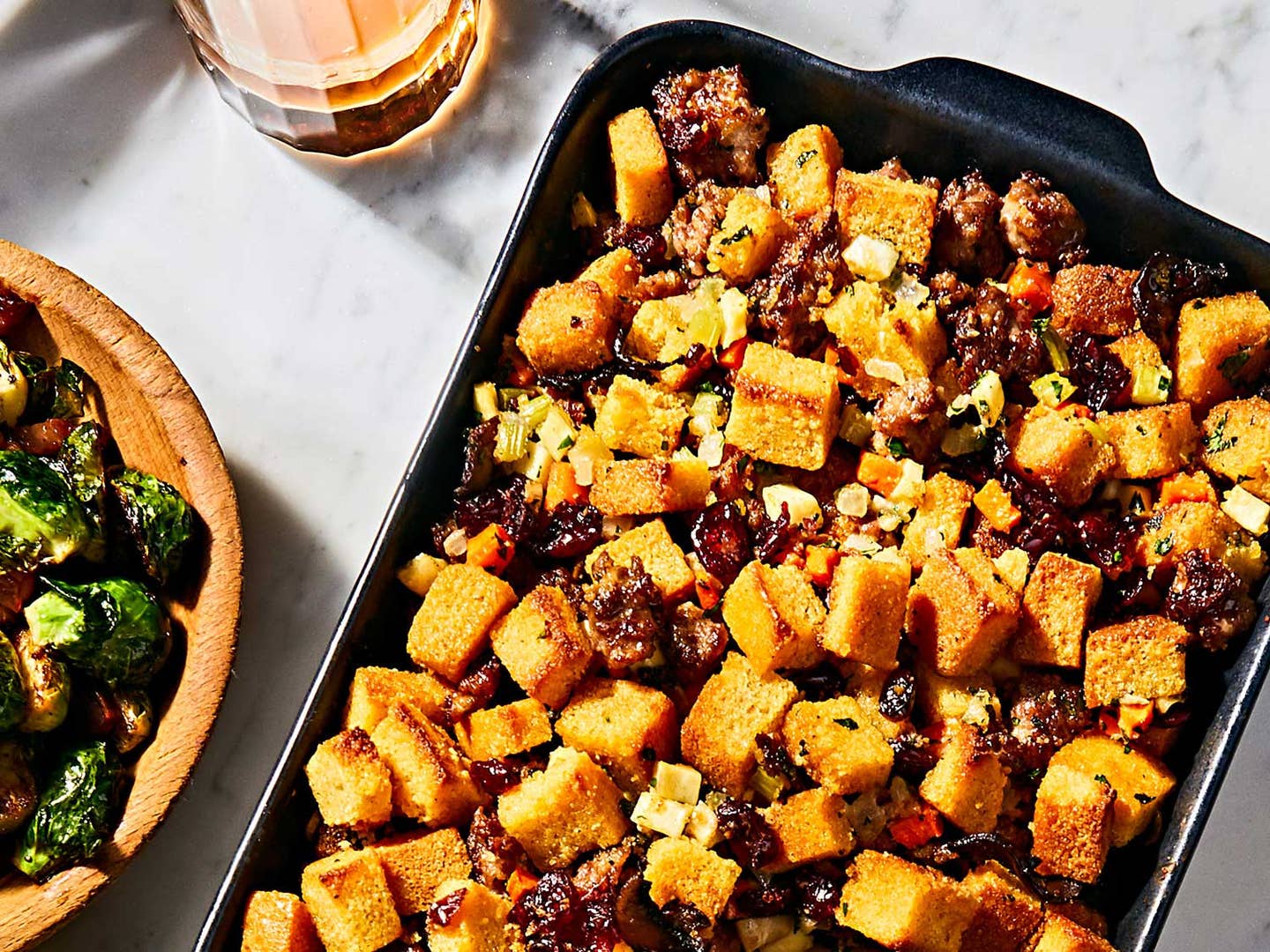 Parsnips and dried cherries add a sweetness that offsets the savory mushrooms and sausage. Save time by using store-bought cornbread instead of homemade.
Ingredients
8 Tbsp. unsalted butter, plus more for greasing
3 Tbsp. extra-virgin olive oil, divided
12 oz. fresh pork sausage, casing removed and sausage crumbled
2 lb. cornbread, cubed (about 10 cups, or one 8-by-8-inch pan)
12 oz. cremini mushrooms, sliced
Kosher salt and freshly ground pepper
½ cup dried cherries or cranberries
⅓ cup chopped flat-leaf parsley
2 Tbsp. fresh sage, chopped
3 ribs celery, finely chopped (1 cup)
2 carrots, finely chopped (1 cup)
2 cups parsnips, cored and finely chopped (1 cup)
2 cloves garlic, finely chopped
1 large onion, chopped
1 cup chicken stock
½ cup heavy cream
2 large eggs
Instructions
Step 1
Preheat the oven to 325°F, with a rack in the center. Grease a 9-by-13-inch baking dish with butter and set aside.
Step 2
In a medium skillet, heat 1 tablespoon oil over medium-high. Add the sausage and cook until crisp, browned, and cooked through, 8–10 minutes. Using a slotted spoon, remove the sausage to a large bowl; add the cornbread to the bowl. Add 1 tablespoon oil and half the mushrooms to the fat in the skillet and cook until any liquid has evaporated and mushrooms are deep golden, 8–10 minutes. Season lightly with salt and pepper; add mushrooms to the bowl with sausage-cornbread mixture. Repeat with the remaining mushrooms and 1 tablespoon oil. Stir the cherries, parsley, and sage into the sausage-cornbread mixture; set aside.
Step 3
In the same skillet, melt the butter over medium-high heat Reduce the heat to medium-low and add the celery, carrots, parsnips, garlic, and onion. Season with salt and pepper; cook until the vegetables are soft and translucent, 15–20 minutes. Transfer to the bowl with the sausage-cornbread mixture, scraping up and adding any browned bits from the skillet.
Step 4
Whisk together the chicken stock, cream, and eggs until smooth. Pour over the sausage-cornbread mixture and toss to combine. Transfer to the prepared baking dish and cover tightly with foil. Bake for 30 minutes. Increase the oven temperature to 375°F, remove the foil, and bake until the stuffing is deep golden and crisp on top, 20–25 minutes more.