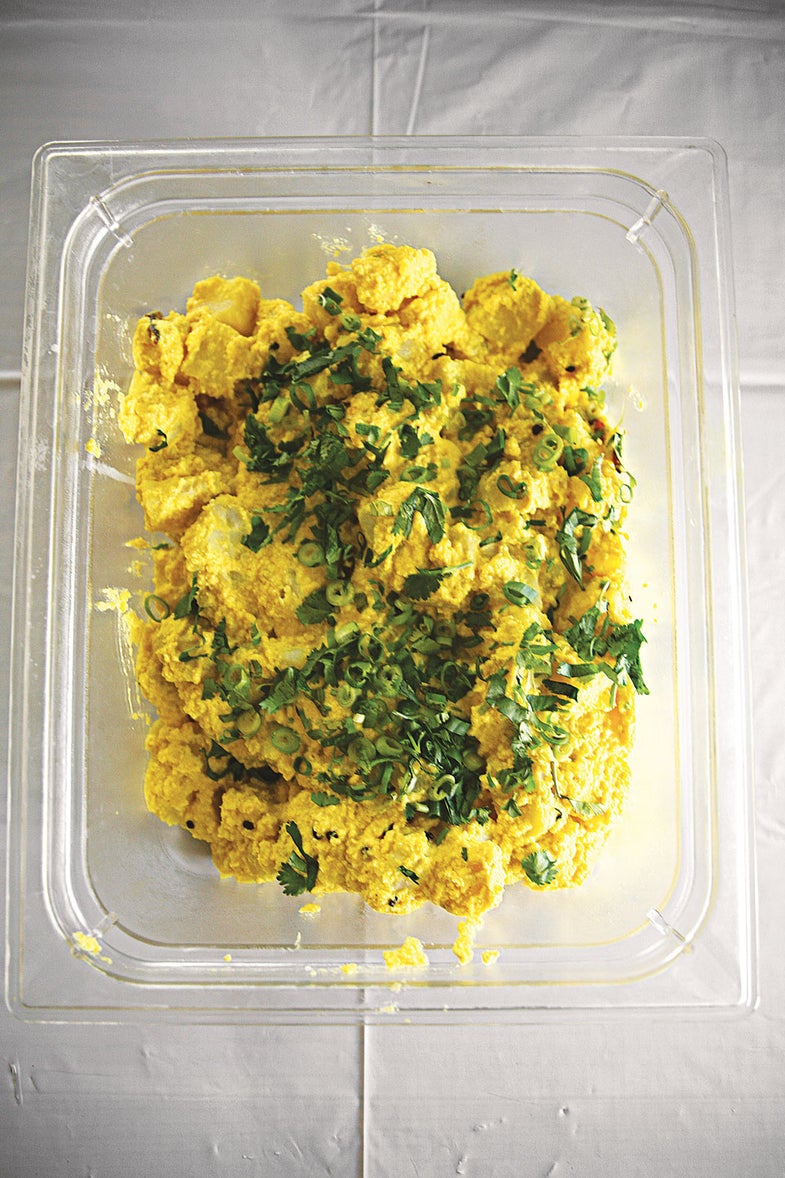 Subarna Bhattachan, a Nepalese chef living in Lawrence, Kansas, folds a purée of cool yogurt, nutty tahini, and spicy red chiles into his fragrant take on potato salad. This recipe first appeared in our August/September 2013 Heartland issue with the story Salad Social.
Curried Potato Salad
This purée of cool yogurt, nutty tahini, and spicy red chiles is a fragrant take on potato salad.
Ingredients
2 lb. Yukon gold potatoes
Kosher salt and freshly ground black pepper, to taste
1⁄3 cup olive oil
4 fresh small red Thai chiles, roughly chopped
3⁄4 cup plain Greek yogurt
1⁄2 cup tahini
1⁄2 tbsp. curry powder
Zest and juice of 1 lemon
1⁄3 cup roughly chopped cilantro
2 scallions, thinly sliced
Instructions
Boil the potatoes in a 6-qt. saucepan of salted water until tender, about 45 minutes; drain and chill. Peel and roughly chop the potatoes; place in a large bowl and set aside.
Heat oil in a 10″ skillet over medium-high heat. Add chiles and cook until golden, about 1 minute; let cool. Transfer oil and chiles to a blender with the yogurt, tahini, curry powder, zest, juice, salt, and pepper; purée until smooth. Pour dressing over potatoes and stir in half each of the cilantro and scallions. Garnish with remaining cilantro and scallions.