Recipes
Curried Potato Salad
Cool yogurt, nutty tahini, and spicy chiles all feature in this fragrant take on a summer classic.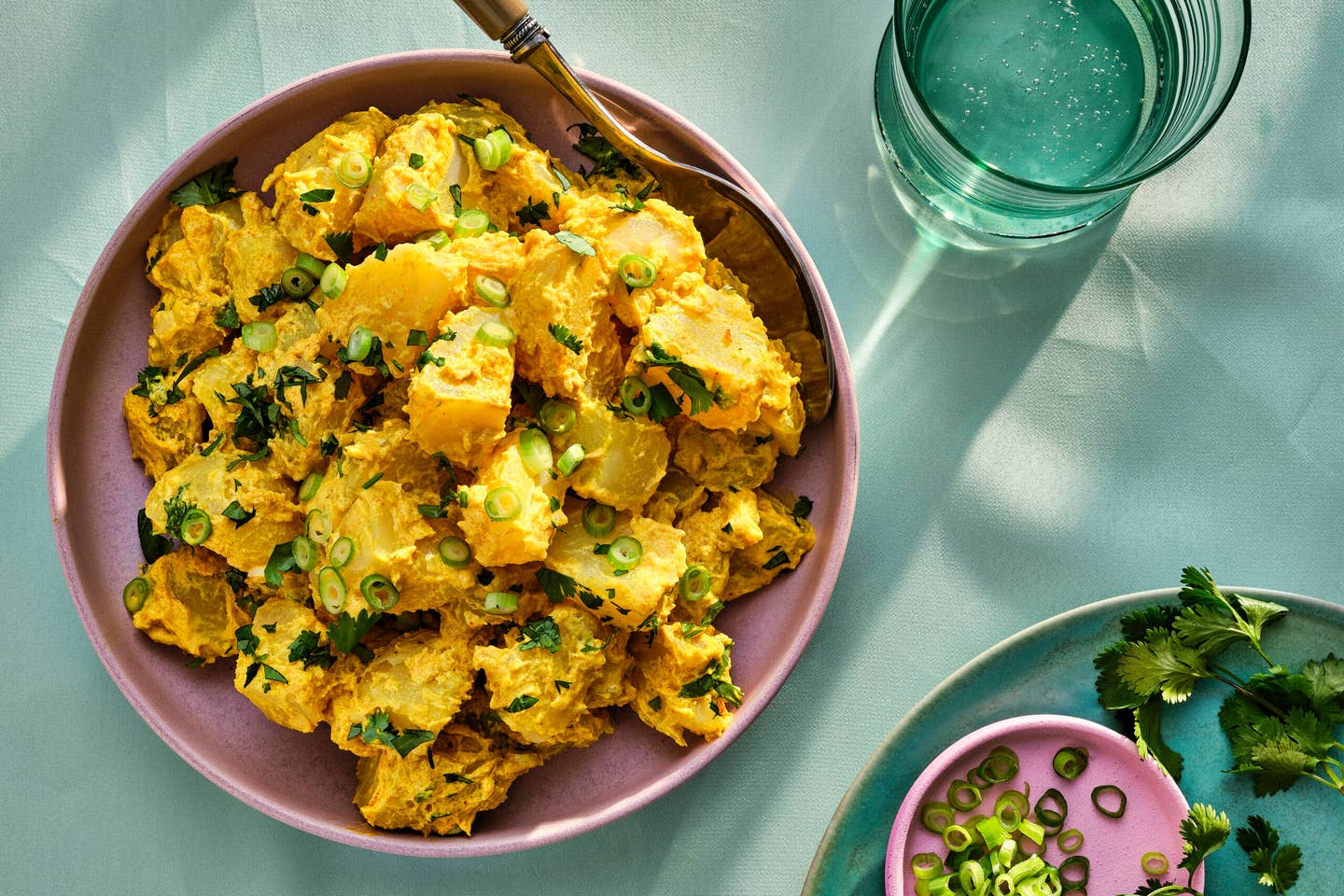 Nepal-born, Kansas-based chef Subarna Bhattachan folds a purée of cool yogurt, nutty tahini, and spicy red chiles into his fragrant take on potato salad. This recipe first appeared in our August/September 2013 Heartland issue with the story Salad Social.
Ingredients
Kosher salt
2 lb. Yukon gold potatoes
⅓ cups extra-virgin olive oil
4 fresh bird's eye chiles, coarsely chopped
¾ cups plain Greek yogurt
½ cups tahini
½ tbsp. curry powder
2 tbsp. fresh lemon juice
1 tbsp. finely grated lemon zest
Freshly ground black pepper
⅓ cups coarsely chopped cilantro
2 scallions, thinly sliced
Instructions
Step 1
Bring a large pot of generously salted water to a boil. Add the potatoes and cook until tender, about 45 minutes. Drain the potatoes and set aside until cool enough to handle. Peel and coarsely chop the potatoes, then transfer to a large bowl and set aside.
Step 2
To a medium skillet over medium-high heat, add the oil; when hot, add chiles and cook, stirring frequently, until lightly browned, about 1 minute; remove from heat.
Step 3
Transfer the oil and chiles to a blender, then add the yogurt, tahini, curry powder, lemon juice and zest, salt, and black pepper; purée until smooth. Pour the dressing over the potatoes and stir in half of both the cilantro and scallions. Garnish with the remaining cilantro and scallions just before serving.
Nobody ever complained about too much potato salad. Virtually any combination of potatoes, salt, fat, and acid (lemon juice, vinegar, relish, what have you) is bound to taste fantastic, so it's silly to stick to only the star-spangled mayonnaise-y variety that often graces cookouts—even if we do have a soft spot for it. So next time you're tasked with bringing the potato salad, surprise your friends and family with one of these creative alternatives.