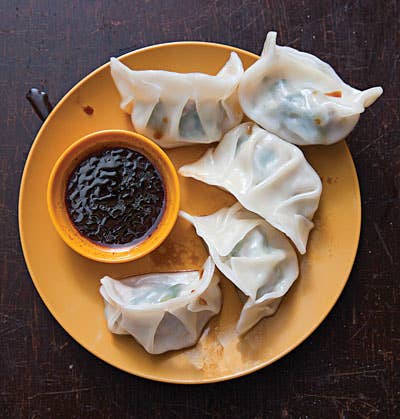 From shui jiao _in China to _malfatti _in Italy, seemingly every culinary culture has a dumpling to call its own. Whether fried or boiled, filled or doughy, homely or origami-perfect, dumplings the world over are almost always comforting tidbits that are handmade with love. The names themselves are often as endearing and fun to chew on as the bite-sized shapes: think of Tibetan _momo, Russian pelmeni, Indian idli.
My father, a fellow night owl, taught me to make wontons during the late nights we would spend watching infomercials on cable television. I loved peeling each delicate layer from the block of skins, dabbing the edges with water, spooning a scant teaspoonful of ground pork into the center of the diamond and trying to make the uniform, upright sailboat shape my father's thick fingers easily created. It was manageable work for small hands. I cherished the wordless lesson for what it was—quality father-daughter time, with results I got to enjoy the next morning for breakfast.
And that's what should be read between the lines of these recipes—every dumpling is more fun to make, and much more delicious, when you can enlist the hands of friends and family to help fill, form, fold, and eat.