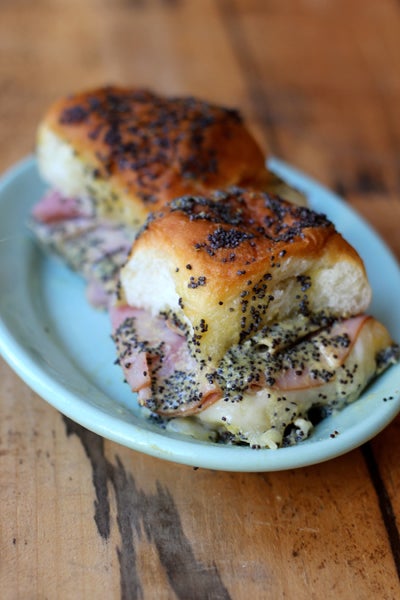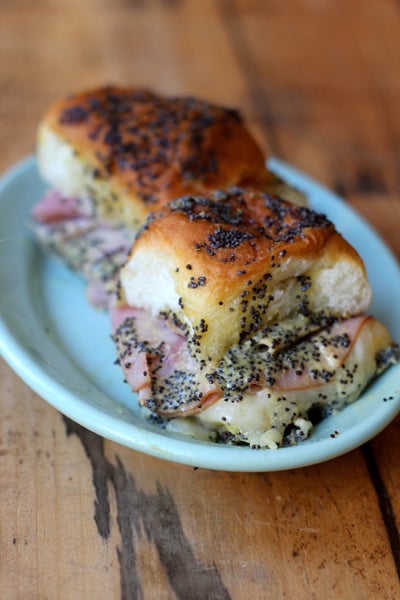 A staple of Junior League cookbooks, these miniature ham sandwiches are doused in a tangy butter-poppyseed sauce and then baked in the oven. This recipe, submitted by blogger Nealey Dozier, was the winner of our September 2011 Home Cook Challenge Recipe Contest. She writes that the recipe "was passed down to me from my boyfriend's mother. She is famous for them and makes hundreds each and every SEC football season. The beauty of these is that they can be served fresh from the oven, or they can be served at room temperature. Trust me, they may not seem like much, but they can move a grown man to his knees!"
Football Sandwiches
These miniature ham & swiss sandwiches, perfect for a day of tailgating, are doused in a tangy butter-poppyseed sauce and then baked in the oven.
Yield:
makes 8 SMALL SANDWICHES
Ingredients
8 individual white dinner rolls, like Kings Hawaiian
12 oz. sliced Swiss cheese
9 oz. thinly sliced honey ham
4 oz. (1 stick) butter, melted
2 tbsp. prepared mustard, preferably spicy brown or Dijon
2 tbsp. poppy seeds
1 tsp. Worcestershire sauce
Instructions
Slice the rolls in half using a serrated knife, and arrange bottom halves of rolls in a large casserole dish. Arrange a layer of cheese on top, followed by a layer of ham. Cover with the tops of the rolls.
In a small bowl, whisk together melted butter, mustard, poppy seeds, and Worcestershire sauce until well combined. Drizzle the sauce evenly over the tops of the sandwiches, cover the pan with aluminum foil and allow to sit for at least 30 minutes, or overnight. Bake in a 350° oven for 20-25 minutes, until the cheese is melted and the sandwiches are warmed through. Slice between the rolls, and serve warm or at room temperature.