Spätzle (Garlic Dumplings with Emmentaler)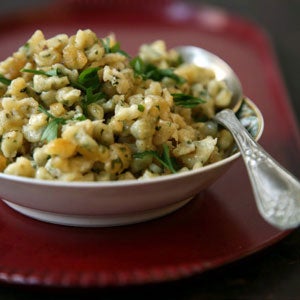 Spatzle means little sparrows in German.
Spätzle (Garlic Dumplings with Emmentaler)
These tiny egg-and-flour dumplings are the preferred comfort food in southwestern Germany.
Ingredients
2 heads of garlic
2 tbsp. extra-virgin olive oil
1⁄2 cup milk
1⁄4 cup finely chopped flat-leaf parsley leaves
1⁄4 cup finely chopped basil leaves
6 tbsp. unsalted butter
1⁄4 tsp. Kosher salt
3 eggs, beaten
2 cups flour
1 cup grated emmentaler cheese
Instructions
Heat oven to 450°. Halve garlic crosswise with a knife and brush with olive oil; wrap with foil. Roast until soft, 1 hour. Let cool and squeeze roasted garlic cloves from their skins into a bowl; mash with a fork to a paste.
Melt 2 tbsp. of the butter and add to paste. Then add milk, parsley, basil, salt, and eggs; stir until smooth.
Put flour into a large bowl; form a well in center. Slowly pour in the garlic–milk mixture, stirring with a fork to form a smooth batter.
Bring a 5-qt. saucepan of salted water to a boil over high heat. Set a perforated spätzle-making disk over the pot. Working in batches, scrape batter through holes into water. Cook until dumplings rise to surface, about 1 minute. Using a slotted spoon, transfer dumplings to a baking sheet.
Heat remaining 4 tbsp. of butter in a 12″ ovenproof skillet over high heat. Add dumplings; cook, stirring, until lightly browned, 6–8 minutes. Meanwhile, heat broiler; put rack 5″ from heating element. Sprinkle dumplings with cheese; broil until melted, about 2 minutes.