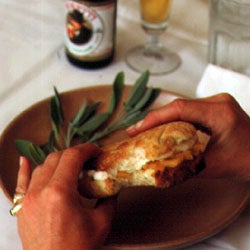 The recipe for this sandwich is a refined version of the original. It was once served at Moose's Restaurant in San Francisco's famed North Beach neighborhood. The teleme cheese it calls for has a mild, soft taste that develops as it ripens, and a creamy texture that melts easily. If teleme is hard to find, tallegio works just as well.
Goldensandwich
This gooey delight is creamy and tangy, with an almost lemony flavor.
Ingredients
1⁄4 cups olive oil
8 sage leaves
3 cloves of garlic, chopped
1 9″ square of focaccia
1 large roasted golden (yellow) pepper
1⁄2 tsp. balsamic vinegar
1⁄4 tsp. lemon juice
2 tsp. sage oil
Teleme or taleggio cheese
Instructions
Heat olive oil in a small saucepan with sage leaves and garlic. Simmer for 1 minute and remove from heat. Set aside to infuse for 20 minutes. Strain and reserve oil.
Warm focaccia in a 350° oven. Dice 1 large roasted golden (yellow) pepper. Dress with balsamic vinegar, lemon juice, and sage oil. Remove the focaccia from the oven and split horizontally.
Cover the bottom half with peppers, then add thick slices of room-temperature teleme. Add the top, and wrap the sandwich in foil. Allow the cheese to melt into the peppers and the bread for about 10 minutes. Cut into quarters, and serve at once.