Recipes
Grilled Lobster with Cilantro-Chile Butter
A hint of spice and smoke gives these meaty crustaceans a bright, buttery kick.
Serves

serves 2-4

Cook

30 minutes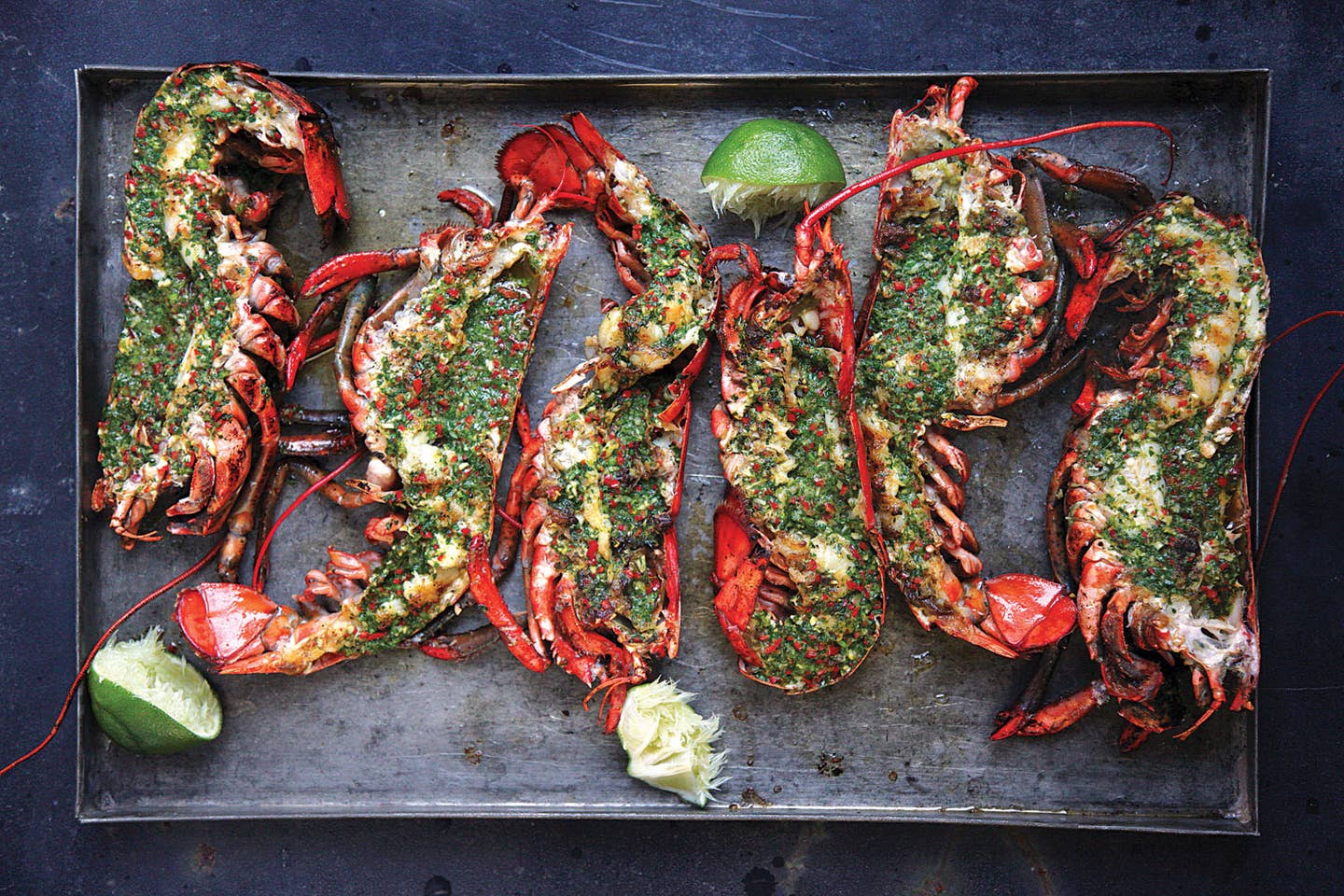 Grilled lobster is an unexpected delight in New England, especially when skilled lobstermen know how to take advantage of the full versatility of the sweet and often abundant crustaceans. If you want to go a step beyond steaming or boiling lobsters, pre-cracking the shells, then slathering the meat with brightly flavored cilantro-chile butter is a good place to start. (Cutting a live lobster in half can be a bit grisly for some, but it is well worth the task to ensure that the lobster meat gets direct contact with the grill.) Find all of our favorite lobster recipes here.
Ingredients
8 tbsp. (4 oz.) unsalted butter, softened
3 tbsp. finely chopped cilantro
4 Fresno or Holland chiles, stemmed, seeded, and finely chopped
2 tbsp. finely grated lime zest
Two 2-lb. live lobsters
¼ cups extra-virgin olive oil
Kosher salt and freshly ground black pepper
Lime wedges, for serving
Instructions
Step 1
In a small bowl, stir together the butter, cilantro, chiles, and lime zest; set aside.
Step 2
Using a heavy cleaver, split each lobster in half lengthwise through its head and tail. Scoop out and discard the yellow-green innards and cut off the claws. Transfer the lobster halves, shell side down, to a baking sheet. Using the dull side of the cleaver, crack the claws and transfer them to the baking sheet. Generously drizzle the lobster halves and claws with olive oil and season lightly with salt and black pepper.
Step 3
Heat a grill or grill pan to medium-high heat. Place the lobster halves (flesh-side-down) and claws on the grill and cook for 5 minutes. Turn over the lobster pieces and spread each with some of the cilantro-chile butter; continue cooking until the shells are bright red and the tail meat is just cooked through, about 3 minutes. Serve hot, with lime wedges for squeezing.