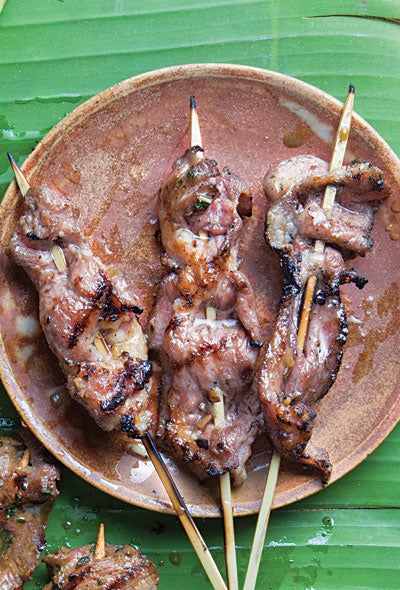 Jean-Georges Vongerichten uses pork shoulder for this umami-packed satay. This recipe first appeared in our May 2011 issue, with the article The World of Satay.
Yield: makes 15 Skewers
Ingredients
3 tbsp. canola oil
2 tbsp. oyster sauce
2 tbsp. minced lemongrass
2 tbsp. toasted sesame seeds
1 tbsp. fish sauce
1 tsp. sugar
2 small shallots, minced
1 clove garlic, minced
5 oz. pork shoulder, cut into 1″-wide, 1/4″-thick slices
Instructions
Puree oil, oyster sauce, lemongrass, sesame, fish sauce, sugar, shallots, and garlic in a food processor until smooth. Toss paste and pork in a bowl; chill 4 hours.
Build a hot charcoal fire in a grill. Thread 1 piece of pork each on 15 skewers; grill, turning, until lightly charred, about 5 minutes.